In Unprecedented Move, Baku Opens Embassy in Tel Aviv
Publication: Eurasia Daily Monitor Volume: 19 Issue: 178
By: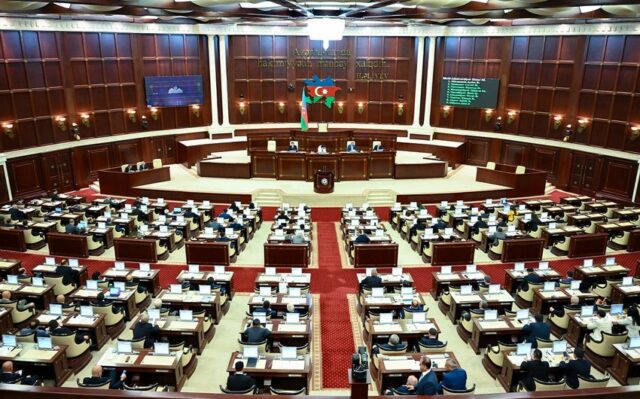 On November 18, the Azerbaijani parliament approved a bill on the opening of Azerbaijan's embassy in the Israeli capital of Tel Aviv (Report.az, November 18). This is a historic decision, as until now, Azerbaijan had refused to reciprocate the opening of an Israeli embassy in Baku (August 29, 1993), most assuredly so as not to alienate the other Muslim countries in the region and to ensure their support in the ongoing Armenian-Azerbaijani conflict. Israel's outgoing prime minister, Yair Lapid, welcomed Baku's decision and said that this "reflects the depth of relations between the two countries," calling the new embassy "the fruit of the Israeli government's efforts to build strong political bridges with the Muslim world" (Report.az, November 18).
Israel had raised this issue previously at various levels and called upon Azerbaijan to open an embassy within its capital. One of the latest such calls was made by Israeli President Isaac Herzog earlier this year in April as part of his letter of congratulations to Azerbaijani President Ilham Aliyev on the 30th anniversary of the establishment of diplomatic relations between the two countries (Azertag, April 8). Herzog also invited Aliyev to his country in 2023 to "jointly inaugurate your embassy." Azerbaijan made another critical move toward opening an embassy in Tel Aviv, when in July 2021 Baku announced the opening of Trade and Tourism Representative Offices in Israel, where the Azerbaijani representatives would hold diplomatic passports (Azertag, July 7, 2021).
Despite its reluctance on the embassy issue, Azerbaijan has, since the early years of its post-Soviet independence, demonstrated a strong interest in the development of relations with Israel in various fields. The existence of a substantial Jewish minority in Azerbaijan has been another motivating factor in bolstering bilateral relations between Baku and Tel Aviv. Moreover, Azerbaijan's national airline company AZAL has been operating direct flights between the capital cities of both countries since 1993. In addition, Baku has provided around 40 percent of Israel's oil imports, which constitutes around 10 percent of Azerbaijan's total oil exports. The two sides also enjoy a close defense relationship. According to some reports, Israel provided 69 percent of Azerbaijan's arms imports from 2016 to 2020, which amounted to 17 percent of Israeli arms exports for those years (The Jerusalem Post, October 31).
The Second Karabakh War (2020) cemented relations between the two countries and opened new horizons for their bilateral ties. Israeli military technology, particularly combat drones, turned out to be a critical factor in Azerbaijan's decisive victory in the war with Armenia (See EDM, November 10, 2020). It has even been reported that Israel rejected a request made by a US official during the war to "put the brakes on the re-supply of the Azerbaijani military," with Tel Aviv responding that "allies do not abandon allies in the middle of a war" (Report.az, January 27). Israel was also one of the few countries that provided humanitarian aid, including medical supplies, to Azerbaijan during the war. In contrast, Tel Aviv's offer of humanitarian aid was rejected by Armenian Prime Minister Nikol Pashinyan, who criticized Israel's refusal to halt its supply of military equipment to Azerbaijan (Panorama.am, November 3, 2020).
Following the war, the opening of an Azerbaijani embassy in Israel became more likely due to the fact that Israel's relations with other Muslim countries in the region, including Turkey, entered a period of gradual rapprochement. Azerbaijan is believed to have played a pivotal mediating role between Tel Aviv and Ankara, and in April 2021, Baku called for the launch of a trilateral (Azerbaijan–Israel–Turkey) cooperation platform (Daily Sabah, April 26, 2021). Nevertheless, the Azerbaijani parliament, in a move to strike a balance and ensure the continuation of friendly relations with the other regional Muslim countries, approved another bill "On the Establishment of the Representation Office of the Republic of Azerbaijan in the State of Palestine (Ramallah)" on the same day as the decree on opening the embassy in Israel (Report.az, November 18).
With this move, Azerbaijan will be the first Shia-majority country with an embassy in Israel—which is surely not welcomed by Tehran. Iran, home to millions of ethnic Azerbaijanis, has regularly criticized Azerbaijan's close ties with Israel and has even threatened Baku with retaliation for cultivating these relations (The Jerusalem Post, October 31). The Azerbaijani government, however, managed to not fully alienate Iran—at least until the 2020 Karabakh War. Tehran considered the war's outcomes, particularly plans for opening the Zangezur Corridor, threatening to its regional interests. As a result, Iran's increasingly aggressive rhetoric and its expanded flexing of military might vis-à-vis Azerbaijan have decimated bilateral relations between the two countries (see EDM, November 1; Nationalinterest.org, October 26).
Baku has, however, become more confident in its foreign policy and relies heavily on its strategic alliance with Israel and North Atlantic Treaty Organization member Turkey. In response to Iran's latest military exercises along its border with Azerbaijan, Baku decided to hold its own military exercises in its southern region, which, according to Aliyev, aimed "to show that we are not afraid of them" (President.az, November 25). The Azerbaijani government has also become more outspoken against Tehran's violation of the fundamental rights of ethnic Azerbaijanis within Iran. Addressing an international conference in Baku on November 25, Aliyev criticized the lack of Azerbaijani-language schools in Iran, while schools in the languages of other ethnic minorities already exist throughout the country. In this, the Azerbaijani president vowed that his country will do its best to protect all Azerbaijanis across the world, including those living in Iran (President.az, November 25).
Against the backdrop of mounting tensions between Iran and Azerbaijan, as well as between Tehran and Tel Aviv, the significance of Israeli-Azerbaijani ties is mounting for both sides. Thus, Azerbaijan's decision to open an embassy in Israel reaffirms Baku's strategic choice in the future direction of its foreign policy.