Increased Trade Between Russia and Kazakhstan Slow to Materialize
Publication: Eurasia Daily Monitor Volume: 9 Issue: 175
By: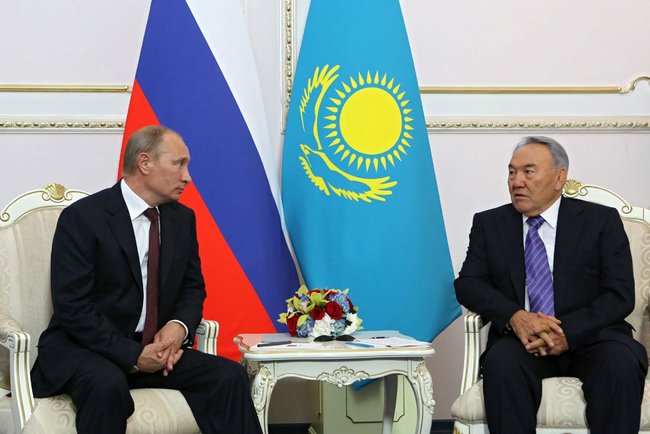 Russian and Kazakhstani leaders have reiterated plans to further develop bilateral commerce, relying on the free trade arrangements of their Customs Union. Two-way trade, however, has appeared to advance slower than previously expected.
Attended by presidents Nursultan Nazarbayev and Vladimir Putin, the Inter-Regional Cooperation Forum, held in Pavlodar, Kazakhstan, on September 18–20, drew representatives of some 600 Russian and Kazakhstani businesses. During the bilateral forum, both governments signed only relatively minor agreements on energy and environmental cooperation and on the prevention of industrial accidents (Russian Presidential Press Service statement, September 19).
President Nazarbayev told the Forum that Russian investors held stakes in 26 projects in Kazakhstan totaling $5.5 billion. A number of joint venture agreements were additionally concluded in Pavlodar, totaling $2 billion, according to Nazarbayev. He noted a car-making joint venture in Eastern Kazakhstan region that would produce 120,000 vehicles per year (Russian Presidential Press Service statement, September 19).
Russia and Kazakhstan also pledged to develop bilateral technology and infrastructure projects. Nazarbayev said both sides were drafting a long-term agreement on the use of the Baikonur space center. In response, President Putin said that 76 out of 83 Russian regions have economic ties with Kazakhstan—most notably, the Moscow, Novosibirsk, Altai and Orenburg regions. Putin also noted the Western China–Western Europe transit corridor that will connect St. Petersburg with China's border via Kazan, Orenburg and Almaty (Russian Presidential Press Service statement, September 19).
The Russian and Kazakhstani officials repeatedly pledged to increase bilateral trade. During a meeting with Putin on September 19, Nazarbayev said that the Customs Union was instrumental in increasing bilateral commerce. Putin also agreed that trade volumes were increasing (Russian Presidential Press Service statement, September 19). Trade statistics for this year, however, suggest that bilateral trade has remained at the same levels.
After the meeting with the Russian president on September 19, Nazarbayev told journalists that the bilateral trade volume increased 30 percent year-on-year to $23 billion in 2011. He noted, in the first half of 2012, bilateral commerce reached $11 billion (Russian Presidential Press Service statement, September 19). In other words, bilateral trade volumes for 2012 appeared to remain largely unchanged since last year.
There were some discrepancies between Russian and Kazakhstani data. According to the Russian customs statistics, the bilateral trade volume was up 35 percent year on year, at $20.5 billion in 2011, while Russian exports to Kazakhstan had increased by 25 percent and Kazakhstan's exports to Russia were up 60 percent (ITAR-TASS, September 18).
Furthermore, bilateral trade volumes apparently fell short of earlier expectations. At a meeting with Putin on June 7, Nazarbayev pledged to increase the annual bilateral trade volume to as much as $40 billion in 2012 (Interfax, ITAR-TASS, RIA Novosti, June 7). With the six-month figure amounting to only $11 billion, the $40 billion target number now looks unattainable by year's end.
Inter-regional cooperation also appeared slow to develop. The Russian newswire Regnum commented that trade between Russia's Orenburg region and Kazakhstan did not increase in the past year despite the existing free trade arrangements. Orenburg region accounts for some ten percent of Russia's total trade volume with Kazakhstan. The agency also noted that Russian businesses tended to use the free trade regulations only to import goods from third countries through Kazakhstan so as to dodge some Russian taxes and duties (Regnum, September 20)
Both nations also remained slow to conclude a new agreement on oil product trade that envisaged the supply of some 1 million–2 million tons of Kazakhstani crude oil to Russia free of Kazakhstan's export duties. The agreement was previously expected to take effect from January 1, 2012, and then from July 1 (Interfax, June 21).
Ties between Russia and Kazakhstan were still officially viewed as a "strategic partnership." During a visit to Astana on June 7–8, Putin and Nazarbayev signed a protocol to the bilateral friendship treaty, dated May 25, 1992, and extended it for ten more years (Interfax, ITAR-TASS, RIA Novosti, June 7–8).
Yet, during Putin's visit to Kazakhstan, some disagreements surfaced. In particular, on September 18, Kazakh parliamentarian Yerlan Karin, head of the governing Nur Otan party, described the idea to create a Eurasian parliament as unrealistic and a threat to Kazakhstan's sovereignty. The next day, however, Leonid Slutsky, head of the Commonwealth of Independent States (CIS) committee of the Russian Duma, the lower house of parliament, publicly rebuked the Kazakhstani lawmaker's sentiments (Regnum, September 19).
Although this year's numbers seemed to fall well behind earlier expectations, Russia and Kazakhstan have continued to prioritize increased bilateral commerce. In the meantime, however, Russia's ongoing efforts to expedite post-Soviet regional integration have yet to win over all the critics in Kazakhstan.