INDEPENDENCE DAY MARCH TURNS VIOLENT IN MINSK
Publication: Eurasia Daily Monitor Volume: 3 Issue: 59
By: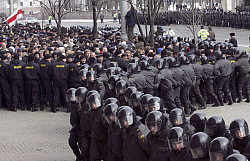 Independence Day commemoration took place in Minsk last Saturday, March 25, despite the lack of permission from the authorities. Riot police under Special Forces chief Colonel Dzmitry Pawlichenka used tear gas and mock grenades to disperse the crowd. Mass arrests resulted later in the day, including Social Democratic leader and presidential candidate Alexander Kazulin, as well as hundreds of others, including the well-known Russian TV reporter Pavel Sheremet, and a French-Canadian reporter.
The Belarusian Interior Ministry offered the following version of events. At noon on March 25, "opposition-minded citizens" made another effort to enter October Square. Some 2,500 gathered near the McDonalds on Independence (Skaryna) Avenue, whereupon "police officers began carrying out explanatory work among those present about the inadmissibility of their unlawful behavior and the illegal character of their activities." The protesters subsequently gathered in Yanka Kupala Park and held a rally. Kazulin called on people to proceed to the remand center to release those sentenced for participating in unauthorized events earlier in the week. A clash with interior troops took place near a railway bridge in Dzerzhinsky Avenue and Kazulin smashed a video camera belonging to police officers (Belapan, March 26).
Kazulin and the United Democratic candidate Alexander Milinkevich clearly adopted different approaches to the day's activities. Milinkevich's goal was to use the march for two purposes: first to demand the release of those arrested — but without provoking a direct confrontation; and second, to create a new movement for the liberation of Belarus. Kazulin's idea was to create an alternative government of democratic unity. According to an eyewitness, about 10,000 people took part in the initial march to the center of town, including Milinkevich and Kazulin, and about half that number later decided to head for the prison. On Belarusian TV, Interior Minister Uladzimir Navumau reduced the figure to "about 2,000" (Belarusian Television, March 25).
At Dzerzhinsky Avenue, the troops seemed to raise force to a new level. Photographs that appear on the Charter-97 website show scenes of brutal violence, usually young people being beaten and clubbed by several riot police. The site also suggests that guns were used, and that one person may have died from the violent attacks. Kazulin, assaulted on March 2, was again beaten and detained, and for several hours his whereabouts were unknown. His wife eventually located him at the Zhodzina police station. The number of people beaten, according to the same eyewitness, was "dozens" and "hundreds" were arrested. Another account, from Russian Television, stated that Kazulin had tried to speak with troops near the detention center but was knocked down and detained (NTV News, March 25).
What happened subsequently escalated the situation considerably. Riot police reportedly cruised the city of Minsk arresting people at random. According to Sheremet, whose mother lives in Minsk, he was simply walking in the center of the city, when a minibus containing five people stopped. Five people emerged from the vehicle and one of them informed the journalist that he was from the criminal investigation department. Sheremet was handcuffed with his hands behind his back, driven around the city for 20 minutes, and beaten up. He was informed that he had been using foul language and had insulted police. Sheremet was not permitted to call the Russian Embassy. His entire ordeal was reported on Russia's Channel One the following day (Russia Channel One, March 26).
Milinkevich later visited the police station in Zhodzina to demand Kazulin's release, expressing his moral support for a colleague, even while disagreeing with his actions. The United Democratic leader also made it clear that peaceful mass protests will continue in the capital, and that he and his supporters refused to wait another five years to free themselves from people who had lost the moral right to rule. He now intends to create a broad movement for a change of regime, with the next protest demonstration being scheduled to coincide with the commemoration of the 20th anniversary of the Chernobyl nuclear disaster on April 26 (Charter-97, March 26).
The March 25 events have raised the stakes in Belarus and exposed the crude violence of the Lukashenka regime. The return of Pawlichenka with an evident order to disperse demonstrators is also ominous, particularly given his alleged role in the disappearance of former deputy chairman of Parliament Viktar Hanchar and others nearly seven years ago.
Both the EU and the United States have condemned the March 19 presidential election. Further, the crackdown and use of brute force were widely shown on Russian Television. The Russian government cannot ignore this development, particularly when its citizens are also targeted.
The Minsk public has now witnessed sustained violence and arrests, predominantly against and of young people, none of which have committed any crime other than peaceful public demonstration. A presidential candidate has been beaten and jailed twice in under a month. Innocent citizens have been snatched off the streets of the capital. President Alexander Lukashenka has carried out such actions before, but never under such international scrutiny and rarely in such an unrestrained manner. Such a response is a sign of weakness rather than strength.