India and Kazakhstan Bolster Their Strategic Partnership
Publication: Eurasia Daily Monitor Volume: 8 Issue: 91
By: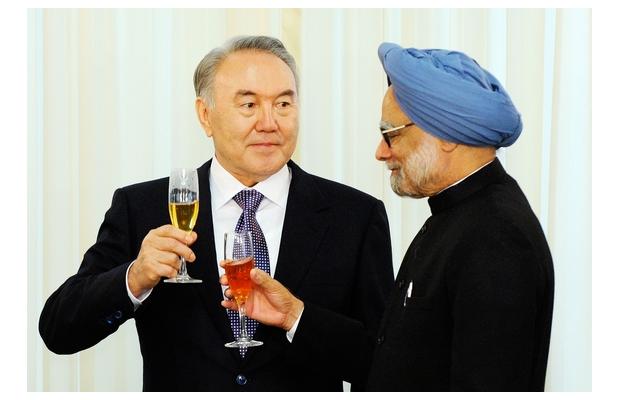 On April 15-16, Indian Prime Minister Manmohan Singh and Kazakh President Nursultan Nazarbaev adopted a "Road Map" for 2011-2014 to strengthen the strategic partnership between India and Kazakhstan, signing seven agreements in areas as diverse as energy, cyber security, space exploration, education, and hi-tech development, among others. The Indian company "ONGC Videsh Limited" also secured a 25 percent stake in the development of the prospective Satpayev oil field in Kazakhstan on the Caspian shore (www.dailyindia.com, April 16). India has demonstrated a serious capacity and willingness to enhance its strategic presence in Central Asia, contested by Russia, the US, the EU, and India's long-term rival and partner – China. Kazakhstan, in turn, has taken visibly stronger steps to strengthen its strategic relations with India, which, along with Russia, the US, the EU, and China, may well be emerging as a fifth major pillar in Kazakhstan's much-promoted multi-vector foreign policy agenda.
The parties promised to boost their energy cooperation significantly, and to enhance the $300 million trade turnover, including in the framework of potential trade cooperation between India and the Customs Union members of Russia, Belarus, and Kazakhstan (www.newskaz.ru, April 16). By early 2009, Kazakhstan was the largest Central Asian trading partner of India, accounting for more than 70 percent of the overall trade between India and Central Asian republics. About 280 companies were engaged in business activity between the two countries, with India's investment in Kazakhstan then reaching $38 million (www.idsa.in, February 18, 2009). Yet, the goals of enhancing trade and energy cooperation risk remaining unfulfilled without trans-regional infrastructure in place. Hence, Astana and New Delhi are strongly pressing to also facilitate the development of North-South transportation, pipeline, and trade corridors.
To continue their economic modernization and sustained growth, India and Kazakhstan rely strongly on energy imports and exports, respectively. Both parties agreed that India would invest $400 million in the development of the Satpayev oil field, where it has acquired a 25 percent stake after months of related negotiations. The deposit is estimated to contain 1.85 billion barrels of oil, allegedly enough to supply India with oil for just 1.5 years (www.gatewayhouse.in, April 28). The amount is reportedly trivial, but the deal could be among India's first moves to enable it to gain greater access to Central Asia's rich energy reserves in the longer run.
As in the case of China, India also looks to uranium-rich Kazakhstan to feed its growing nuclear industry as it seeks to satisfy its immense energy appetite. India may in fact need up to 8,000 tons of uranium per year as its demand for nuclear fuel is expected to grow tenfold by 2020. The agreement to supply India with more than 2,000 tons of Kazakh uranium by 2014 could not be timelier for New Delhi (www.kt.kz, April 16; www.gatewayhouse.in, April 28). India and Kazakhstan also discussed joint construction of nuclear reactors, a highly sought-after objective for Kazakhstan, keen to become a major global supplier of nuclear fuel and reactors as it pursues nuclear cooperation with Russia, Japan, China, and India (EDM, April 15).
In addition to signing the pact on "Cooperation in Peaceful Uses of Atomic Energy," New Delhi and Astana also concluded a memorandum of understanding between Indian and Kazakh computer emergency response teams in an effort to develop cyber security cooperation. India further proposed to create an IT center in Kazakhstan (www.dailyindia.com, April 16; www.inform.kz, April 16). This should please both parties, as China and Kazakhstan have recently agreed to create a "supercomputer center" in Astana, while India is a leading developer of computer software and Kazakhstan is in great need of technological knowhow to build an innovative economy. Indeed, Kazakhstan has reportedly suffered from cyber attacks targeting its energy companies (www.hindustantimes.com, April 17). Building a cyber security capacity will be essential for critical industries in these conditions.
Indian-Kazakh plans to cooperate in space are particularly significant, with both countries agreeing to facilitate the related collaboration during Singh's visit to Kazakhstan. India lacks economic and military presence in Central Asia and in part relies on its technological capabilities, including the space industry, to nurture its relatively nascent commercial and military links with the region. Kazakhstan, in turn, lacks considerable technological expertise and resources to develop its own space industry. Kazakhstan is currently leasing its Baikonur cosmodrome to Russia until 2050. In 2004, Kazakh leadership initiated a space-related development program, launching its first satellite into orbit, but it clearly has a long way to go. The Indian space program is well established and can provide Kazakhstan with much needed expertise and technology (www.cacianalyst.org, October 29, 2008; www.idsa.in, February 18, 2009). Recently, India has emerged as one of the world's prospective leaders in the space industry, notably led by the three major powers: the US, Russia, and China.

The Indian-Kazakh agreements come after Nazarbayev and Singh both traveled to China in February and April, respectively. Kazakhstan and China then concluded eight agreements in the energy, transport, and infrastructure development sphere, apparently outperforming India and Kazakhstan in both the number and the scope of their agreements. Beijing pledged to lend $1.7 billion to the Kazakh sovereign wealth fund Samruk-Kazyna and provide the country with a $5 billion dollar loan for a petrochemical complex. China also agreed to develop the Urikhtau gas field in western Kazakhstan. Astana promised to supply China, currently experiencing a "nuclear renaissance," with 55,000 tons of uranium. More than 1,000 Chinese companies are operating in Kazakhstan's energy, manufacturing, and transport sectors. Both countries also decided to build a high-speed railway line between Kazakhstan's north and south by 2015 and create a Kazakh-Chinese university to facilitate technological exchange (www.cacianalyst.org, March 2).
This partly explains why India is still considered a late comer in Central Asia. But the recent bilateral deals and its growing cooperation with Kazakhstan in technology, energy, space, and other sectors provide India with a platform to enhance its strategic presence and become a major power in Central Asia's transforming geopolitical and economic landscape. Kazakhstan's multi-vector foreign policy agenda is capable of facilitating India's "awakening" in the region even further.