India's 'Connect Central Asia' Policy Seeks to Compensate for Lost Time
Publication: Eurasia Daily Monitor Volume: 9 Issue: 176
By: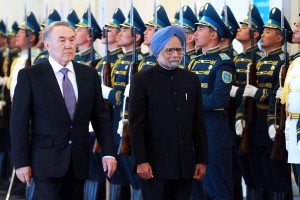 "The [United States] can work with India over its growing role in the world," US Ambassador to India Nancy Powell said at a discussion with her Indian counterpart Nirupama Rao on September 17, adding that Washington can work with Central Asian states and New Delhi to make Central Asia an attractive place for investment (Times of India, September 17). For this to happen, both the US and India need to deepen their engagement considerably. This especially concerns New Delhi, which lags behind other actors and has only recently declared connecting Central Asia and South Asia as a goal of its foreign policy toward the region.
The substantial presence of China and Russia in Central Asia, the uncertainty surrounding the future of Afghanistan, and the region's potential to serve as a trans-continental trade, energy, and transit hub point to the benefits of the US and India working together. And yet, this should not imply that Washington and the increasingly assertive New Delhi will be ready to sacrifice cooperation with certain actors just because they are viewed as natural allies by virtue of being powerful, more democratic, and relatively sidelined players that confront an authoritarian Russia and China.
The US ambassador's statement comes ahead of the planned pullout by coalition forces from Afghanistan by 2014 and a year after Washington launched its New Silk Road strategy. The strategy is to facilitate cross and intra-regional connections in Eurasia through trade, energy, and transit initiatives, which are already pursued or planned by a diverse group of internal and external actors in what is becoming an increasingly overcrowded Central Asian "Great Game."
Promoting linkages between Central and South Asia is a big part of the New Silk Road initiative, which India—a latecomer competing for primacy in Central Asia—deems imperative to pursue through its own "Connect Central Asia" policy. Shri Ahamed, Indian Minister of State for External Affairs, announced that India's new policy "is based on pro-active political, economic and people-to-people engagement with Central Asian countries, both individually and collectively" (www.idsa.in, July 5). Cooperation with the US is largely seen as reinforcing in this regard. In June, India and the US agreed to trilateral consultations on Afghanistan. In the same month, New Delhi organized a forum for international investors interested in working in Afghanistan. It has also pledged more aid for reconstruction of Afghanistan (www.idsa.in, July 5).
On a strategic level, the "connect" policy seeks to address New Delhi's regional security concerns centered on Afghanistan and Pakistan, to position India favorably vis-à-vis other actors, and to leverage cross-regional economic potential, boosting its rising status as a great power. On a tactical level, it pursues India's small and big plans for the region in the economic, political, education, trade, energy, transit, and military spheres on both bi-lateral and multi-lateral bases.
Specifically, India seeks to establish 14 flight connections with all regional countries and promote the development of IT, energy, banking, and pharmaceutical industries to facilitate economic exchanges. It also contributes to the development of a cross-regional energy infrastructure and e-network with a hub in the IT-savvy India. It further plans to establish an Indian-Central Asia University in Kyrgyzstan and a military hospital in Tajikistan. It works actively to see the launch of the long overdue Turkmenistan-Afghanistan-Pakistan-India (TAPI) gas pipeline and is interested in further developing oil and hydropower resources in Central Asia to satisfy its growing appetite for energy, in part to reduce energy imports from the Middle East.
In Kazakhstan, Indian companies operate coal mines and explore oil fields. In Tajikistan, they are involved in a hydropower project. Tajikistan and Kyrgyzstan's immense water resources are instrumental for the "CASA-1000" scheme aiming to bring electricity from the two countries to Afghanistan and Pakistan. In Uzbekistan, India pursues projects in the pharmaceuticals, IT, construction, energy, and mining industries. New Delhi relies on the "connect" policy to increase trade with Central Asia, which now amounts to just $500 million. In contrast, China's trade with the region stands at a staggering $29 billion. In 2010, trade between Russia and Central Asia hit almost 17 billion euros, making Russia the third largest trade partner after China and the EU. Russia and China have invested considerably in energy, trade, and communications sectors, with gas and oil pipelines, roads, and air routes linking the two countries with Central Asia (Asia Times Online, September 12 and 25; www.idsa.in, September 18; www.eucentralasia.eu, May 2012).
Moscow and Beijing are also part of the Shanghai Cooperation Organization that includes all five Central Asia states and aims to deepen security and economic collaboration. Moscow is the leading voice in the Collective Security Treaty Organization and the Customs Union comprising Belarus, Russia, and Kazakhstan, which may soon expand its membership. India, on the other hand, has only recently launched its first India-Central Asia Dialogue designed to foster a long-term engagement with Central Asia in various fields, including trade and security.
In the security sphere, India seeks to strengthen cooperation with regional countries in areas such as counter-terrorism, military training, research, and development. It refurbished the Ayni air base in Tajikistan and set up, jointly with the Kyrgyz authorities, a mountain biomedical research center in Kyrgyzstan. No less important, India needs the support of regional countries to promote the development of Afghanistan as a functioning link between Central and South Asia.
The development of Afghanistan is a crucial component of its "connect" policy. It opens the door for India to interact with Central Asia more efficiently and effectively. In this regard, India's plans to invest $100 million in the Iranian Chabahar port are instrumental. The port's expansion and connection with Afghanistan will deepen India's ties with energy-rich Iran; help it access Central Asian markets without relying on Pakistan; and position it favorably vis-à-vis Beijing, which helped Islamabad build a port at Gwadar connecting China and the Persian Gulf. India already spent $136 million to link Chabahar to the ring road in Afghanistan, where it has invested $2 billion in infrastructure over the past decade and has sought to exploit the Hajigak deposits reportedly worth from $1 trillion to $3 trillion (Asia Times Online, September 12). Now it wants to glue Central Asia to South Asia via Afghanistan.
But will it succeed? India will need to invest enormous amounts of economic, political, military, and diplomatic capital, and remain open to working on ambitious projects with partners and rivals alike. Turning Pakistan into a regional partner and helping with development of Afghanistan as a functioning cross-regional link is no easy task. Persuading regional countries to pursue strategic engagement is problematic, as well. Some Central Asian countries may be suspicious as to whether India pursues a democratic agenda. Working with Washington may also prove a challenge given the US reluctance to allow the inclusion of Iran in regional trade and transit initiatives in Eurasia. It will also be hard for India to work in the region with a bleak investment climate and to promote multilateral engagement of Central Asian countries, which are troubled by intra-regional rivalries and disputes.
The good news for India is that the reconnection of Central and South Asia is already proceeding due to the collapse of the Soviet Union, military involvement of the US in the region after 9/11, and the rise of India and China on the global stage. The "multi-vector" policy approaches of Central Asian states will too provide a convenient ground for India to compensate for lost time in the rapidly changing region.