India's Relations With Tajikistan: Beyond the Airbase
Publication: Eurasia Daily Monitor Volume: 8 Issue: 36
By: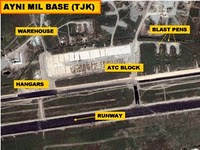 India's pursuit of a stronger global role and its competition with Pakistan for influence in Afghanistan has over the past two decades pushed New Delhi towards closer engagement with Central Asia. Tajikistan has become India's main point of entry into the region, mainly due to Dushanbe's proximity –and a special relationship– with Kabul.
New Delhi's close cooperation with Dushanbe originates from the late 1990's when both countries supported the anti-Taliban resistance forces, the Northern Alliance, in Afghanistan. Tajikistan provided Indian military advisers with access to the ethnic Tajik leadership of the Northern Alliance. Until 2002, Dushanbe hosted a medical facility set up by the Indian army to treat injured anti-Taliban resistance fighters at the Farkhor airfield, on Tajikistan's southern border with Afghanistan. India also used the airfield to supply the Northern Alliance with military equipment, munitions and intelligence, and to repair its combat helicopters (www.atimes.com, August 12, 2006).
Security ties between India and Tajikistan strengthened after the two countries signed a bilateral defense agreement in 2002. Based on that deal, New Delhi refurbished a Soviet-built airfield at Ayni, 15 miles (25 kilometers) west of Dushanbe. The renovation, which cost India over $70 million, included upgrading the runway, construction of the traffic control tower, hangars, and administrative buildings (www.khovar.tj, September 3, 2010). Indian specialists handed over the refurbished facility to the Tajik defense ministry in 2010.
New Delhi's support in upgrading the Ayni airfield provoked widespread speculation that India intended to use the facility as its first ever foreign military base. The Indian defense ministry reportedly planned to deploy MiG-29 (NATO name: Fulcrum) fighter jets and Mi-17 multi-purpose helicopters at the airbase (www.atimes.com, December 1, 2010). The deployment of elements of the Indian air force in Tajikistan made perfect sense as this would improve New Delhi's response capability to potential crises in Afghanistan and Pakistan, and help it become a major player in energy-rich Central Asia. However, neither New Delhi nor Dushanbe ever confirmed India's interest in establishing an airbase at Ayni. On the contrary, senior Tajik government officials have repeatedly denied holding talks on the use of the facility with any country other than Russia. Many analysts believe that Dushanbe refused to host an Indian air base under pressure from Moscow, China and Pakistan (www.cacianalyst.org, September 16, 2009). Visiting Dushanbe in November 2010, Indian army chief, General Vijay Kumar Singh, neither confirmed nor denied that New Delhi had sought an airbase in Tajikistan, suggesting that a decision to lease the facility to foreign states was a prerogative of the Tajik government (www.news.tj, November 11, 2010).
India's ties with the Tajik military have not been limited to revamping the airfield. In 2003, New Delhi conducted its first Central Asian military exercise with Tajikistan. India's donations to the Tajik defense ministry have included two Mi-8 helicopters along with critical spare parts, trucks and other vehicles, about 10,000 uniforms, and computers. In addition, hundreds of Tajik military cadets and officers have been trained at India's National Defence Academy since 1998. India also funded the refurbishment of the Tajik Military Institute in Dushanbe (https://www.icwa.in/pdfs/ibindotajik.pdf, July 30, 2010).
Despite increasingly close political and military ties, India's economic cooperation with Tajikistan has remained very low. Annual trade between the two countries was slightly over $30 million in 2009 and 2010, rising only marginally from previous years. Indian companies have invested $17 million in upgrading a hydropower station near Dushanbe and about $5 million in hotel construction in the Tajik capital. Following Indian President, Pratibha Patil's, visit to Dushanbe in September 2009, it was announced that Indian firms intended to invest $28 million in the construction of a cement plant and the development of gas fields in southern Tajikistan. However, these plans have not been implemented. There was also speculation concerning New Delhi's interest in Tajikistan's uranium deposits (www.cacianalyst.org, September 16, 2009). The major impediment to closer economic ties has been the lack of convenient transportation routes between the two countries.
Unable to become a major economic player in Tajikistan, India has maintained its influence by providing aid to Dushanbe. Indian specialists upgraded a large fruit processing plant and opened a modern IT center in Dushanbe in 2006. During the harsh winter in 2008, New Delhi provided the Tajik government with cash and material aid worth $2 million. Following the 2010 polio outbreak in Tajikistan, India donated two million doses of polio vaccine to Dushanbe. Moreover, New Delhi annually sends about 100 Tajik citizens, mostly public servants, to India for short-term training programs in various fields, ranging from English to rural development. In addition, New Delhi provides 30-35 full scholarships per year for Tajik students to pursue master and doctoral level studies in India. In return, Tajikistan has provided scholarships for 300 Indian students, who are currently enrolled at a medical university in Dushanbe (www.indianembassy.tj/ru/policy/policy.php?id=24).
As New Delhi aspires to play a stronger role in Central Asia, its defense and security ties with Dushanbe should be matched with adequate economic cooperation and financial support for the cash-stripped Tajik government. Without achieving this balance, India will remain only a marginal player in the region.