Indonesian President and West Papuan Militants Rely on Regional Organization to Resolve Conflict; Negotiations to Free Hostage New Zealander Continue
Publication: Terrorism Monitor Volume: 21 Issue: 20
By: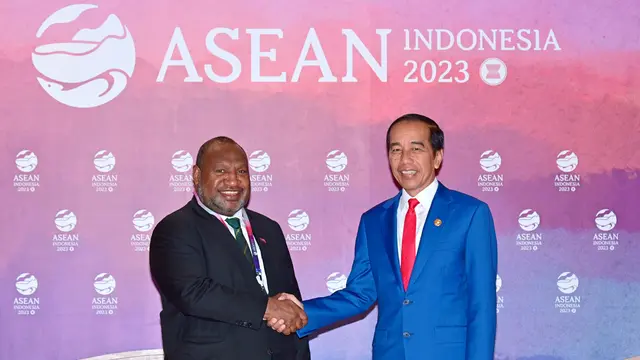 On May 27, Indonesian President Joko Widodo ("Jokowi") received a video-recorded death threat from Egianus Kogoya ("Egi"), the commander of the West Papua National Liberation Army-The Free Papua Movement (TPNPB-OPM) in Nduga Region, Highland Papua Province. Egi stated he would execute his hostage, New Zealander pilot Phillip Mehrtens, who has been held captive in West Papua since February, within two months from the threat (BBC News Indonesia, May 29; West Papua Daily, July 9). Further, Egi expected Jokowi to establish trilateral negotiations involving Indonesia, New Zealand, and the TNPB-OPM to discuss the hostage situation and broader political issues. However, Jokowi changed course by engaging in "heart-to-heart" diplomacy with the Melanesian Spearhead Group (MSG). The MSG is an intergovernmental organization composed of Fiji, Papua New Guinea, the Solomon Islands, Vanuatu, and the Kanak and Socialist National Liberation Front of New Caledonia—East Timor and the United Liberation Movement for West Papua are observers. Jokowi has singled out Papua New Guinea as well as Australia (not in the MSG) as his country's two most important neighbors and strategic partners (Detik, July 3; Melanesian Spearhead Group, June 26, 2015). [1] In mostly working around Egi, Jokowi is attempting undermine the TPNPB-OP and reject its legitimacy, while also seeking to win the support of Papuan civilians in the longer term.
Jokowi's International Diplomacy
In response to Egi's messages, instead of using the "hard approach" that TPNPB-OPM had faced from the Indonesian government under Indonesia's first two presidents, Sukarno (1946–1967) and Suharto (1968–1998), Jokowi since taking office in 2014 advanced a "soft approach," emphasizing the value of negotiation and international diplomacy (West Papua Daily, July 4). Jokowi provided his full support to only the governmental head of the Nduga Region in his efforts to negotiate with Egi to release the pilot. However, Jokowi also strengthened bilateral relations with Australia and Papua New Guinea during his presidential visits from July 3 to July 5. Using "heart-to-heart" diplomacy with his counterparts, he explained his strategy and sought their support in minimizing the West Papua conflict as well as resisting the TPNPB-OP's demands. On his way back from Australia and Papua New Guinea, Jokowi also made his seventeenth visit to West Papua; Jokowi campaigned on a promise to prioritize West Papua's development and win support from West Papuan civilians (Kompas, July 3; BBC News Indonesia, July 7).
In 2015, Jokowi's diplomatic efforts with Papua New Guinea resulted in the agreement of the MSG's permanent members to elevate Indonesia's status from observer to associate member (Jakarta Globe, June 25, 2015). At that time, Jokowi successfully persuaded MSG leaders of his 2014 campaign vision for the citizens of West Papua (who share a Melanesian background with MSG members). Building on this, Indonesia's status within the organization allowed Jokowi to call on support and solidarity from the other MSG members in his country's efforts to prevent any further hostage takings by TPNPB-OPM. Jokowi argued that the group is violating the human rights of Papuans and foreigners, while also working to dispel concerns over TPNPB-OPB claims regarding activities by the Indonesian military.
Despite the fact that Jokowi and Australian Prime Minister Anthony Albanese may have discussed West Papuan humanitarian issues during their bilateral meeting in Indonesia in 2022, the attention on the New Zealander pilot hostage crisis has now required Jokowi to further explain his soft approaches in prioritizing the pilot's and civilians' safety to Albanese. Albanese may face backlash from the Australian government and his constituents, who have been advocating for West Papuan independence. For example, Akouboo Amatus Douw, Chairman of the Diplomatic Council of OPM, sent a letter to Albanese in advance of his visit to Indonesia on June 6, 2022. He requested that the Australian prime minister discuss the West Papua conflict with President Jokowi during his visit (Pina, July 4; hot.grid.id, June 8, 2022). Neither this letter nor the Albanese-Jokowi meeting in July changed much. Egi himself ceased all communication with Indonesia's government on June 10.
Egi's 'Concessions'
To generate international media attention, on June 27, Jeffrey Pagawak Bomanak, another West Papuan militant (based in Papua New Guinea, and claiming to have received full support from Israel) posted a threat on social media that the TPNPB would execute the New Zealander pilot on July 1. This date is symbolically important, as it is the anniversary of the establishment of the OPM (Kompas, June 30; CNN Indonesia, July 3; disway.id, July 12). Instead of complying with Jeffrey's plan, however, Egi maintained his own death threat timeline. Egi permitted Douw and the Speaker of TPNPB, Sebby Sambom, to issue a statement denying the July 1 execution date.
Through his spokesman, Egi toned down the death threat, but in the name of TPNPB, he demanded the withdrawal of Indonesia's military from West Papua and requested internationally mediated peace negotiations (jubi.id, July 1). In this message, Egi claimed that it was neither the New Zealander pilot or Indonesian troops that were his adversaries, but rather colonialism and illegal activity in his people's sacred lands (Pina, July 4).
Egi further agreed to release the pilot on the condition that Indonesia and New Zealand open channels of communication through which TPNPB can set forth its demands, believing that the majority of New Zealand's and Australia's citizens would support West Papuan independence (tempo.co, July 4; BBC News Indonesia, July 7).
In response to these statements from Egi or his spokesman, on July 3, Jokowi issued a new statement before boarding the plane to attend his two bilateral summits in Australia and Papua New Guinea—the two countries believed to host the most supporters for West Papuan independence in the world. Jokowi assured the two countries' publics that negotiation is his preferred approach to achieving the release of the New Zealander pilot, though he gave little detail beyond this. On his first day in Australia, he then had a second private conversation with Albanese, the first occurring during the Australian PM's previously mentioned visit to Indonesia in June 2022 (setkab.go.id, July 4; brief.id, July 5; CNBC Indonesia, June 6, 2022).
On the second day of his visit to Papua New Guinea, Jokowi pledged to provide scholarships for the next generation of Papua New Guineans to study in Indonesia (kemlu.go.id, Suara Papua, July 6). This was intended to emphasize Jokowi's policy of improving the citizens' welfare in West Papua as a way to resolve the conflict and reassert Indonesia's sovereignty over West Papua. As previously mentioned, on his journey back to Indonesia after the two summits, Jokowi spent three days in West Papua (SBS Indonesian, July 7).
Negotiations and Internal Conflicts Underway
On July 7, while inaugurating the Papua Street Carnival in Jayapura, Papua Province, Jokowi disclosed that the night before he held an internal meeting with his negotiation team and cautioned that while his approach is not flashy, it continues behind the scenes (West Papua Daily, July 8). Furthermore, Jokowi stated that 99 percent of West Papua is safe and secure, based on what he observed during his three-day visit. He emphasized that the conflict was a minor issue that the TPNPB propaganda campaign has inflated into a much larger and much more negative issue. Hence, Jokowi strongly argued for focusing on the more positive outcomes, such as the nurturing of West Papuan creativeness, with the Papua Street Carnival as a prime example (Detik, July 7).
While Jokowi was concentrating on his soft approach, on July 13, the TPNPB's internal conflicts between Sebby Sambom and Jeffrey Pagawak Bomanak ("Jeffrey")—which have been ongoing for the past three years—resurfaced (disway.id, July 13). Sambom denounced Jeffrey's status as the Chairman of TPNPB-OPM and declared that Jeffrey is a criminal, not a member of the TPNPB (this is particularly important in terms of legitimacy, as the organization is UN-recognized since March 1, 2022). According to Sambom, the OPM has never existed as such, and is only a group in name only, and he refuted Egi's assertion that Sambom, Akouboo Amatus Douw, and Jeffrey are united. In addition, Sambon forbade Egi and the commander-in-chief of the TPNPB-OPM, Goliath Tabuni, from interacting with Jeffrey. Sambom also urged against heeding any advice from Jeffrey.
Meanwhile, Jeffrey asserted that the TPNPB-OPM only dispatched a delegation to negotiate the release of the New Zealander pilot after having an official letter of authorization (disway.id, July 13). As the two-month deadline passed and the internal struggle inside TPNPB-OPM persisted, the likelihood of releasing the New Zealander pilot began to fade, despite a plea from the Prime Minister of New Zealand, Chris Hipkins. He had requested Egi release the pilot immediately, while assuring the pilot's family that New Zealand's government prioritized the pilot's safety and well-being in bringing him home (ABC News, August 9).
The 22nd MSG Leaders' Summit
Instead of negotiating, TPNPB-OPM shifted focus to the 22 MSG's Leaders' summit on August 23-24 in Vanuatu, where the organization provided complete support for The United Liberation Movement for West Papua (ULMWP) to join MSG as a full member. Benny Wenda, then chairman of ULMWP, had confidence that his organization would upgrade its status from a ULMPW observer, which the organization has achieved at the 2015 MSG summit, to that of a full MSG member. This is because MSG had previously declared that ULMWP's application for MSG membership met the prerequisites for full membership (RNZ, Aug 23; Melanesian Spearhead Group, Feb 14, 2018; Free West Papua Campaign, Feb 18, 2018). Thus, despite the internal dispute within TPNPB-OPM and organizational differences between TPNPB-OPM and Benny Wenda, TPNPB remained committed to supporting ULMWP's membership application to the MSG. If the goal of becoming a full member of MSG becomes a reality, the TPNPB-OPM would have a seat at the same table as ULMWP to negotiate the independence of West Papua in the MSG forum. In addition, the negotiation of the release of the New Zealander could lead to the first official meeting between TPNPB-OPM and Jokowi, which Egi and Benny Wenda had previously requested in an open letter.
However, the 22nd MSG summit produced a disappointing outcome for TPNPB-OPM. According to "point 13" of the final communiqué, the membership application was denied for the following reasons:
ULMWP does not meet the existing criteria for membership; [and]
ULMWP Membership application cannot be approved because consensus could not be reached by all members (Melanesian Spearhead Group, August 24)[.]
In the aftermath of the outcome of the 22nd MSG Leaders' Summit (which occurred at the Association of Southeast Asian Nations (ASEAN) Summit in Jakarta on September 7), Jokowi confirmed his commitment to the leaders of the Melanesian nations to resolve outstanding human rights issues in West Papua. Moreover, he invited Melanesian leaders to come to the October ASEAN meeting in Jakarta, further suggesting that Papua New Guinean leaders could come to visit Indonesian Papua in general and West Papua Province in particular (CNN Indonesia, September 7).
The Outcome of the 22nd MSG Leader Summit
ULMWP's failure to secure membership at the MSG Leaders' Summit led to Benny Wenda being replaced by Menase Tabuni, who agreed to continue the quest to be elevated as a full member of MSG. It did not take long for Benny Wenda and Menase Tabuni to show differences in opinion as to how the ULMWP should be organized (Office of Benny Wenda, Daily Post, September 7; West Papua Sun, September 19). Thus, it is possible that the ULMWP's internal conflict will resemble the internal rift in TPNPB-OPM, with a military wing of ULMWP likely to form under Benny Wenda. Indeed, one unknown party issued a fake instruction letter from Menase Tabuni, stating that the TPNPB-OPM under Jeffrey Pagawak Bomanak is illegal and has no authority over ULMWP (jubi.id, September 24).
However, the larger surprise of the disappointing outcome of the MSG Leaders' Summit was a statement from Solomon Islands Prime Minister Manasseh Sogavare, who declared that the MSG leaders had agreed to not continue to pursue West Papuan independence (In-depth Solomons, September 27; RNZ, September 28). Sogavare's statements aligned with the official results of the summit, which stated:
Agreed for Leaders to undertake visits to Paris and Jakarta and make representations on the decolonization process in New Caledonia and the developments in the Melanesian provinces in Indonesia (Melanesian Spearhead Group, August 24).
Sogavare touted a "new [MSG] approach" to resolve the West Papuan situation. This "New Approach" will entail initiating a dialogue with the Indonesian government to find a solution for preventing the violations of the human rights of the people of West Papua and for respecting the people of West Papua as part of the heritage and culture of Melanesia. West Papuan discontent with the MSG's decision led to West Papuan protests. Such protests could eventually escalate into riots demanding West Papuan independence—and prompt the further involvement of the Indonesian military (In-depth Solomons, September 27; RNZ, September 28).
Conclusion
Even though Jokowi's "heart-to-heart" diplomacy plays a significant role in the West Papuan conflict, it may not exert sufficient pressure on the TPNPB-OPM to release the New Zealander pilot. However, this would not indicate a failure of negotiations. Instead, Jokowi's bilateral summits with Australia and Papua New Guinea as well as his seventeen visits to West Papua have served as a platform not only to demonstrate his commitment to his "soft approach" to securing the release of the New Zealander pilot, but also his commitment to resolving the humanitarian crisis in West Papua through the MSG regional forum. This likely influenced the MSG leaders' "New Approach," which emphasizes the lenses of human rights and culture as new angles to resolve the conflict from. Jokowi's international diplomacy is not complete, however. He still must unite the church councils of each MSG member—such as the Vanuatu Christian Council and the Pacific Church Forum—behind his vision and mission for West Papuan situation. This will prevent separatists from using influential churches to further support the West Papua Independence campaign (Daily Post, August 30, September 19; Asia News, February 27; Cenderawasih Pos, June 5).
Notes:
[1] Indonesia joined the MSG as an associate member at the group's 2015 summit in Honiara, Solomon Islands; it had been an observer since 2011.