Ingushetia and Karachaevo-Cherkessia Suffer From Serious Intra-Elite Conflicts
Publication: Eurasia Daily Monitor Volume: 17 Issue: 17
By: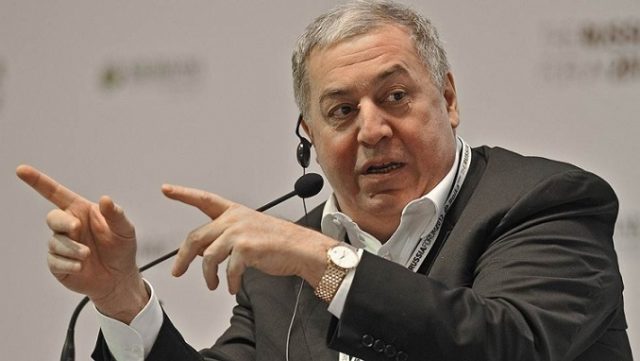 Russian experts have compiled a list rating the relative levels of intra-elite conflict plaguing southern Russia, including the republics of the North Caucasus. According to this ranking (produced by a group of researchers headed by the Expert Analytical Center "South"), political and business elites in Ingushetia and Karachaevo-Cherkessia are among the most conflict-prone—that is, inclined to organize against one another mass protests, negative media coverage/attacks, public addresses, etc. The survey does not focus on armed conflict, but rather non-violent, though still politically harmful, actions spearheaded by powerful local figures. The only other territory in southern Russia with more incidence of such intra-elite conflict is Kalmykia, which borders Dagestan from the north. Dagestan and North Ossetia are ranked as "medium level." Whereas, the probability of this type of conflict amongst the elites of Chechnya, Kabardino-Balkaria and Adygea is listed as "low" (Clubrf.ru, January 27).
In Ingushetia, local political turbulence is fueled by a territorial dispute with neighboring Chechnya. After the then-governor of Ingushetia, Yunus-Bek Yevkurov, and Chechen head Ramzan Kadyrov signed a deal on territorial swaps in September 2018, tensions exploded into mass demonstrations in Magas. Chechens and Ingush are closely related ethnic groups, and historically dwelt in the single autonomous republic of Checheno-Ingushetia. This makes it virtually impossible in modern times to draw a mutually satisfactory border between them. Moscow waited several months before cracking down on the protests. Eventually, in the spring and summer of 2019, Russian authorities imprisoned several dozen Ingush activists and leaders.
The conflict has split Ingushetian society: the Moscow-appointed elites supported the territorial exchange with Chechnya, at least outwardly, while the opposition and civil society activists opposed it. But the above-mentioned expert report suggests there are divisions within the elite in Ingushetia, too. For example, in December 2019, 38 representatives of Ingushetia outside the republic petitioned the authorities to release the detained participants of the protests. Earlier in October, 150 police officers in Ingushetia sent an appeal to the chief of the Russian Ministry of Interior, Vladimir Kolokoltsev, to demand that the practice of dispatching seconded officers from other regions be abolished (News-r.ru, October 12, 2019). The latter is an especially worrying sign for Moscow as it indicates rising ethnic solidarity among the Ingush people despite enormous political pressure by the Russian authorities. The "South" Expert Analytical Center report's authors lament that Ingushetian authorities have done little to calm these dangerous societal trends besides compounding repressions.
Meanwhile, according to the same study, the recorded quietude in Karachaevo-Cherkessia is misleading. Some forces are trying to push the republic's governor, Rashid Temrezov, to resign. The 43-year-old Temrezov has been in power in Karachaevo-Cherkessia since 2011; but experts claim his administrative strength diminished after Moscow's former envoy in the North Caucasus, Alexander Khloponin, left the region in 2018. Temrezov's second term as governor expires in 2021, but his opponents—including popular regional politician Aliy Totorkulov—are not waiting until then. Karachaevo-Cherkessia is an ethnically heterogeneous republic; Turkic-speaking Karachays comprise a plurality of the population, ethnic Russians come second, and ethnic Circassians (Cherkess) are third. The republic is also home to Nogais and the Abaza people. It is interesting that in both Ingushetia and Karachaevo-Cherkessia, the report suggests the Russian billionaire of a mixed Chechen-Ingush descent Mikhail Gutseriev is the "mastermind" behind the observed scheming against the local governors. The experts claim that Gutseriev (an ethnic Ingush who grew up in Grozny, Chechnya) has political interests in Ingushetia and economic interests in Karachaevo-Cherkessia. In December 2019, Russian police reportedly searched companies affiliated with Gutseriev and his home. Some analysts suggested that the pressure could have been motivated by the unstable situation in Ingushetia and the oligarch's role in it (Vedomosti, December 18, 2019).
Kalmykia unexpectedly became a political hotspot last autumn. Mass protests started after authorities appointed 38-year-old Dmitry Trapeznikov as the acting mayor of the republican capital of Elista (BBC—Russian service, October 23, 2019). Previously, Trapeznikov held official posts in the "Donetsk People's Republic" (DPR), the Moscow-backed separatist territory in Ukraine. Kalmyks revolted against his appointment because of Trapeznikov's non-existent connections to their republic and his unsavory reputation as a militant in Ukraine. Additionally, the governor of Kalmykia, 39-year-old former kickboxer Batu Khasikov, antagonized regional elites from the start of his dubious electoral campaign last year (Kavkazsky Uzel, August 19, 2019).
Opposition to the 70-year-old governor of Dagestan, Vladimir Vasiliev, the report asserts, comes from regional clans unhappy with his policies of "cleansing the republic of clan corruption." The Kremlin dispatched Vasiliev to Dagestan in 2017, and he became the first ethnic Russian in recent history to be appointed governor of a North Caucasus republic. (On his father's side, Vasiliev is a Kazakh, but he assumed his mother's Russian name.) Vasiliev's professional background is mainly in the Russian interior ministry. Experts say that the former police official must complete the "suppression" of Dagestan's clans. What exactly that would entail is unclear, however. Violence levels have, indeed, dropped drastically in the republic, but they started decreasing long before Vasiliev's arrival.
Inter-elite conflict is also brewing in North Ossetia, according to the experts. Opposition to the governor of the republic, Vyacheslav Bitarov, is reportedly gathering around Russian State Duma deputy from North Ossetia Zurab Makiev. The opposition raises critical issues in the republic and demonstrates the inability of the regional authorities to deal with them, the "South" Center report claims.
Experts describe the political stability of Chechnya's strongman, Ramzan Kadyrov, as "very high." They dismiss media reports of secret prisons, torture and other human rights violations in Chechnya as Russian liberal opposition tricks. At the same time, the experts recognize that Chechnya's territorial disputes with Ingushetia and Dagestan are negatively impacting Kadyrov's public standing.
Since Kadyrov is feared by many people in Russia, even ostensibly independent experts are unlikely to describe his possible future truthfully. However, many agree that Kadyrov's fortunes remain tied to those of President Vladimir Putin (Interfax, December 19, 2019). If the political changes in Moscow go the "wrong way," Kadyrov might be among the first to bear the brunt.
The governors of Adygea and Kabardino-Balkaria, Murat Kumpilov and Kazbek Kokov, respectively, are "safe," according to the experts. Putin visited Adygea in December, interpreted as an implicit blessing of Kumpilov for the foreseeable future (RIA Novosti, December 23, 2019). Kokov formally was appointed to lead Kabardino-Balkaria only in October 2019, which gives him some time to prove himself.
Any intra-elite conflict is normally viewed as a threat to regional stability in Russia. This is why Russian experts are concerned about the developments they observe in some North Caucasus republics. Arguably, the most worrying trends for the Kremlin involve Ingushetia, where ethnic solidarity looks to be rising, and there is little that the authorities in Moscow can offer these disgruntled republican elites.