Insurgency-related Incidents Reported in Dagestan and Chechnya
Publication: Eurasia Daily Monitor Volume: 8 Issue: 199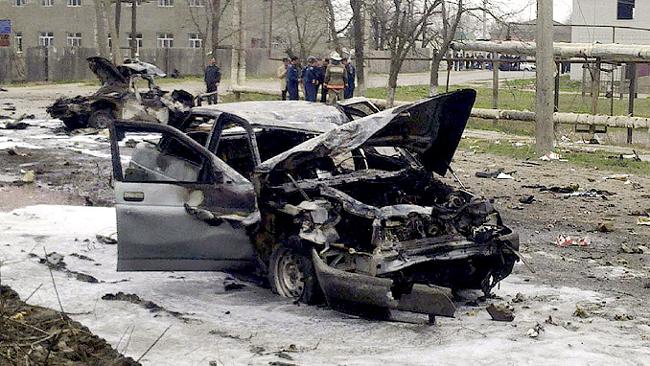 Unidentified gunmen yesterday (October 27) fired on a group of Interior Ministry servicemen and policemen in the village of Bairam-Aul in Dagestan's Khasavyurt district. The incident took place as the servicemen were conducting a reconnaissance mission on the outskirts of the village. One of the servicemen was killed in the attack, while a Khasavyurt district police officer was wounded (www.newsru.com, October 28.
Also yesterday, a well-known religious figure, Sirazhutdin Israfilov, better known as Sheikh Sirazhudin Khuriksky, was killed in the village of Khurik in Dagestan's Tabasaransky district. A Dagestani Interior Ministry source told Interfax that Israfilov was shot to death, apparently with a pistol, in the courtyard of his home. According to the source, there were two assailants, both of whom were dressed in camouflage. Israfilov was the head of an affiliate of the Islamic University in the Dagestani city of Derbent and the imam of a large mosque there. According the Newsru.com website, he was considered one of the most authoritative figures of the Naqshbandi Tariqat (Sufi spiritual order) in Dagestan who had 5,000 to 10,000 followers. Roman Silantyev, an expert on Islam, told Interfax that Israfilov had mounted an "ideological war" in Dagestan against so-called "Wahabbis" – a reference to adherents of Salafi Islam (www.newsru.com, www.kavkaz-uzel.ru, October 27-28).
On October 25, Interior Ministry personnel raided the home of 31-year-old resident of the village of Shaumyan in Dagestan's Kizlyar district and discovered an improvised explosive device (IED). The IED consisted of a nine-liter bucket filled with aluminum powder and ammonium nitrate, bolts and screws meant to serve as shrapnel, and a detonator. According to the Dagestani Interior Ministry, the IED would have detonated with the force of four to five kilograms of TNT. The owner of the home was reportedly a member of the so-called "Kizlyar sabotage-terrorist group" (www.kavkaz-uzel.ru, October 26).
On October 24, officers of the Dagestani Interior Ministry and Federal Security Service (FSB) discovered a dugout allegedly prepared by members of the republic's insurgency in Dagestan's Khasavyurt district. According to the Interior Ministry, the dugout, big enough to hold four people, was found on the outskirts of the village of Novosastli and contained parts from Kalashnikov rifles and a Makarov pistol, medical supplies, rubber boots, sports clothes, four car alarm units and automobile registration tags. The dugout was blown up after it was inspected (ww.kavkaz-uzel.ru, October 25).
Also on October 24, an inhabitant of the city of Derbent, Zaur Agamuradov, told the Kavkazsky Uzelwebsite that he had been taken to the Derbent police department and told by its chief, Arif Magomedov that he had to shave off his beard. According to Agamuradov, Magomedov told him "that they have a government directive to shave all Muslims." Agamuradov added: "Magomedov notified me that I only had one day, otherwise the police would forcibly shave me." Agamuradov told the website he had worn a beard for religious reasons for a long time and would not shave it. The press service of the Dagestani government said that nobody would have issued such "stupid orders," while police chief Magomedov was unavailable for comment (www.kavkaz-uzel.ru, October 24).
The Russian Interior Ministry announced on October 24 that a money counterfeiting ring broken up in Makhachkala on October 20 had been financing "extremist" organizations in the North Caucasus. Nine people were arrested in the Dagestani capital in connection with the counterfeiting operation, and equipment was discovered that would allow the printing of more than 20 million fake rubles (nearly $34,000) per month (www.kakvaz-uzel.ru, October 24).
On October 23, an IED went off under a car belonging to a driver for Rosselkhozbank in Buinaksk, Dagestan. No one was hurt in the incident (www.kavkaz-uzel.ru, October 24). That same day, unidentified assailant beat up the female manager of a sauna in the Dagestani city of Khasavyurt and set fire to the premises. The attack was carried out by three armed men in masks. The sauna manager sustained a concussion (www.kavkaz-uzel.ru, October 24).
On October 22, a bomb went off on a section of railway in Dagestan's Karabudakhkentsky district, reportedly derailing a train. No one was hurt in the incident, and train service on the line was later restored (www.kavkaz-uzel.ru, October 22).
On October 21, a 23-year-old resident of the village of Kakamakhi in Dagestan's Karabudakhkentsky district was killed when an explosive device detonated on the outskirts of the village (www.kavkaz-uzel.ru, October 22).
In Chechnya, two Russian Defense Ministry servicemen were killed in the republic's Shatoi district on October 25. The soldiers were part of a motorized infantry unit stationed in the village of Yarysh-Mardy that had been carrying out reconnaissance in the area jointly with Chechen law-enforcement personnel. The bodies of the slain servicemen were found by their commander and there has been no information so far on exactly how they were killed. However, a Chechen law-enforcement source suggested the servicemen were ambushed and killed by rebels. The slain servicemen were identified as Corporal Maksim Nisveteyev and Private Mairuddin Mirzoev (www.kavkaz-uzel.ru, October 26-27).
In Ingushetia, a policeman who is part of the bodyguard detail for the republic's head, Yunus-Bek Yevkurov, was shot and wounded by police on October 23. The republic's Interior Ministry reported that the bodyguard, Akhmed Nalgiev, fired on police after he crossed police lines in the village of Surkhakhi, where an international conference on Islam in Russia was being held. Police returned fire and wounded Nalgiev. Yevkurov's press service denied press reports that someone had opened fire on his motorcade, calling the reports "disinformation" (www.kavkaz-uzel.ru, October 23).
Meanwhile, in Sochi, the resort city in Krasnodar Krai where the 2014 Winter Olympics are set to take place, an IED was discovered on October 22. According to a law-enforcement source, a five-liter gas cylinder in a plastic bag was found along with other elements that looked like parts of an explosive device. The gas cylinder was found to contain around two and a half kilograms of an explosive mixture. Police also found pieces of metal that led them to conclude that an explosive device had been mounted on the gas cylinder but had "failed to detonate for as yet unknown reasons," the source said. The explosive device was safely defused (Interfax, October 26).
On October 25, police in Yessentuki, Stavropol Krai, detained a resident of Kabardino-Balkaria who was found with a grenade and Kalashnikov ammunition (www.kavkaz-uzel.ru, October 26).