Insurgency-Related Violence Reported in Dagestan and Ingushetia
Publication: Eurasia Daily Monitor Volume: 9 Issue: 59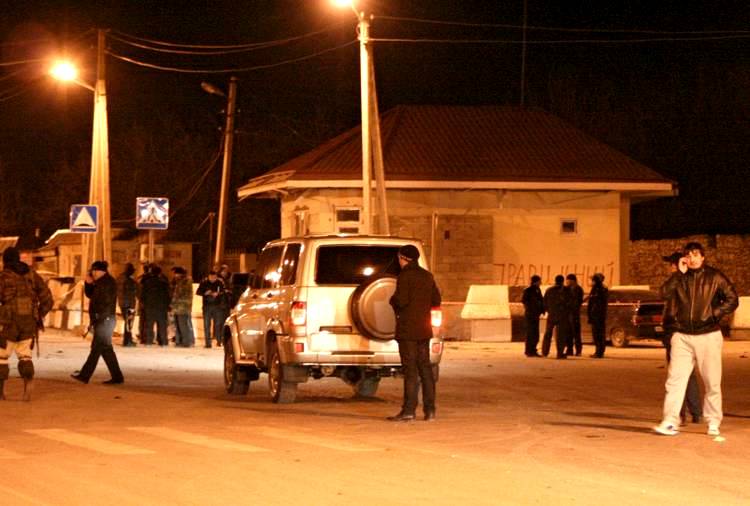 An explosion in the Dagestani city of Buinaksk today (March 23) killed the imam of the city's central mosque, Gitinomagomed Abdulgapurov, and his bodyguard, Magomedrasul Magomedov. The blast occurred around 6:00 a.m., local time, as the two were walking down the street. The Rosbalt news agency, citing Dagestan's Investigative Committee, reported that Abdulgapurov had received anonymous threats and that a police officer had been assigned to him as a bodyguard. Other news agencies reported that Magomedov was a police officer. Abdulgapurov was the fourth member of Dagestan's official clergy targeted since November 2010. Among the other victims was the 84-year-old imam of the Buinaksk district village of Kadar, Zainutdin Daiziev, who was shot to death last September (https://top.rbc.ru/incidents/23/03/2012/643067.shtml; https://www.rosbalt.ru/federal/2012/03/23/960615.html; EDM, September 16, 2011).
On February 13, the deputy mufti of Stavropol Krai, Kurman Ismailov, was killed when his car was blown up in Pyatigorsk. While the blast was initially attributed to a gas cylinder explosion resulting from a car accident, it subsequently became known that a bomb had been placed underneath Ismailov's vehicle (www.kavkaz.uzel.ru, March 23).
On March 22, a traffic policeman was shot and seriously wounded in Dagestan's capital Makhachkala. The officer was shot in the head when his unit came under fire from gunmen who then fled in a car. A day earlier, a policeman was shot in the right hand outside the administrative building of the Dagestani Interior Ministry's non-departmental security service in Makhachkala's Sovietsky district. He was hospitalized. Also on March 21, a young judo wrestler was shot and killed as he was leaving a sports complex in the Dagestani capital and heading for his car (www.kavkaz-uzel.ru, March 22). On December 3, 2010, the vice president of Dagestan's judo federation, Dzhabrail Barkalaev, was shot to death at a sports complex located in a park in Makhachkala (EDM, December 10, 2010).
Two suspected rebels and a law-enforcement officer were killed on March 18 during a special operation in the village of Novosasatli in Dagestan's Khasavyurt district. The operation was conducted by members of the Dagestani branch of the Federal Security Service (FSB) and Khasavyurt district police, who targeted a group of suspected militants holed up in a home in the village. The suspects reportedly refused to surrender or put down their weapons, and a shootout ensued. Two other law-enforcement officers were wounded in the exchange. The two suspected rebels were later identified as Shamil Nutsalkhanov and Daniyal Zaragalov, both alleged members of the "Novosasatli bandit group" accused of involvement in extorting local businessmen, attacks on police and bomb blasts (www.regnuml.ru, www.interfax.ru, March 18).
Russia's National Anti-Terrorist Committee reported on March 17 that several men suspected of belonging to illegal armed groups were detained in the Dagestani capital. Two men suspected of having extorted businessmen in order to finance insurgent activities surrendered to police who surrounded the private home where they were hiding. Separately, a man suspected of ties to rebel groups was arrested in the village of Meliorator on the outskirts of Makhachkala. He was identified as Gusein Gadzhiev (www.kavkaz-uzel.ru, March17).
In Ingushetia, unidentified gunmen today (March 23) shot up a car belonging to a local resident in the village of Ordzhonikidzevskaya in the republic's Sunzha district. The vehicle was damaged but the driver was unhurt (www.kavkaz-uzel.ru, March 23). Yesterday (March 22), a roadside bomb explosion wounded the acting director of Ingushetia's branch of the Social Insurance Fund, Alikhan Tsechoev, and his driver. The blast occurred around 6:15 p.m., local time, in the rural settlement of Gamurzievo, which is located within the city limits of Nazran. At the end of last year, the head of Ingushetia's branch of the Social Insurance Fund, Magomed Markhiev, received bullet wounds to the leg in a gun attack. Tsechoev was his first deputy and had assumed his duties (www.newsru.com, March 22).
The head of Ingushetia, Yunus-Bek Yevkurov, said in a statement yesterday that the attack on Tsechoev was related to "internal score settling" and was not a "terrorist act" (www.kavkaz-uzel.ru, March 22).
On March 19, unidentified attackers shot up a café in the village of Nesterovskoe in Ingushetia's Sunzha district. No one was hurt in the attack, which took place in the middle of the night, but the café was damaged. Cafés and other establishments that sell alcohol have frequently been the targets of attacks in Ingushetia and other republics of the North Caucasus (www.kavkaz-uzel.ru, March 19).
On March 17, a policeman was wounded in an attack in the Ingush city of Malgobek. The attack took place around 11:00 p.m., local time, when a car being driven by a Malgobek district police lieutenant, Ruslan Yandiev, came under fire. Yandiev was wounded in the leg (www.kavkaz-uzel.ru, March 18).