Insurgency-related violence reported in Dagestan, Chechnya and Kabardino-Balkaria
Publication: Eurasia Daily Monitor Volume: 8 Issue: 30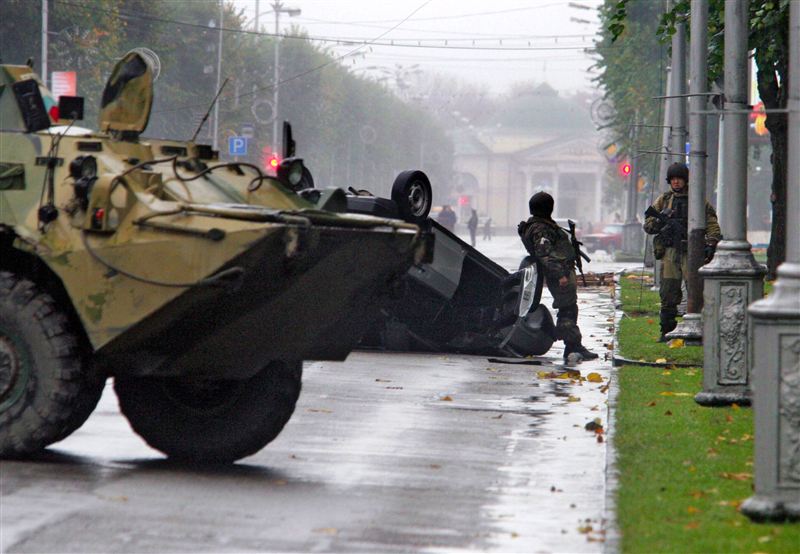 In a sign of the degree to which the security situation in parts of the North Caucasus has deteriorated, Russia's railway system has ordered that passenger trains will no longer travel through Chechnya and Dagestan at night.
A source in the press service of Russian Railways (RZhD) in Rostov was quoted by Interfax on February 10 as saying that the decision had come into force the previous day and covered the hours of 6:00 pm to 6:00 am. The source said the decision was made "on security grounds" and that in Dagestan it affected trains traveling from Makhachkala to Moscow, from Makhachkala to Astrakhan, and from Baku to Tyumen. The government newspaper Rossiyskaya Gazeta reported that the decision was taken by RZhD First Vice President Vadim Morozov. The Kavkazsky Uzel website quoted a source in Chechnya's transportation and communications ministry as saying that the decision was taken "primarily to guarantee security to citizens." The source said he did not know how long the ban on night trains would last. He also noted that there had not been serious attacks on the railroads in Chechnya in recent years. That stands in contrast to Dagestan, where there were eight explosions on the railways last year. The most recent bombing on a railway line in Dagestan took place on February 4 (www.kavkaz-uzel.ru, February 11; www.newsru.com, February 10).
Nonetheless, in Chechnya, security has been heightened at the railway stations in the cities of Grozny and Gudermes in the wake of the suicide bombing at Moscow's Domodedovo airport on January 24, which killed 36 people and wounded more than 120 (www.newsru.com, February 10). Doku Umarov, the Chechen rebel leader and self-styled "emir" of the Caucasus Emirate militant group, claimed responsibility for that bombing (EDM, February 9).
Meanwhile, a car carrying Russian interior ministry internal troops servicemen who were on their way to guard a railway line in Dagestan was attacked as it was traveling on the Kizlyar-Korinovka road on February 10. The vehicle was hit by an explosion, after which unidentified gunmen opened fire on it with automatic weapons. The servicemen fired back. There was no word of casualties in the attack (www.kavkaz-uzel.ru, February 11).
In another incident in Dagestan, Interfax quoted local police in the town of Yuzhno-Sukhokumsk as saying that a mass brawl had taken place there between supporters and opponents of "Wahhabism." The source said that around 150 people were involved in the fight, in which gas pistols were used and one person was wounded (www.kavkaz-uzel.ru, February 11).
On February 10, two alleged militants whom security forces had blockaded in an apartment building in Makhachkala surrendered to authorities after a night of negotiations. The Dagestani Information Agency (RIA Dagestan) quoted a local law enforcement source as saying that the two rebels were reportedly citizens of Kazakhstan who had traveled to Dagestan to participate in "jihad" with "local bandits" (www.kavkaz-uzel.ru, February 10).
On February 9, two policemen guarding the local police headquarters building in the Dagestani city of Khasavyurt were killed in a drive-by shooting. A third policeman, who witnessed the shooting, opened fire on the attackers (www.kavkaz-uzel.ru, February 9). On February 8, three policemen were injured when an improvised explosive device (IED) went off as the police car they were in was traveling on a street in Makhachkala (www.kavkaz-uzel.ru, February 8). On February 7, bomb disposal experts defused to homemade bombs in Makhachkala. A source in Dagestan's interior ministry was quoted as saying that one of the IED's was found close to a federal highway in the republican capital (www.kavkaz-uzel.ru, February 8).
In southern Chechnya, a suspected militant was killed in the mountainous Shatoi district on February 9 during a special operation conducted by servicemen from the Chechen interior ministry and from the Russian interior ministry's internal troops. The suspected militant was killed when the security forces encountered a group of suspected rebels in a wooded area several kilometers from the town of Shatoi. The other rebels in the group managed to escape (www.kavkaz-uzel.ru, February 10).
Three explosions took place in two districts of Chechnya's capital Grozny on February 8, but law-enforcement sources told Kavkazsky Uzel that at least two of the blasts were probably not acts of terrorism. A source told the website that two of the blasts appeared to be from hand grenades and had targeted a policeman. But the source said that one went off in a trash can outside his home and the other under his jeep, and that the blasts may have been the result of a personal or domestic conflict, not terrorism. In the third incident, a suspected militant hurled a hand grenade at members of Chechnya's OMON special task police unit who were coming to detain him. Three of the OMON servicemen were slightly wounded and the suspected militant managed to escape (www.kavkaz-uzel.ru, February 10).
On February 7, unidentified attackers fired at a Mi-8 military transport helicopter belonging to the Russian interior ministry's internal troops in Chechnya's Urus-Martan district. No one was hurt in the incident, which took place near the village of Tangi-Chu (www.kavkaz-uzel.ru, February 8). That same day, a policeman was wounded in a shootout between security forces and suspected rebels on the outskirts of the Shatoi district village of Kharsenoi, which is the native village of Chechen rebel leader Doku Umarov (www.kavkaz-uzel.ru, February 7).
In Kabardino-Balkaria, an interior ministry officer and a Federal Security Service (FSB) officer were killed on February 7 in a shootout with three people who reportedly opened fired after they were asked to present their IDs during a document check (www.kavkaz-uzel.ru, February 7).