Insurgent Violence Reported in Dagestan, Ingushetia and Karachaevo-Cherkessia
Publication: Eurasia Daily Monitor Volume: 6 Issue: 228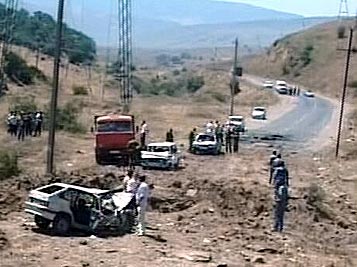 Dagestan's acting Interior Minister, Aleksandr Trofimov, told reporters in the republic's capital Makhachkala yesterday (December 10), that six terrorist groups totaling up to 150 members are operating in Dagestan. He said the six groups are operating in Makhachkala,
Khasavyurt and Kizilyurt, Gubden, Gimry, Balakhani and southern Dagestan, and that each number 10 to 40 members. Trofimov said that security forces have killed 135 rebels this year, compared with 77 in 2008, and that 111 people suspected of terrorist activities have been detained this year, 22 of whom have been convicted.
Trofimov also said that there have been 193 attempts on the lives of policemen in Dagestan this year, almost twice as many as last year, when there were 100 such attempts. Trofimov said the overwhelming majority of attacks on law-enforcers took place in Makhachkala and Khasavyurt. According to Dagestan's interior ministry, 76 policemen have been killed and 155 wounded this year in apparent insurgent attacks, while 15 civilians have been killed 30 wounded (Interfax, ITAR-TASS, www.kavkaz-uzel.ru, December 10).
Kavkazsky-Uzel noted that "against the backdrop of the intensification of armed resistance in the republic the number of illegal actions by staff of the power structures in relation to the civilian population has increased." The website added that sometimes people are detained simply for having beards. Citing the Memorial human rights center, it also noted that those subjected to illegal detention are more and more often "young people believed to be adherents of Islam of the fundamentalist persuasion" (www.kavkaz-uzel.ru, December 10).
Two suspected militants were killed on the outskirts of the Dagestani village of Talgi last night. A republican law-enforcement source took place when a car without license plates attempted to drive through a police checkpoint after ignoring orders to stop and someone inside the vehicle fired on police. The source said the driver and his passenger, who were killed in the ensuing shootout, were "active members" of the republic's armed rebel movement (www.newsru.com, December 11).
In Ingushetia, meanwhile, unidentified attackers yesterday (December 10) fired a grenade launcher at a car in which soldiers were traveling on the outskirts of Nazran in the republic's Nasyrkorotovsky district. The grenade, however, missed its target and landed on the roof of an apartment building nearby. No soldiers or local residents were hurt in the attack. The targets of the attack were members of the 503rd Motorized Regiment and the grenade launcher was evidently fired from a cemetery located near the Kavkaz federal highway, where attacks frequently occur (www.kavkaz-uzel.ru, December 10).
On December 9, an improvised explosive device (IED) was discovered just 10 meters away from the Mozdok-Vladikavkaz natural gas pipeline in Ingushetia's Nazran district. The bomb had been placed on the side of a road next to a gas station under construction near the village of Kantyshevo. The press service of Ingushetia's interior ministry reported that the IED consisted of a 50-liter plastic barrel filled with ammonium nitrate and three projectiles for an antitank rocket grenade, and that it had an explosive force equivalent to 15 kilograms of TNT. Bomb disposal experts destroyed the IED in a controlled explosion (www.kavkaz-uzel.ru, December 9).
Also on December 9, three militants were killed in a counter-terrorist operation in the town of Ust-Dzheguta in Karachaevo-Cherkessia. Local authorities told Interfax that the men were hiding in a private house and that when police tried to apprehend them, they opened fired. They were killed in the ensuing shootout, in which one policeman was wounded. Police found a grenade, two Kalashnikov assault rifles and ammunition in the house.
The Federal Security Service (FSB) subsequently identified the three slain militants as Ruslan Khubiev, described as the "emir" of the Islamist militants in Karachaevo-Cherkessia who was suspected of attacks on police, and two members of his group – Boris Shailiev and Shakharby Chomaev.
According to the Investigative Committee, on December 8, members of the Karachaevo-Cherkessia's FSB branch together with members of the republican interior ministry's anti-extremism center detained Alibek Mamaevich, a resident of the village of Verkhnaya Teberda suspected of involvement in a shootout with police on November 8 and an attack on a police post in Karachaevsk on November 10, during which two policemen and a former colleague were wounded (www.kavkaz-uzel.ru, December 9-10).
Last month, authorities in Karachaevo-Cherkessia reported they had carried out a special operation on November 9 aimed at capturing Ruslan Khubiev and that Khubiev and three others had been killed in a shootout with police (EDM, November 12).