Irakly Okruashvili: Prisoner of Conscience, Provocateur or Traitor?
Publication: Eurasia Daily Monitor Volume: 9 Issue: 228
By: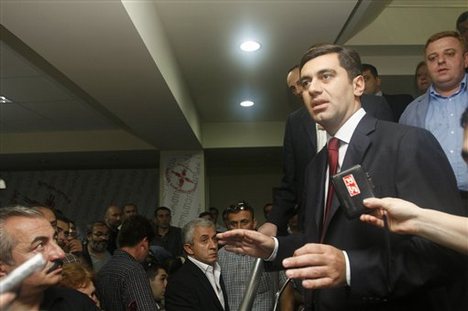 A trial is underway over one of the most controversial and interesting political figures in recent Georgian history, Irakly Okruashvili (https://eng.ghn.ge/news-6999.html; https://lenta.ru/lib/14163771/). In 2004–2006, Okruashvili alternately occupied such high-ranking government positions as general prosecutor, interior and defense minister of Georgia. Okruashvili was considered one of the closest allies of President Mikheil Saakashvili during the Rose Revolution of 2003, when he abandoned his successful career as a lawyer and became a politician, having been appointed prosecutor general of Georgia.
Okruashvili prosecuted many officials from the administration of former president Eduard Shevardnadze and businessmen that were close to him (https://magazines.russ.ru/oz/2012/2/m31.html). According to experts, the evidence against the arrested people, generally charged with corruption and tax evasion, was weak. However, general hatred toward the corrupt Shevardnadze regime, overthrown through revolution, meant that the courts were more inclined to agree with the prosecutors' evidence than with the defendants' claims.
Thus, dozens of well-known individuals ended up behind bars in Georgia but were soon released after paying millions of dollars to the government coffers in fines and "compensation" (https://www.newsru.com/world/26apr2004/kupil.html). Even at that time, some press reports suggested that Okruashvili acted too brazenly and used his authority to satisfy his personal ambitions as well as increase his personal wealth. However, confirmation of these allegations arrived only several years later.
Upon being appointed interior minister in May 2004, Okruashvili provoked the resumption of hostilities in the age-old Georgian-Ossetian conflict. First, he shut down the Ergneti market that operated in the border area between Georgia and South Ossetia, and then he attacked a Russian peacekeepers' convoy and confiscated their arms. This incident caused a sharp reaction from Moscow (https://www.utro.ru/articles/2004/07/07/327192.shtml).
Hostilities lasted for several weeks and led to the deaths 19 Georgian soldiers and one Ossetian young man, making the 2008 war practically unavoidable. However, having assumed the position of the minister of defense in December 2004, Irakly Okruashvili acted to provoke yet another conflict, this time in Abkhazia, where hostilities had stopped in 1993 (https://slon.ru/world/vragi_saakashvili_potyanulis_nazad_v_gruziyu-855338.xhtml). In the summer of 2005, Okruashvili ordered the military to cross into the territory of Kodori gorge of Abkhazia which had a predominantly Georgian population. The move infuriated the authorities in Sukhumi who vowed to eject Georgian military forces deployed in close vicinity to Abkhazia's capital. The appropriate moment for Abkhazia arrived in August 2008, during the short Russian-Georgian war.
President Saakashvili repeatedly removed Okruashvili from office but then each time appointed him to another important position. Perhaps, the leader of the Rose Revolution wanted to prevent giving critics a chance to undermine the revolution and its leaders, including Okruashvili. Finally, the president offered his friend and ally the position of the minister for economic development, hoping that the economic sphere would pacify Okruashvili and prevent further reckless steps that harmed Georgia's image and security. However, Okruashvili used his new post to make populist statements, including explicitly and rudely insulting the Russians, saying that they do not pay attention to the quality of wine they drink (https://www.rosbalt.ru/exussr/2006/04/21/251303.html). The comment evoked an indignant reaction from both Russian authorities and the Russian public.
Okruashvili resigned from the ministry for economic development in November 2007—just one week after his appointment—and was not offered any other position in the government. Okruashvili then joined the ranks of the opposition and led massive protests in the fall of 2007 (https://www.vestikavkaza.ru/analytics/Okruashvili-proschitalsya.html). At that very moment, businessman Jemal Svanidze lodged a complaint with the country's prosecution, accusing Okruashvili of extorting Svanidze's minority share in the Geocell cellular communications company. Svanidze stated that while he was minister of defense, Irakly Okruashvili forced the businessman to sell his shares for $250,000, at one fifth the market value (https://www.civil.ge/eng/article.php?id=17467).
The prosecutor general office arrested Okruashvili, but after he fully admitted his guilt, he was released on bail for $6 million. The bail amount was astounding for Georgia, and it indicated that Irakly Okruashvili was one of the richest men in the country—despite the relatively low salaries Georgian lawyers make compared to their counterparts in the West (https://article.wn.com/view/2012/12/05/Saakashvili_critic_Okruashvili_on_trial_in_Georgia/). Global-News agency's blogger, David Avalishvili, hinted to Jamestown that Okruashvili's wealth likely came from sources other than lawful business activities.
After his release from prison, Okruashvili immediately left for France, where he soon received political refugee status (https://www.civil.ge/eng/article.php?id=17670). A Georgian court sentenced him in absentia to an 11-year prison term. Living in Paris, Okruashvili became a frequent interviewee for the Russian press, accusing President Saakashvili of fueling anti-Russian sentiment in the North Caucasus and supporting terrorism, but he provided no supportive evidence (https://www.youtube.com/watch?v=bKVpkhkynQE). The Kremlin extensively used Okruashvili's statements to denounce Georgia as a country that supports terrorism.
After Bidzina Ivanishvili's Georgian Dream coalition won the parliamentary elections in October 2012, Okruashvili decided to return to the country. Apparently, Okruashvili expected that his animosity toward Mikheil Saakashvili and the accusations he made against the president would make him a welcomed and valued person to Ivanishvili's government.
However, on November 20, the former minister of defense came to Tbilisi and was promptly arrested. Currently, Okruashvili is accused of establishing illegal armed formations and attempting to overthrow the government in May 2011 (https://www.civil.ge/eng/article.php?id=25463). Along with Okruashvili, there are eight other people in the case who were his former subordinates in the Ministry of Defense, Ministry of the Interior and the administration of the Shida Kartli region. They testified that Okruashvili had reassured them about the Russian security services being on high alert and ready to invade Georgia from South Ossetia and overthrow President Saakashvili.
Ivanishvili's government does not appear to be particularly happy about Okruashvili's return and now faces a complicated dilemma. On the one hand, the government cannot simply release the person accused of human rights abuses by many Georgian Dream coalition members. On the other hand, leaving Okruashvili in prison will confirm that President Saakashvili's administration was right in trying to prosecute the former government official.
Probably because of these circumstances, the "most scandalous inmate" was removed from the list of "political prisoners" that was compiled by the Georgian parliament (https://www.civil.ge/eng/article.php?id=25519). Thus, Okruashvili's return to Georgia may in fact turn into a long sentence spent in a Tbilisi prison.