Irrationality in and Around Belarus's Political Crisis
Publication: Eurasia Daily Monitor Volume: 18 Issue: 87
By: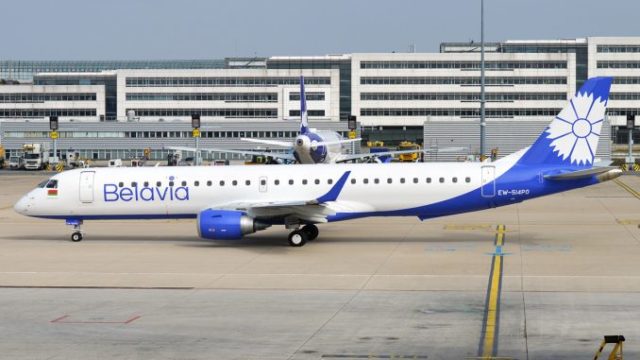 On May 28, President Alyaksandr Lukashenka paid a visit to Sochi, where he met with his Russian counterpart, Vladimir Putin (see EDM, June 1). Nothing groundbreaking was announced in the wake of their meeting; but Lukashenka ostensibly succeeded in selling Putin on his version of events surrounding the hijacking of the Ryanair plane in Belarusian airspace, which carried opposition journalist Roman Protasevich. In the opinion of Russian liberal philosopher Grigory Yudin, Putin willingly perceives "any significant events as integral to the 'West-against-me' storyline, which is why Lukashenka usually enjoys carte blanche in explaining any trick of his own, provided it is framed as 'the West wants to overthrow me, and I defend Smolensk.' As soon as Lukashenka stepped into this framework last summer, the Kremlin began to support him even in his most insane and gopnik [thug]-style actions [sic]" (Echo Moskvy, May 27).
Meanwhile, Hamas has rejected its alleged involvement in launching the supposed bomb scare that served as a justification for forcing the Ryanair jet to land in Minsk. The Palestinian militant group accused Belarusian authorities of "archaic thinking" and of a lack of understanding that "we now live in a time of free media and public opinion that no longer accepts such methods" (NV, May 24). The CEO of Ryanair, Michael O'Leary, called the incident a "premeditated hijacking" (Belsat, May 28).
Some reliable observers suggested that by forcing the passenger plane to land, Minsk was sending a message that it no longer cares about the West's opinions (Gazetaby, May 24). Of course, if one truly stops respecting another's opinion, there should be no need for (even starkly unrealistic) explanations either. Nonetheless, Belarus has continued to stick to its cover story, as Lukashenka repeated during his May 26 speech before the parliament and thereafter (BelTA, May 26).
Yet another aspect of irrational thinking on the part of the Belarusian authorities is their firm belief that electronic media is not only instrumental in instigating protests but subsequently plays a determinative role in coordinating and keeping them going. Therefore, in Yudin's words, the only reason for intercepting the plane was to arrest NEXTA Telegram channel founder Protasevich—not "the leader of the armed underground, not a criminal authority, or a defector who stole secrets, or even an opposition politician, but just a blogger." However, NEXTA operated long before the beginning of the anti-Lukashenka street rallies on August 9, 2020; it operated during those rallies; and it continues to operate now, even while there are no protests anymore. So Protasevich's Telegram posts cannot be blamed for producing those rallies. Rather, the demonstrations were sparked by a more "mundane" factor—the complete lack of public trust in the electoral outcome. This distrust was the key reason for tensions running high in society; and when this is the case, anything can ignite passions.
Of course, even ideas with the best of intentions can prove irrational or result in unintended consequences. On May 28, the non-governmental organization (NGO) Reporters Without Borders posited that canceling international flights of Belavia, Belarus's air carrier, and grounding flights from Europe to Belarus may not be a smart move as it deprives Belarusians of any possibility to leave their country or return home. A similar opinion was voiced by Juergen Trittin from Germany's Green party. But Trittin further suggested that the European Union should block Belarusian trade in refined oil and potash instead (Deutsche Welle—Russian service, May 26). Yet as Belarusian political commentator Arsen Sivitsky points out, the primary beneficiary of such a move would be Russia. According to Sivitsky, Russian potash producers Uralkhim and Uralkalii are trying their best to persuade the EU to block the activity of their Belarusian competitor Belaruskalii (Svaboda.org, May 29).
Dzianis Melyantsou of the Minsk Dialogue also believes that the closure of the skies over Belarus is a "foolish and emotional" move (Belarus Realist, May 25). After Ukraine joined the EU's air blockade, Lukashenka did not wait long to declare that Belavia would soon be launching flights from Minsk to Crimea (Belta, June 1). To date, Minsk had never officially recognized the Russian annexation of Crimea in 2014.
Russian economist Vladislav Inozemtsev suggests that Western preoccupation with the dramatic events in Belarus has allowed Russia—a serial international law breaking offender—to quietly retreat from the forefront of international attention. Innozemtsev is also bewildered by the efforts of exiled Belarusian opposition leaders to boost Western sanctions on Belarus (Novaya Gazeta, May 27).
"All the retaliatory measures announced by the EU are caused by the intention to protect themselves," opined Pavel Matsukevich, the former Belarusian charge d'affaires in Switzerland, who resigned in September 2020 in protest against the brutal crackdown in Minsk. "By closing the skies for Belarusian planes and recommending that European carriers avoid the airspace of Belarus, the EU prevents a repetition of an incident similar to that with the Ryanair plane… But this solution has a downside. In the end, who is punished? Not those who were to blame for the incident. First, they punished the national airline, which has nothing to do with it… Second, ordinary Belarusians were punished. If we consider that we live under repressions and dictatorship, the punishment eliminates any opportunity to escape. We were simply cut off, as a kind of threat to the EU." Matsukevich used even stronger language to condemn the act by the Latvian authorities, who, on May 24, replaced the official green-red flag of Belarus with the white-red-white banner that the Belarusian opposition wants to become the state flag. The former flag was exhibited among other flags of states whose teams participate in the world ice hockey cup underway in Riga. Matsukevich called this "an act of hooliganism" (Gazetaby, May 27). Immediately, Minsk expelled the Latvian ambassador and all of the embassy's diplomatic staff. Interestingly, Alexander Nosovich, a Kaliningrad-based Russian journalist with Belarusian roots, who was declared persona non-grata in Latvia and Lithuania, opined that "the Baltic States are the most useful little helpers in our fight to strengthen the Union State of Russia and Belarus" (Facebook.com, May 25).
By all accounts, a British newspaper, The Guardian, is on target by suggesting that "the West can disapprove all it likes of leaders like Belarus's Lukashenko, but only engagement will change anything… Sanctions satisfy interventionists wanting 'something to be done.' They are 'look-no-hands' policy for armchair diplomats" (The Guardian, May 27).