IS ABKHAZIA A PAWN IN THE GLOBAL POWER GAME?
Publication: Eurasia Daily Monitor Volume: 3 Issue: 130
By: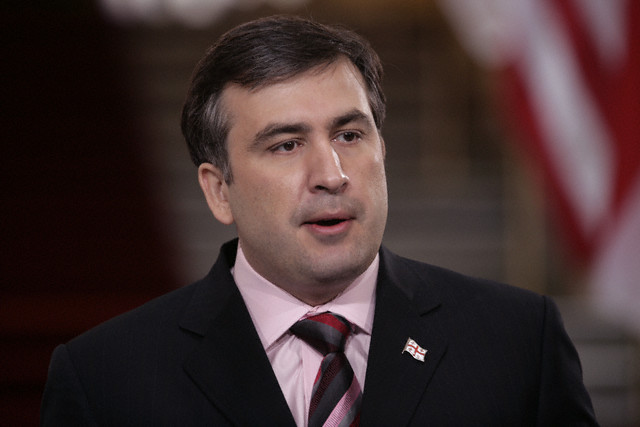 The reactivated confidence-building measures for settling the Georgian-Abkhaz conflict have not moved Georgia any closer to restoring its territorial integrity, but instead has raised hopes among the separatists. On June 30 the UN-sponsored Georgian-Abkhaz Coordinating Council's working group convened after a five-year pause and discussed the security problems between Georgia and Abkhazia as if they were independent parties.
The Abkhaz separatist regime deftly alternates between an intransigent secessionist agenda and a professed readiness to negotiate — but only about the terms for securing Abkhaz independence. On June 26, Sergei Bagapsh, the self-styled "president" of Abkhazia, unexpectedly expressed his readiness to meet Georgian President Mikheil Saakashvili to sign an agreement on non-resumption of hostilities. The agreement had been on the table for months but, according to Bagapsh, has not been signed because of "unacceptable amendments" inserted by Tbilisi. Last December Saakashvili tried in vain to get Bagapsh to meet to discuss the agreement.
The Abkhaz separatists have changed their strategy and now focus on promoting their secessionist agenda at the international level and acquiring Western allies. They can evidently claim some success. For example, in June the British NGO Conciliation Resources, which has long supported the Georgian-Abkhaz confidence-building dialogue, arranged for Abkhaz "deputy prime minister" Leonid Lakerbaya and other Abkhaz officials to visit the UK and the United States where they had high-profile meetings at various agencies. Speaking on June 8, Lakerbaya said that for the first time Abkhazia had received an opportunity to present its case to the U.S. State Department, where officials, according to him, showed great interest in the Abkhaz peace plan. Lakerbaya, however, underlined "Abkhazia's independence cannot be the subject of bargaining."
The strategy that international facilitators are now pursuing with regard to Abkhazia may be part of a larger policy favored by Western governments to find an optimal solution to the conflict. Their plan may be to reorient Abkhazia from a pro-Russian to a pro-European platform and to correspondingly diminish Russian influence in the region. U.S. Deputy Assistant Secretary for European and Eurasian Affairs Matthew Bryza, who visited Sukhumi twice during May and June and claimed to hear "constructive proposals" from Bagapsh during their talks on June 19, suggested that Abkhazia should develop closer ties with Europe.
This approach leaves Georgia to reconsider some of its inflexible views regarding the Abkhaz problem.
On June 9 the Georgian parliament accepted a government-proposed peace plan for Abkhazia that offers Abkhazia broad sovereignty within a federated Georgian state (see EDM, May 10, June 7). Abkhazia rejected this plan. Nevertheless, Irakli Alasania, Saakashvili's personal envoy for Abkhaz conflict settlement, stated that "the desire and political will to continue talks" expressed by the Abkhaz side "means that they are seeking some kind of compromise." Shortly after this statement Alasania, who the Abkhaz viewed favorably as a negotiator willing to pursue compromises, was made Georgia's Ambassador to the UN.
The Georgian peace plan, inter alia, calls for replacing the Russian peacekeepers in the conflict zone with a police force operating under the aegis of the UN. This issue will likely dominate the Abkhazia-related agenda for the next week. The Georgian parliament is scheduled to consider the performance of the Russian peacekeepers in Abkhazia on July 13-15. At a gathering of Russian diplomats in Moscow on June 27, Russian President Vladimir Putin clearly warned Tbilisi, "We [Russia] will continue to perform our peacekeeping missions, despite the open provocations we often face."
Most local analysts argue that the parliament's resolution about the peacekeepers will be carefully worded and ambiguous and will not demand the immediate withdrawal of the peacekeepers.
However, Georgia's hawkish Defense Minister Irakli Okruashvili has created confusion about Tbilisi's intentions. On July 3, during the ongoing "Caucasus-2006" military exercise, Okruashvili suggested that the government should not listen to recommendations from Europe that call on Georgia to soften its stance on the peacekeepers.
"Parliament should say unequivocally that the Russian peacekeepers must leave Georgia. We have to unite the country, and I am not interested at all in what some skeptics in Europe think of Georgian-Russian relations…. No recommendation from our European colleagues on the need for some kind of warming in our [Russian-Georgian] relations at the expense of these problems will be decisive or acceptable to me, and not only me. This could be regarded as the position of the authorities as a whole," he said.
Meanwhile, Georgian Foreign Minister Gela Bezhuashvili is being more cautious. On June 14 he stated that a radical decision regarding the Russian peacekeepers could change "the entire dynamics of conflict settlement."
The responses from Abkhazia confirmed the appropriateness of this concern. Bagapsh warned that if Russian peacekeepers withdraw, then Abkhazia will unilaterally withdraw from any peace talks with Tbilisi, plant mines along the entire Georgian-Abkhaz frontier, and replace the Russian peacekeepers with a collective peacekeeping force composed of troops from Abkhazia and the separatist regions of South Ossetia and Transnistria (see EDM, June 16). "And then it will be a real border," Bagapsh cautioned, alluding to the relatively liberal existing border regime. Bagapsh's harsh statements are likely aimed at intimidating Tbilisi and demonstrating his loyalty to Russia.
The results of the summit between Georgian President Mikheil Saakashvili and U.S. President George W. Bush in Washington on July 5 were expected to clarify Tbilisi's strategy regarding the Russian peacekeepers and the issue of Abkhazia in general.
(TV-Imedi, June 9; Interfax, June 8, 13; Apsnypress, June 8, 26-30; Kavkaz Press, June 2, 26, 29; Strana.ru, June 27; Civil Georgia, June 28, 30; Prime News, June 29; TV-Rustavi-2, July 2; Kviris Palitra, July 3; Resonansi, July 5)