"Is Anybody There?" Russian Military Command and Control
Publication: Eurasia Daily Monitor Volume: 8 Issue: 182
By: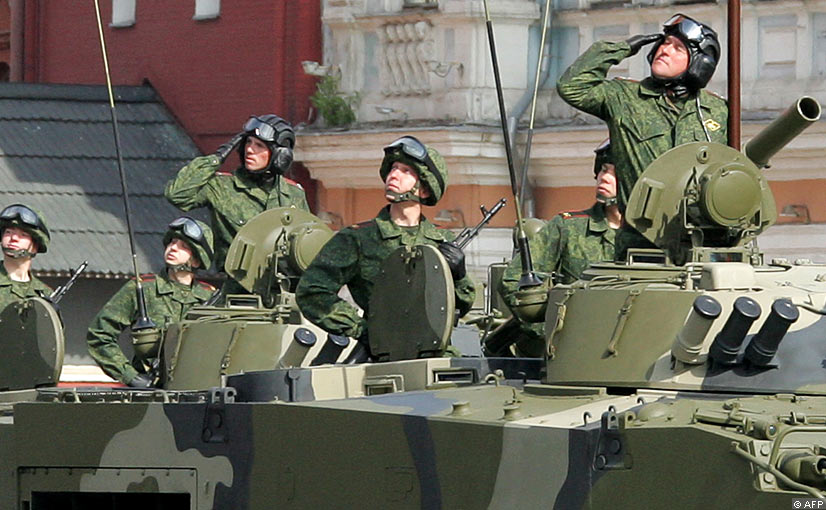 The crucial importance of reforming command and control (C2) in Russia's conventional armed forces featured prominently in the agenda of President Dmitry Medvedev when he met military district commanders during Tsentr-2008. Medvedev explained that the imminent reform would be determined by five key factors including enhancing and improving the overall efficiency of C2, confirmed as one the main shortcomings during the "operation to compel Georgia to peace" in August (Komsomolskaya Pravda, October 1, 2008; RIA Novosti, September 26, 2008). On September 27, 2011 Medvedev delivered a similar message to commanders following the conclusion of Tsentr-2011. Since the new joint strategic commands formed in 2010 subordinate "all" military and security formations on their territories to a single command structure, the operational-strategic exercise, according to the president, had focused on "interagency and intergovernmental cooperation" (https://eng.kremlin.ru/news/2863, September 27).
This carefully crafted public relations event, led by Medvedev flanked by the Defense Minister Anatoliy Serdyukov and the Chief of the General Staff, Army-General Nikolai Makarov, provided a semblance of "business as usual" in military modernization while paying lip service to "problems." The English language coverage on the presidential website ends with Medvedev thanking members of "divisions," despite the "reform" displacing the old division-based system. The Russian language version on the same portal (repeated by Krasnaya Zvezda) included some coverage of commanders "grumbling" (https://kremlin.ru/news/12836, https://www.redstar.ru/2011/09/29_09/1_02.html, September 27, 29).
Most of the weaknesses highlighted were previously identified by the political leadership and top brass. However, Colonel Sergei Kombarov, the Commander of the 7th Tank Brigade in Chebarkul, noted the success of a counter-terrorist operation during Tsentr-2011 involving armed forces units, interior troops units from the emergency situations ministry among other security forces, and then he highlighted communications-related problems between these structures. According to Colonel Alexei Rogozin, the commander of the 98th Airborne Division (Vozdushno Desantnye Voiska – VDV), this is more problematic when pursuing interoperability with Russia's allies. Rogozin may have recalled his experience in the fall of 2010 during a Collective Security Treaty Organization (CSTO) exercise where Russian communications officers tried to interface with their Kazakh counterparts – the latter used French made communications equipment. Moreover, Rogozin explained that as the Russian armed forces foster new approaches to warfare, this further complicates cooperation efforts with CSTO allies (Novvy Region, September 27).
Improving coordination between units and agencies, or interoperability with other nations' forces, are part of much deeper issues in the efforts to "enhance" C2. Viktor Litovkin noted during Tsentr-2011 the curious absence of any reference by the top brass to the long-awaited automated C2 system (Yedinaya Sistema Upravleniya v Takticheskom Zvene – YeSU TZ). Testing this system, stuck in its design stage for more than a decade, featured in previous operational-strategic exercises since the reform began in 2008: Kavkaz, Ladoga, Zapad 2009 and Vostok 2010. It is evidently subject to ironing out weaknesses in its graphics and its "user friendly" potential, reflecting an overstretched and beleaguered defense industry struggling to meet the high aspirations of the state (Nezavisimoye Voyennoye Obozreniye, September 23).
Lieutenant-General Nikolai Ignatov, Chief of Staff and First Deputy Commander of the VDV, envisages rapid procurement of automated C2 systems in the elite airborne units, integrating the existing Polet-K with an advanced Andromeda-D, which he hopes will simplify and reduce the time involved in decision making by 50 percent. Andromeda-D has been introduced experimentally into the 76th Air Assault Division (AAD), and commanders hope that by 2015 the entire VDV will be outfitted with the new system (Krasnaya Zvezda, Ekho Moskvy, August 2).
The mobile/fixed automated C2 system is under development for the VDV by the Communications and Command and Control Systems NII (Scientific Research Institute). Its production facilities consist of Ryazan Radio Plant, Kaluga Telegraph Equipment Plant, Elektroavtomatika OAO (Open Joint Stock Company) (Stavropol) and Volgo NPO (Scientific Production Association) OAO. It is mounted on the chassis of BTR-D airborne armored personnel carriers, or BMD-2 and BMD-4 airborne fighting vehicles. Andromeda-D can support a wide range of communications packages to transmit information using traditional radio channels or high-speed networks, and its designers say it also has a state-of-the-art navigation system. Aleksei Kazanskiy, the director of the design institute, said that battalion elements down to platoon level have been equipped in the 76th AAD, and work continues to equip to squad and "individual" levels. The initial contract was for three years, and in close cooperation with the VDV command it is planned to outfit four VDV formations simultaneously in 2011. As well as working with the VDV, the designers of Andromeda-D cooperate with Sozvezdiye Concern, responsible for designing the overall YeSU TZ. Kazanskiy is confident that these systems will interact sufficiently well (Krasnaya Zvezda, September 21).
Kazanskiy also identified serious implications for manpower and training in introducing such high-tech systems. His institute collaborated closely with the VDV, equipping classrooms and assisting in training personnel. However, based on his experience of conducting this experiment in the 76th AAD, Kazanskiy stated that the appropriate level of training to master the Andromeda-D requires around one year to complete, which would prove impossible among twelve month serving conscripts rotating out of the units twice each year (Krasnaya Zvezda, September 21).
The timescale involved in conducting such training either testifies to the complexity of the new technology, or the low computer literacy and educational standards of existing personnel. Equally, the defense ministry appears to have given little thought to the extent to which such changes may compel a revision of the manning structure. How would conscript personnel in the VDV fit into a high-tech C2 structure if they are unable to use it adequately? Will "dumb" and "smart" C2 systems co-exist? These issues are hardly mere "teething problems" but reflect much deeper systemic weaknesses. When the design issues in the YeSU TZ are finally resolved, specialists estimate that the defense industry has the capacity to equip five brigades annually; thus, after six consecutive years of introducing the automated C2 system more than half the existing brigades would remain unmodernized (Voyenno Promyshlennyy Kuryer, February 2, 2010).
As these processes unfold what will be wider the implications for interoperability within the CSTO? Or, does the Russian defense ministry plan to overstretch by also equipping niche forces from Belarus to Central Asia? Many of Russia's Ground Forces' brigades are saddled with up to 80 percent conscript personnel. Despite the high aspirations for the force transformation, poor central planning capacity is likely to mitigate these chaotic efforts to raise combat capability and readiness.