Is Belarus Seeking a Helping Hand?
Publication: Eurasia Daily Monitor Volume: 12 Issue: 64
By: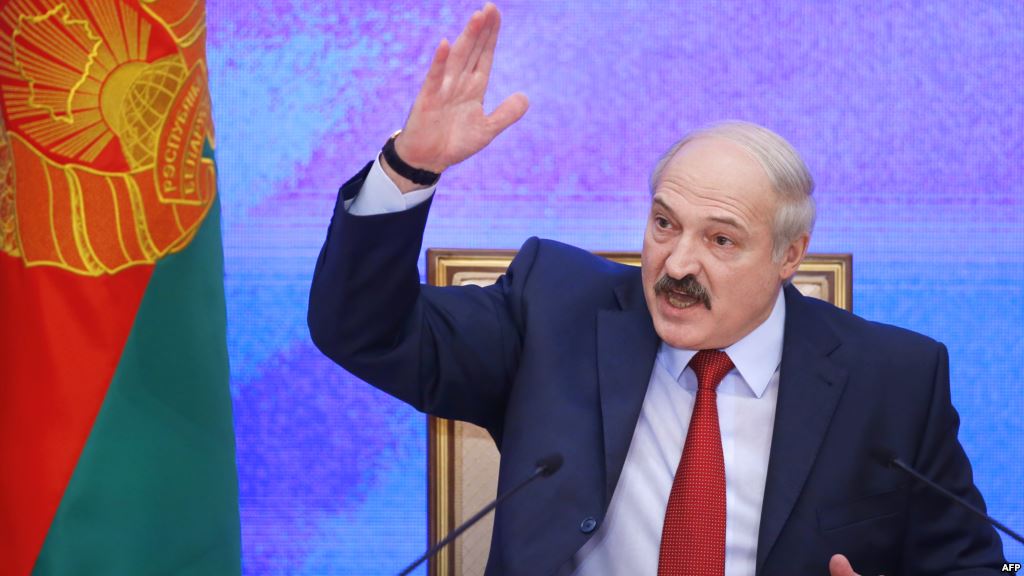 On March 31, Belarusian President Alyaksandr Lukashenka gave a two-hour interview to Ryan Chilcote, a Russian-speaking London-based reporter for Bloomberg Television (YouTube, April 2). Most, if not all, media commentaries initially singled out Lukashenka's particular suggestion that the United States ought to join the negotiations aiming at a resolution of the conflict in Ukraine. "[W]ithout America," he asserted, "no stability is possible" in that post-Soviet country. "The United States plays a decisive role […] both in terms of domestic processes in Ukraine and in terms of expediency to sit down and negotiate with Russians," the Belarusian president argued. Such statements irked some Russian commentators, especially in the "patriotic" media (Regnum, April 3). However, more balanced sources searched for ulterior motives in Lukashenka's remarks, as well: such as an urgent need "to locate money" to stabilize the Belarusian economy prior to the presidential elections of November 2015 (Gazeta.ru, March 31).
In fact, however, Lukashenka's realpolitik musings on the desirability of Washington's active policy in the post-Soviet space to counterbalance Russia's imperial appetite are not new at all. In December 2010, for example, they were communicated to a group of US experts (Grigory Ioffe, Reassessing Lukashenka, Palgrave-McMillan 2014, pp. 1–2), but were not widely shared with the media, except for the Belarusian Service of Radio Liberty (Svaboda.org, December 14, 2010).
Much of what Lukashenka revealed to Chilcote reflects the Belarusian leader's signature brinkmanship style: that is, highly provocative statements offset by verbal tranquilizers. Thus, he proclaimed, "Belarus will never become the Northwestern Region of Russia [the label Belarus once bore]" and Belarusians will defend their country to the bitter end, even if the aggressor invades from the east. But Russia never posed the question of Belarus's incorporation in the first place, he added, concluding: so "we will never fight with Russia the way I understand it." Or in another example, Lukashenka told his interviewer: "Russia may well be reproached for interfering in the affairs" of other countries, but so may the United States, as "this type of behavior is typical for large states" (YouTube, April 2).
According to Lukashenka, it is absolutely necessary for the Ukrainian authorities to directly negotiate with the leaders of Donetsk and Luhansk People's Republics. He claimed that, if asked, most people residing there would be in favor of staying within Ukraine. Lukashenka repeated his earlier declaration that while he is "categorically against annexations," Ukraine did not budge to defend Crimea. And he also suggested playfully that he is "no longer the last dictator of Europe, because now there are some that are a bit worse, right? So I am a lesser evil."
Referring to Lukashenka's most quoted statement about the United States' critical ability to stop the war in Ukraine, Yury Drakakhrust of Radio Liberty opined that Washington's political philosophy, always open to the use of brute force, is so much more understandable to Lukashenka than Europe's consensus-building and staying away from outright coercion. Drakakhrust suggested that in his dealings with the US, Lukashenka is keen on emulating Nicolae Ceausescu of Romania. The latter presided over a brutal communist regime; but because he veered away from the Kremlin by not supporting the 1968 invasion of Czechoslovakia and by retaining relations with Israel, the United States treated him kindly. Ceausescu paid a visit to President Jimmy Carter, and Richard Nixon and Gerald Ford visited him in Bucharest. But if history is any guide, the window of opportunity for Lukashenka may only be available for a short time, just as it was for Ceausescu. When Ronald Reagan came to power, his crusade against Communism no longer had any room for games with Communist mavericks. Likewise, the current US president may soon be replaced by someone "more energetic and decisive." In anticipation of such a development, Lukashenka is in a hurry to curry favor with the West, Drakakhrust believes (Tut.by, April 3).
And currying favor may indeed make sense, if only for economic reasons, as Russia is apparently no longer willing to issue hefty loans to Belarus. This year, Russia limited itself to just extending repayment for some of Belarus's earlier borrowings and lending only $110,000 anew (see EDM, April 1). Prior to the 2010 election, the International Monetary Fund's (IMF) $2.46 billion stand-by loan came in handy. It was subsequently increased to $3.56 billion and has just been repaid by Belarus. Indeed, the periods leading up to the previous three presidential elections in Belarus (2001, 2006 and 2010) all featured economic growth and rising personal incomes. This time, there is hardly any growth and personal incomes are not rising. In fact, they have seriously shrunk, particularly when denominated in US dollars or euros. The Belarusian ruble lost 33 percent against the dollar in the past 12 months, the third-worst performance among more than 170 currencies tracked by Bloomberg, behind the Ukrainian hryvnia and the Russian ruble (Bloomberg, April 2). Concurrently, Lukashenka's electoral rating has declined by almost 6 percent since December 2014, to 34.2 percent in March 2015, according to the last quarterly poll by the Independent Institute for Socio-Economic and Political Studies. This is the share of Belarusians ready to vote for Lukashenka if presidential elections were held "today" (Tut.by, March 31).
Even some opposition-minded commentators from Belarus do not believe that the country's fall into the "trap of brotherly integration" with Russia can be blamed solely on Lukashenka. Rather, an insecure Belarusian national identity and Belarus's economic model, with its high levels of social subsidies, stand behind that trap (Naviny.by, April 2). As a result, it might well be a good idea on the part of potential Western donors to lend Belarus a helping hand. After all, the economic situation is, indeed, grim; but a commitment to statehood (i.e., separation from Russia) is now robust. Some favorable and enthusiastic articles by Western journalists about Belarus have, in fact, recently appeared (Huffington Post , March 25; Business Insider, March 30)—still a rarity in the English-speaking press—possibly lending further credence to the assertion that Belarus's name recognition and international reputation is finally improving in the West (see EDM, April 1).
It remains to be seen, however, how Belarus will weather the remainder of this critical year. Absent a sizable loan, printing more money (Tut.by, April 1) could be a likely scenario—a temptation that the Belarusian Central Bank has, so far, successfully resisted.