Is China's Charm Offensive Dead?
Publication: China Brief Volume: 14 Issue: 15
By: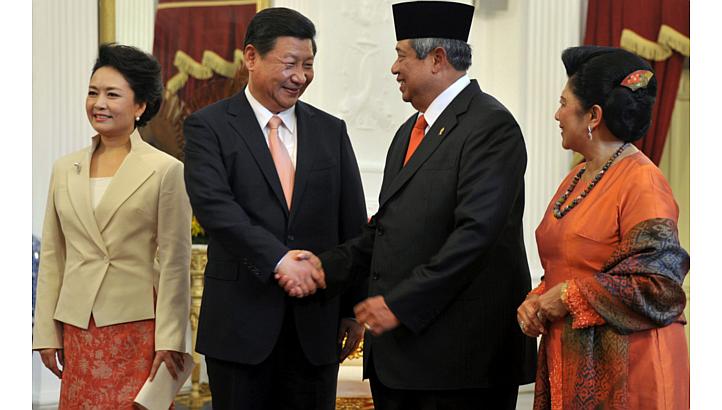 A series of seemingly unprovoked actions in the South and East China Sea has been described as an abandonment of the "second charm offensive" launched last year by Chinese President Xi Jinping. However, China has continued to pursue economic and diplomatic cooperation with its Southeast Asian neighbors even as it contests territory with them at sea. Rather than choosing between two different approaches to "periphery diplomacy," Xi is attempting to unite them in a single, "proactive" strategy that advances Chinese interests.
Less than a year after Chinese President Xi Jinping put forward a diplomatic strategy focused on building good relationships with China's neighbors, China appears to have soured relations with almost every country in East and Southeast Asia. From early May to mid-July, Vietnam and China were locked in confrontation over China's deployment of drilling platform HYSY 981 in disputed waters. The Philippines, still pursuing an international arbitration in which China refuses to participate, filed a diplomatic protest accusing China of land reclamation activities on Johnson South Reef, one of five outcrops in the Spratly Islands where the Chinese are allegedly transforming reefs into islands (The Philippine Star, June 13). After two near misses in the airspace over the East China Sea between Japanese and Chinese aircraft in May and June, Japan warned of the danger of a serious accident, prompting China to accuse the Japanese aircraft of carrying out "threatening moves." Indonesia and Malaysia, usually reluctant to offend Beijing, have also felt the need to respond to Chinese actions, the former naming China as a potential target of military exercises and the latter joining the United States in criticizing Beijing in a joint statement by President Obama and Prime Minister Najib (The Jakarta Post, April 1; The White House, "Joint Statement by President Obama and Prime Minister Najib of Malaysia," April 27).
The situation is a far cry from the same time last year. Xi Jinping and Li Keqiang spent the better part of their first year at the helm travelling around China's immediate neighborhood, including Southeast Asia, where they promised increased trade, signed business agreements, promoted schemes to enhance ASEAN connectivity, proposed the formation of an Asian infrastructure development bank and reassured the region that China's rise would bring prosperity to its neighbors. At the time, many observers described their sojourns as China's "second charm offensive" (for example, see Phuong Nguyen, CSIS, October 17, 2013). The first charm offensive followed a decade beginning in the late 1980s marked by Chinese seizure of disputed land features in the South China Sea and passage of a Territorial Sea Law. It was launched in 1997 when Beijing declared during the Asian financial crisis that it would not devalue the RMB and was reinforced a few years later when China proposed a China-ASEAN free trade agreement, and lasted approximately 10 years.
Another sign suggesting a second wave of China's charm offensive was the convening of a much publicized two-day foreign policy work conference last October, with Xi Jinping presiding. It was the first such conference since 2006, and the first ever focused on China's foreign policy toward its periphery. Xi put forward the diplomatic concept of "amity, sincerity, mutual benefit and inclusiveness." To emphasize his vision of shared prosperity for the region, Xi also introduced the notion of a "viewpoint of values and interests" (yiliguan), which claims that China will not forget justice and morals in the pursuit of its interests (see also China Brief, November 2, 2013). Nations in the region and the United States heaved sighs of relief as they concluded prematurely that Beijing recognized it had overreached and was correcting its policy missteps.
Rather than laying low, however, China has taken a series of assertive actions in the past year that have led to increasing mistrust even from countries previously on good terms with Beijing, seemingly undermining its own charm offensive and driving its neighbors into closer security cooperation with the United States. Is Xi Jinping's "periphery diplomacy initiative" dead within a year of its unveiling?
End of Periphery Diplomacy?
At the conference last fall, in the presence of the entire Standing Committee of the Politburo, various organs of the Central Committee, State Counselors, members of the Central Leading Small Group with responsibility for foreign affairs and Chinese ambassadors to important countries, Xi exhorted his countrymen to "advance diplomacy with neighboring countries, strive to win a sound surrounding environment for China's development and enable neighboring countries to benefit more from China's development for the purpose of common development" (Xinhua, October 25, 2013). At the same time, however, he emphasized a key strategic goal of Chinese diplomacy: China, Xi said, "needs to protect and make the best use of the strategic opportunity period [extending to 2020] to safeguard China's national sovereignty, security and development interests."
While outsiders may consider promoting a sound surrounding environment and defending territorial claims to be contradictory goals, in the minds of the Chinese leadership, they are not. Beijing does not believe that its present actions amount to abandoning the "second charm offensive." It is still committed to sharing the fruits of its economic success with its neighbors; promises made in the run up to the periphery diplomacy initiative continue to be in force. The "Maritime Silk Road," an ambitious plan to build ports and boost maritime connectivity with Southeast Asian and Indian Ocean littoral countries that Xi advanced while addressing the Indonesian parliament is being funded and actively promoted (Washington Post, October 9, 2013). Preparations are underway to launch the Asian Infrastructure Investment Bank with capital of $50 billion, paid for by its members.
Beijing's proactive economic diplomacy is part of a larger strategy aimed at binding its neighbors in a web of incentives that increase their reliance on China and raise the cost to them of adopting a confrontational policy towards Beijing on territorial disputes. At the same time, China continues to engage in a steady progression of small steps, none of which by itself is a casus belli, to gradually change the status quo in its favor. In the near term, China's leaders anticipate some resistance. Over time, however, they calculate that their growing leverage will be sufficient to persuade their weaker and vulnerable neighbors to accede to Chinese territorial demands.
Continuities and Discontinuities
China's uncompromising stance on issues of territorial integrity and sovereignty is hardly new. Hu Jintao's political report delivered to the 17th Party Congress in 2007 noted that "We are determined to safeguard China's sovereignty, security and territorial integrity and help maintain world peace." Five years later, the political report to the 18th Party Congress, which had Xi Jinping's stamp of approval, used somewhat tougher language, saying "We are firm in our resolve to uphold China's sovereignty, security and development interests and will never yield to any outside pressure."
In between the two Party Congresses, Beijing authoritatively defined Chinese core interests as including sovereignty and territorial integrity. In his closing remarks at the July 2009 U.S.-China Strategic and Economic Dialogue, Chinese State Councilor Dai Bingguo, listed and ranked China's core interests as upholding our basic systems, our national security; sovereignty and territorial integrity; and economic and social sustained development (U.S. Department of State, "Closing Remarks for U.S.-China Strategic and Economic Dialogue," July 28, 2009). A similar list was included in a White Paper on Peaceful Development issued by China's State Council in 2011 (Chinese Government's Official Web Portal, "Full Text: China's Peaceful Development," September, 2011).
After taking power, Xi Jinping forcefully articulated China's resolve to defend Chinese sovereignty and territory. As early as July 2013, Xi Jinping told the 25-member Politburo that "No country should presume that we will trade our core interests or that we will allow harm to be done to our sovereignty, security or development interests," even as he reaffirmed China's offer, first put forward by Deng Xiaoping, to shelve disputes and carry out joint development (Beijing Review, August 29, 2013). At the October 2013 periphery diplomacy conference, Xi twice referred to the need to safeguard the country's sovereignty as part of its diplomacy in areas along its borders (Xinhua, October 25, 2013).
Although China's renewed assertiveness on territorial matters began under Hu Jintao, Xi has advanced Chinese policy to include not only reactive, but also proactive assertiveness. In June 2012, Beijing took advantage of Manila's initial mistake of dispatching a warship to arrest Chinese fishermen at Scarborough Shoal to seize control of the reef and its surrounding waters. China viewed this episode as a great victory, with lessons on applying a combination of diplomatic pressure, economic coercion and paramilitary intimidation during periods of confrontation. When the Japanese government purchased three of the disputed Senkaku/Diaoyu Islands from a private Japanese owner in September 2012, Beijing began conducting regular patrols in the islands' 12-nautical mile territorial waters in a bid to challenge Tokyo's administrative control over them.
Yet, when China announced the establishment of a new air defense identification zone in the East China Sea in November 2013 that overlapped with similar zones set up decades earlier by Japan, South Korean and Taiwan, there was no immediate provocation. Similarly, in the recent stand-off with Vietnam, there was no proximate instigation that led to the deployment of the oil rig. On the contrary, Chinese companies financed the operations themselves, ostensibly under orders from Beijing (see also China Brief, June 19). The rig operated in a block owned by China National Petroleum Corporation (CNPC). Another state-owned firm, China National Offshore Oil Corporation (CNOOC), financed the project through its subsidiary China Oilfield Services Limited (COSL), which owns the rig.
Whereas China's approach to handling territorial disputes with its neighbors under prior leaders was characterized by alternating periods of coercion and charm offensive, Xi is clearly comfortable pursuing both simultaneously. He is convinced that China can preserve good relations with its neighbors at the same time that it attempts to change the status quo in China's favor in the East and South China Seas.
Prior Chinese leaders consciously avoided excessive strains with too many neighbors at the same time and sought to keep relations with the United States on a positive, stable footing. Xi Jinping is evidently willing to tolerate a relatively high level of tensions with numerous countries over territorial issues. This includes ties with the United States, which have become increasingly contentious as the Obama administration has sharply condemned Beijing's use of coercion and intimidation against nations on its periphery (U.S. Department of State, "Maritime Disputes in East Asia," February 5).
Promoting Proactive Diplomacy
Beijing has quietly discarded Deng Xiaoping's guideline to "observe calmly, secure our position, hide our capacities and bide our time, be good at maintaining a low profile and never claim leadership." Chinese sources reveal that Deng's directive—known in shorthand as the taoguang yanghui strategy—is no longer referenced in internal meetings and party documents. While no new guideline has yet appeared in its place, potential successor formulations all advance a more proactive diplomacy.
At the periphery diplomacy conference last October, Xi advocated that China be "more proactive in promoting periphery diplomacy." He used the phrase fenfa youwei, which is often translated as enthusiastic, but suggests a more assertive approach. In the same speech Xi also used at least two other terms in the same speech—gengjia jiji, meaning "more active" and gengjia zhudong meaning "take greater initiative," on both occasions referring to China's relations with its neighbors. Since the periphery diplomacy conference, various Chinese phrases have been used by senior officials to promote a more "proactive" foreign policy. Asked to describe the most salient characteristic of Chinese policy toward other countries in 2013 at the National People's Congress press conference, Foreign Minister Wang Yi used the term "proactive" (zhudong jinqu). In his remarks about Chinese foreign policy going forward, he also used several other terms that connote a more active foreign policy (jiji jinqu, jiji zuowei and jiji waijiao). While none of these terms has been officially sanctioned as a new guideline for Chinese foreign policy, they may be trial balloons for potential replacements. The common thread among them is a rejection of the cautious, reactive approach of the past in favor or a more proactive stance. On maritime territorial disputes, this means taking and making opportunities to change the status quo in China's favor.
Explaining the Shift
China's new strategy can be attributed to a number of factors, most importantly, its comfort in playing a decades-long game in the South China Sea. Despite a slowing economy, China is certain that its regional clout is only going to increase, albeit at a slower pace than before. In a speech to the World Peace Forum in June, Chinese State Councilor Yang Jiechi stated:
By being the largest trading partner, the largest export market and a major source of investment for many Asian countries, China has accounted for 50 percent of Asia's total economic growth. China's continuous growth will present even more development opportunities to Asia (Ministry of Foreign Affairs of the People's Republic of China [FMPRC], "Join Hands in Working for Peace and Security in Asia and the World," June 21).
Beijing is therefore banking on the fact that over time, none of China's neighbors will be willing to challenge an economically strong China, as the economic cost will be simply too high. This expectation was suggested by Wu Shicun of the National Institute for South China Sea Studies expounded after the Shangri La Dialogue in Singapore—"[China's neighbors] worry that when China becomes strong one day, and is able to define the nine-dash line as it wishes, they are powerless to do anything about it" (Straits Times, June 2).
China is also betting that the Obama administration, with its hands full with more pressing international issues, will not intervene militarily to help countries in East Asia defend rocks and reefs and their associated maritime claims. By sowing doubts about U.S. reliability in the minds of China's neighbors, Beijing seeks to send a message that compromise with China is inevitable.
The People's Liberation Army (PLA) is likely a factor guiding certain elements of Xi's approach to the region. Though the exact nature of the relationship between China's new leadership and the military is sketchy at best from the outside, Xi's gestures to the military are evident. Frequent visits to military commands, calls to the PLA to be prepared to "fight and win wars" and increased budgets for the forces signal Xi's need and even desire to maintain support from the military. Insiders confirm that Xi has been under pressure from the PLA (as well as other groups) to be uncompromising on territorial issues. One knowledgeable source revealed privately that Hu Jintao resisted pressure from the PLA to announce the East China Sea ADIZ in his final year in power. Xi opted to approve it after only one year at the helm.
China may also be reacting to the U.S. "rebalance to Asia." Despite repeated assurances by the U.S. to the contrary, China still believes that the rebalance is a ploy to contain and encircle it. It views the strategy as the source of tensions between China and its neighbors. The involvement of external powers in the region is seen as unhelpful and destabilizing. Xi has expressed this view multiple times—most recently in May at the Conference on Interaction and Confidence-building Measures in Asia (CICA) in Shanghai, where he promoted building an Asia security structure in which Asian problems are solved by Asians themselves (FMPRC, "New Asian Security Concept For New Progress in Security Cooperation," May 21). In the same speech, he warned against the strengthening of military alliances with third countries, a bald criticism of the U.S. rebalance to Asia strategy.
It is also possible that China's more assertive strategy in the region is an attempt to shore up party legitimacy at home at a time of growing domestic stress. A related argument suggests that Xi needs to be tough on foreign policy in order to push through controversial economic reforms at home. If either of these explanations of Chinese behavior is valid, then Xi's hawkish foreign policy stance will likely continue for some time and may be relatively impervious to external influences, including a backlash from China's neighbors.
Will China's Strategy Succeed?
China has not abandoned its charm offensive toward its neighbors, but securing good relations with the region is not China's only goal. Xi Jinping is seeking to simultaneously assert Chinese territorial claims. To pull this off successfully, however, Beijing will have to persuade the region that confronting China is too costly and there is more to gain by accommodation. So far, the record is mixed. Despite persistent pressure from China, Japan has refused to budge from its stance that no dispute exists over the islands that Beijing lays claim to in the East China Sea. Vietnam and the Philippines are directly challenging China over territorial matters, though both nations hope to resolve their disputes without undermining overall amicable relations with Beijing. So far, countries in the region remain hesitant to band together to put greater pressure on China. At present, Beijing appears confident that it has time on its side.