Is Kazakhstan Threatened By Islamic Terrorists?
Publication: Eurasia Daily Monitor Volume: 8 Issue: 209
By: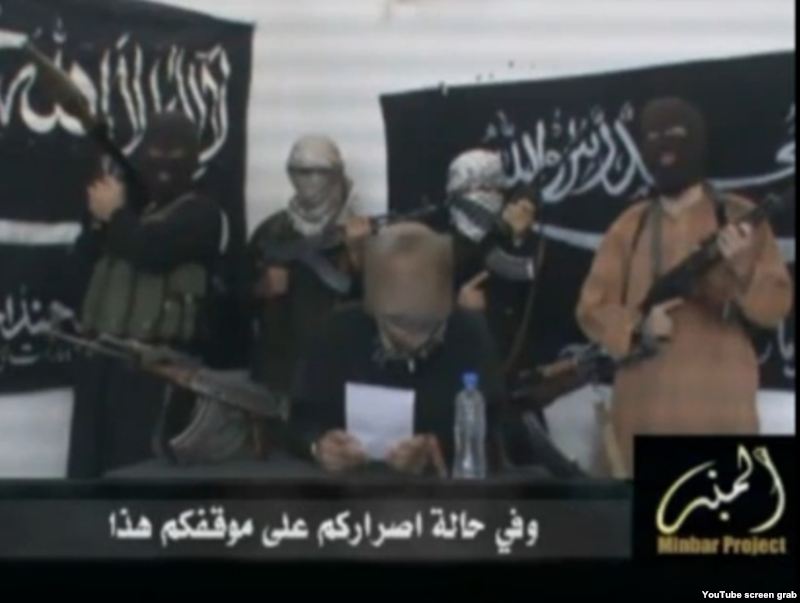 Kazakh police in the western Atyrau oblast have arrested three men in connection with two bomb explosions in the downtown area of the city of Atyrau, the "oil capital" of Kazakhstan, on October 31. They have made full confessions, said the Prosecutor-General's office on Wednesday. The blasts, immediately classified as a terrorist act by officials, took place near administrative buildings causing minor damage. The second bomb went off prematurely killing the suspected bomber, 23-year-old Bauyrzhan Sultangaliyev.
The four men formed a terrorist cell in 2009 inspired by the ideas of jihadists, including the well-known extremist Said Buryatsky, said the Prosecutor-General's office. Buryatsky (Aleksandr Tikhomirov), one of the chief ideologues of the armed resistance in the North Caucasus, was killed in March 2010 in Ingushetia by Russian security forces. In September, they established contact with the militant Islamist group Jund al-Khilafah (Soldiers of the Caliphate), set up this past summer by three Kazakhstani citizens based in the Afghan-Pakistani border region.
The leader of Jund al-Khilafah, Rinat Khabidulla, demanded in an online video a few days before the explosions that Kazakhstan repeal its recently passed new law on religion, which bans prayer rooms in state buildings and restricts the activity of unauthorized religious groups. The law was rushed through parliament after President Nursultan Nazarbayev had acknowledged in a speech on September 1 that there is extremism in the country and vowed to tackle it. It was adopted in mid-October.
The explosions "were just a warning to the government," according to a statement released on jihadist forums signed by the "Al Zahir Baibars Battalion" of the Jund al-Khilafah Brigade. (www.longwarjournal.org, Oct 31).
These blasts have caused anxiety and triggered a lively public debate about whether Islamist terrorism has really reached the remote and up to now relatively peaceful steppes of Kazakhstan. Opinions are divided. A series of violent incidents since spring, including deadly clashes between security forces and armed men in western Kazakhstan and the country's first-ever suicide bombing in Aktobe, another western city, in May, have left many people puzzling about what is going on. In the absence of clear explanations from the authorities – at least until the president's remarks – speculation rose about whether these events were related to Islamic extremism, organized crime, or both.
Religious leaders in Kazakhstan have stressed that the men involved in shootouts with the authorities over the summer, which had raised concerns about growing militancy, are criminals and not religious extremists.
Sergei Duvanov, one of Kazakhstan's most prominent political commentators, has his doubts about the existence of Jund al-Khilafah, an organization previously unknown in Kazakhstan. He sees three possible roles for this group in the Atyrau explosions. First, he said, there may be no such organization at all, but a construct of Kazakhstan's special services solely aimed at whipping up fear among the population. Russia's leadership has demonstrated how fear of terrorism can be translated into strengthening one's power, he says. Second, the organization exists and has used the opportunity to claim responsibility for the blasts organized by the special services on behalf of the authorities. Third, Jund al-Khilafah has indeed carried out the explosions (Respublika, November 1).
Only time will tell which one of these variants is true, he said. In any case, the people of Kazakhstan have been given a scare, which may have an impact on the outcome of the upcoming parliamentary elections to be held sometime in 2012.
Marat Shibutov, expert of the Association of Border Cooperation, believes that terrorism in Kazakhstan is home-grown and attracts young "social losers," come of age in the post-independence period, with few opportunities. "No outside power has any interest in destabilizing Kazakhstan," he says. Technically, these terrorists are poorly prepared. Religion is a factor.
Interest in Islam is clearly on the rise. Following independence, there were only 68 mosques in the country, compared to 2,350 mosques today. Out of Kazakhstan's 16.5 million people, 72 percent are formally considered followers of Islam and 25 percent of the Russian Orthodoxy. These figures might actually be somewhat inflated. There is a tendency to count virtually all ethnic Kazakhs as well as ethnic Uighurs and Uzbeks in the country automatically as Muslims.
The knowledge of Islam is generally underdeveloped. Kazakhstan's formerly nomadic people have never been fervent adherers to the faith. Seventy years of Communist rule and ideology did its bit to even alienate many from Islam. The breakup of the Soviet Union has led to a steady revival of religion in this multi-ethnic country, especially among the young in search of identity and values. Western Kazakhstan is seen as more susceptible to Islamic influence than other parts of the country due to its closeness to the North Caucasus where radical Islam has flourished.
Following 9/11, Kazakhstan has at times been used by individual Islamists as a place of retreat, for rest and relief, to be treated for their wounds, and to meet with their families. The country had so far not been a target for Islamic attacks.
Kazakhstani analysts see dissatisfaction over the socio-economic situation in oil-rich Kazakhstan and corruption at all levels as the root of the problem. "Our society is healthy," says Pyotr Svoik, an opposition activist, adding "Let's modernize the state and religion will fall into place."