Is Moscow Losing Its India Connection?
Publication: Eurasia Daily Monitor Volume: 9 Issue: 199
By: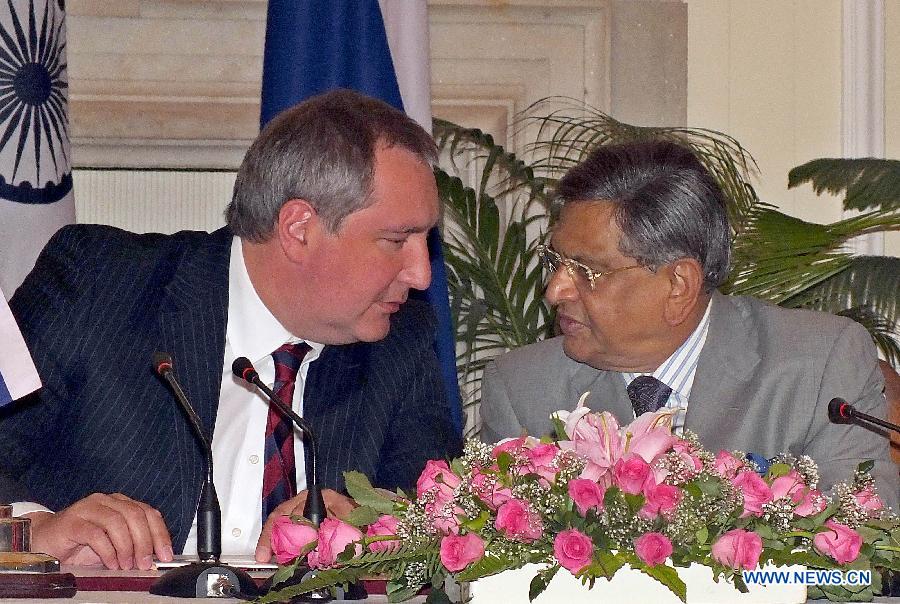 Earlier in October, Russian Deputy Prime Minister Dmitry Rogozin traveled to India to complete discussions ahead of President Vladimir Putin's planned trip there and to negotiate nuclear and arms deals. Perhaps not surprisingly, given Rogozin's charm as a diplomat, Putin's trip was postponed and overt signs of Indo-Russian mutual unhappiness have emerged. Despite over fifty years of amity, Indo-Russian relations are declining as India's power rises and as it solidifies its ties to the United States and other Western arms sellers who can offer it what Russia increasingly fails to deliver—namely reliable high-tech weapons with high performance quality.
India evidently has no plans to seek fines from Russia for the latter's delay in transforming the modified Kiev-class aircraft carrier Admiral Gorshkov into the INS Vikramadtiya, which is now over four years late. Pundits claim that the ongoing delay will not hurt Russia's reputation. However, it is clear that this failure has already poisoned the Russian-Indian arms sales relationship as well as broader bilateral ties (Interfax-AVN Online, September 18; Ekho Moskvy, September 18). Moscow has attempted to attribute the delays with transferring the Gorshkov to equipment supplied by third countries, Indian demands for a modification of Russian boiler technology, and the difficulties of operating in a tropical climate. Russia now claims the carrier will be delivered to India in late 2013 (Interfax, October, 22; The Hindu Online, October 22). Nonetheless, the program is way behind schedule and hundreds of millions of dollars over budget, causing considerable Indian irritation if not anger (The Hindu Online, October 10; Interfax, October 10). Instead, Russia is trying to emphasize its other arms sales to India—e.g. naval frigates and the sale of 42 fighter jets (Interfax, October 10). Russia also observes that the two states are implementing over 100 military projects (Interfax-AVN Online, October 9). But despite Rogozin's denials, New Delhi now worries that Russia might also be selling arms to India's arch-rival, Pakistan (Nezavisimaya Gazeta online, October 17).
In general, Russian arms sales are declining in their importance to India. Other states like the United States, Great Britain, France and Israel are eating into Moscow's market share, which at one time reached 80 percent of Indian arms imports (The Tribune Online, October 9). Moreover, India has launched vast reforms to make its defense industries a major domestic and global arms supplier. Therefore, New Delhi needs access to the highest technology and know-how, which Moscow lacks. Furthermore, Russia's record of delays, which is not confined to the aircraft carrier, is increasingly a negative phenomenon in Indian eyes. In short, Moscow is gradually and visibly losing its competitive edge in India. Although the Russians have been more willing than the US to transfer their high-quality products, it is clear that this trend is changing—and to Moscow's disadvantage (The Tribune Online, October 9; The Indian Express Online, October 23).
Beyond these attempts to salvage the arms sales relationship, Moscow is also trying to reinvigorate Russian-Indian ties based on a shared apprehension of terrorism once the NATO-led International Security Assistance Force (ISAF) leaves Afghanistan. Russia warns that the West's withdrawal from Afghanistan will drive a new wave of terrorism throughout Central Asia and the North Caucasus (The Economic Times of India, October 14). Undoubtedly, such an outbreak is quite possible. Yet, the intensity with which Moscow is spreading this line throughout Central Asia and the Caucasus suggests that Russia has something else in mind than simply collaboration against an acknowledged common threat. Clearly India is not buying it, even if its refusal is polite.
But there are other factors undermining former amity between India and Russia as well. Notably, India has significantly delayed applying nuclear liability legislation to units three and four of the Kundakulam nuclear reactor, now under construction in Tamil Nada state. Additionally, the West Bengal state government cancelled the chosen location for the planned nuclear power plant in Haripur, forcing New Delhi and Moscow to find another site and adding to further delays (The Hindu Online, October 24). Rogozin warned that if India demands still more guarantees that would further set back the date of this project's completion, Russia will demand a rise in price for its services (Nezavisimaya Gazeta online, October 17). And the ongoing issues with the Kundakulam nuclear plant have clearly factored into delaying Putin's upcoming trip to India (The Times of India Online, October 23).
Trade and investment issues are also contributing to the bilateral difficulties. There are unresolved problems over Russian consumer services conglomerate Sistema's investments in Indian telecommunications companies, and Rogozin openly expressed his unhappiness with India's policies in this matter. At the same time, the current extent of bilateral trade does not satisfy either New Delhi or Moscow (The Asian Age, October 23; PTI News Agency, October 15). But there are also larger strategic issues afoot. As the Russo-Chinese partnership and bilateral trade seems to grow while Indian trade with Russia stagnates, it appears to New Delhi as if Moscow has opted for China over India. Likewise, India now worries about Russia's growing ties to Pakistan and is concerned that Moscow will not support New Delhi's role in postwar Afghanistan or Central Asia. Furthermore, Indian media outlets express anxiety that as US-Russian relations decline India might be caught between the two states (The Indian Express Online, October 23; Deccan Herald Online, October 20). Clearly the agenda of Russo-Indian relations has become more complex and multi-faceted. India's rising profile and growing overt rivalry with China and Pakistan over Central Asia and Afghanistan will force both sides to make major accommodations if they want to preserve what used to be a shining star in their foreign policies.