Is the Russian Military Stepping Down or Feigning Withdrawal While Planning an Attack?
Publication: Eurasia Daily Monitor Volume: 19 Issue: 21
By: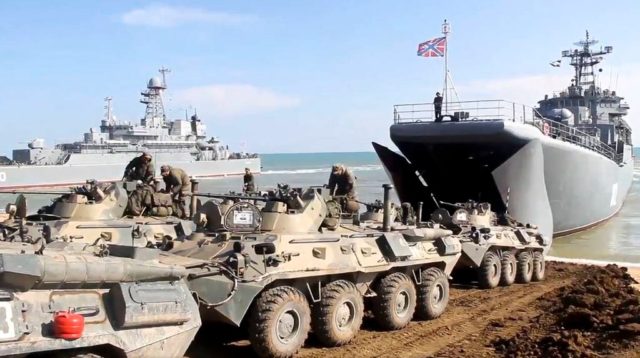 On February 14, Russian President Vladimir Putin met separately with his defense and foreign ministers, Sergei Shoigu and Sergei Lavrov, respectively. The Kremlin press service provided video footage of the opening remarks from both meetings, with the ministers sitting at a long table, 10 meters away from Putin, apparently in line with the president's continued strict COVID-19 prevention regime, which isolates him from even his closest advisors or Cabinet members. Putin and Lavrov severely criticized the West for failing to address Moscow's key security demands: stopping (reversing) the enlargement of the North Atlantic Treaty Organization (NATO), withdrawing Alliance military infrastructure to pre-1997 positions, and pledging not to deploy "attack weapons" anywhere close to Russia.
Lavrov dismissed Western replies to the Russian demands as "bureaucratic nonsense," but he still agreed there were some proposals made by the United States that might be worth considering. Russian authorities announced that negotiations would continue, though not indefinitely—the West must meet Russia's ultimatums or face the consequences (Kremlin.ru, February 14).
Shoigu, in turn, reported on the progress of massive military exercises in different parts of Russia and the surrounding seas, which began in December 2021 and have involved the entire Russian Armed Forces, including units forming part of the strategic nuclear deterrent. Some of these exercises have already ended, while others are now drawing to a close. Shoigu mentioned an incident during exercises in the Pacific Ocean, in which a foreign submarine, possibly from the US Navy, was discovered in Russian territorial waters close to the uninhabited Kurile island of Urup. The vessel was forced to retreat after a "three-time use of special measures," according to Shoigu (Kremlin.ru, February 14).
The following day, on February 15, the Russian Ministry of Defense announced it had begun withdrawing forces that were taking part in military exercises close to the Ukrainian border and in Crimea. Russian state TV carried footage of Russian armor boarding rail platforms to move from field position to permanent bases (Militarynews.ru, February 15). The Russian military machine has been in a heightened state of battle readiness for months. By mid-February, Russia's conventional and nuclear forces looked poised and ready to take on Ukraine in a major regional confrontation or even to fight a non-conventional war with the US and its allies should the situation escalate out of control. Maintaining the massive Russian military machine in such a state for long is impossible: eventually, the forces must either be allowed to step down or be ordered into action before overwhelming fatigue and wear and tear on the equipment sets in. Thus, the announced beginning of troop withdrawals from the Ukrainian border seemed to indicate the beginning of a genuine military de-escalation. Yet the televised draw-down of some units could still be a deception to demonstrate supposed Russian peaceful intentions. The partial withdrawal might be followed by a flare-up in fighting in Donbas, which could be used as a pretext to reverse course and swiftly move the prepared Russian military back into attack mode.
Western and Ukrainian military sources say they cannot verify any substantial pullback of Russian troops from Ukraine's border. On February 17, an intensification in fighting between Ukrainian and Moscow-backed forces began on the line of control in Donbas. Both sides accused each other of instigating the armed exchange. The Kremlin called the situation in Donbas "volatile and dangerous" because of a high concentration of Ukrainian government forces there. But observers from the Organization for Security and Cooperation in Europe (OSCE), on the ground in Donbas, while calling on both sides to adhere to the ceasefire, seemed to indicate the present flare-up was not actually too serious, with no attempts to alter the line of control (Militarynews.ru, February 17).
Unlike during the previous (March–April 2021) mass concentration of battle-ready Russian forces close to Ukraine, in February 2022, warships from the Caspian Flotilla were not sent to the Black Sea. Up to 20 vessels from this small fleet are currently exercising in the Caspian Sea (Militarynews.ru, February 17).
Russia had put together a serious naval taskforce in the Mediterranean led by the missile cruiser Varyag, from the Pacific Fleet, and its sister ship Marshal Ustinov, which sailed around Europe from the Northern Fleet. According to earlier reports, a third vessels from the same class—Moskva—was supposed to join the taskforce to engage the US 6th Fleet, led by the USS Harry Truman carrier battlegroup and supported by the French carrier Charles de Gaulle and Italian carrier Cavour. All three Russian missile cruisers were built during the Cold War, designed to sink carriers using Vulkan long-range supersonic nuclear-tipped cruise missiles (Izvestia, January 27). On February 15, Minister Shoigu, together with the Russian naval commander-in-chief, Admiral Nikolai Yevmenov, visited Russia's military bases in Syria to observe joint naval and air force anti-carrier exercises. Tu-22M3 Backfire bombers, specifically designed to attack flattops, were deployed to Hmeimim airbase in Syria, along with MiG-31K jets carrying hypersonic Kinzhal missiles. And evidently, there were incidents of Russian jets aggressively buzzing US aircraft over the Mediterranean. But Moskva failed to arrive, somewhat altering previously announced plans (Militarynews.ru, February 15).
These relatively small discrepancies—the absence of the Caspian Flotilla in the Black Sea, or the non-arrival of the missile cruiser Moskva in the Eastern Mediterranean—may indicate that the Russian military is not wholly serious in its present wargames, as it is not concentrating all available forces in critically important positions. If true, that would give credence to the theory that the entire crisis was simply part of Moscow's broader campaign to use simultaneous military, diplomatic, and political pressure to scare and unnerve Western leaders into making serious concessions—and not, in fact, a true run-up to war. Putin seemed quite smug and confident during his press conference with German Chancellor Olaf Scholz in Moscow (Kremlin.ru, February 15). And later, the Russian leader announced a series of high-level meetings to prepare his annual address to parliament—not a particularly wartime engagement (Interfax, February 17).
If the Russian military is, indeed, beginning to stand down, the process will not be quick or easy: It may take maybe a month or more. Still, a partial military de-escalation does not mean the crisis is over. Moscow will likely continue to apply both diplomatic and military pressure. And in perhaps another six months or so, the present massive military deployment and crisis could repeat itself. Without a permanent political solution to the underlying problems, such war scares will repeat and possibly worsen.