Islamist Militants of the Philippines Restructure to Intensify the Anti-Government Jihad
Publication: Terrorism Monitor Volume: 9 Issue: 40
By: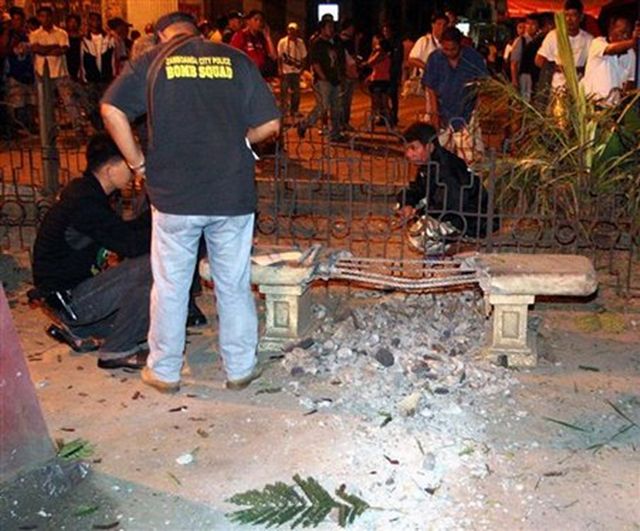 As it has done many times before, Abu Sayyaf is showing its ability to adapt and survive in the wake of predictions of its demise. As recently as May, an Armed Forces of the Philippines (AFP) spokesperson said that Abu Sayyaf would no longer have the inspiration to carry out terrorist attacks, while the Department of National Defense predicted that the death of Abu Sayyaf's "principal patron [Bin Laden]" would bring about Abu Sayyaf's "decimation and total elimination" (Manila Standard, May 4).
Half a year later the AFP finds itself in the midst of intensified fighting with Abu Sayyaf. October was highlighted by twin bombings in Zamboanga City on October 9 and an ambush on October 18 that killed 19 AFP troops in Al Barka, Basilan. Both attacks were attributed to Abu Sayyaf.
The first of the October 9 twin bombings in Zamboanga City exploded at 12:25 PM at a cockfighting pit. The bomb killed two people and was placed by a previously unknown militant. A second bomb detonated in a hotel room five minutes later, injuring six people. This attack was allegedly carried out by an Abu Sayyaf commander, Puruji Indama, who checked into the second-floor room where the blast occurred (ABS-CBN News [Zamboanga], October 17).
Both bombs were made from ammonium nitrate and packed with nails to make them more lethal.  Detonation was by cell phone, which is consistent with the type of bombs that Abu Sayyaf often uses in its attacks. The celebration of a Catholic holiday in honor of Zamboanga's patron saint on October 9 may have influenced the timing of the attacks (Philstar [Manila], October 12).
Puruji Indama is notorious for planning simultaneous bombings. Militants under his command are believed to have carried out twin bombings on February 1, 2010; the first was a roadside bomb while the second bomb exploded in a Basilan village 30 minutes later. The second blast killed an AFP soldier and wounded 12 bystanders (Manila Bulletin, February 2, 2010).
While the October 9 bombings are typical of Abu Sayyaf terrorist operations, the October 18 ambush reflects the growing danger of Abu Sayyaf militants merging with the Moro Islamic Liberation Front's (MILF) more conventional militia factions. The October 18 ambush occurred when AFP Special Forces troops were conducting an operation to locate militant leaders Long Malat, Dan Laksaw Asnawi and Nur Hassan Jamiri. Jamiri is an Abu Sayyaf sub-leader notorious for high-profile kidnappings, ambushes and beheadings while Malat is an Abu Sayyaf leader and longtime associate of Asnawi, the MILF 114 Base Command deputy commander responsible for beheading 14 AFP Marines in Basilan in 2007.
Initially, Malat, Asnawi, and Jamiri were in a group of about ten militants, but they were quickly reinforced by more than 100 fighters from the MILF who overwhelmed the AFP Special Forces troops. Without sufficient ammunition to defend themselves in the ten hour confrontation, 13 of the Special Forces troops were killed at the site of the ambush and six others were taken captive and then hacked to death in the same village where Asnawi carried out the beheadings of 14 Marines four years earlier (Inquirer [Manila], October 21). 
According to government sources, the site of the ambush was four kilometers outside of MILF territory. However, MILF spokesman Ghadzali Jaafar alleged that the confrontation took place within a MILF "satellite camp" (ABS-CBN News [Manila], October 20). Jaafar denied that Abu Sayyaf was involved in the ambush and claimed that MILF was only defending land in part of its "temporary state." However, AFP spokesperson Colonel Antonio Parlade, who was relieved of his duties for his statements after the ambush, insists that Abu Sayyaf members in the area are also part of the MILF (Philstar [Manila], October 22).
Even if Colonel Parlade's assertions are correct, predictions of Abu Sayyaf's demise due to depleted funds and an inspirational vacuum may not be far off the mark. Since late September a number of Abu Sayyaf members have been captured or killed:
Abdul Aziz Kunting (a.k.a. Robert Tan) and Akmed Kunting (a.k.a. Jason Tan), both involved in the 2001 Dos Palmas kidnapping, were apprehended during a joint police-army operation in Davao on September 23.
Adzhar Patta Mawalil, who was a member of an Abu Sayyaf cell headed by Albader Parad, surrendered when policemen and soldiers stormed his house in Jolo on October 4.
AFP soldiers killed Abu Sayyaf sub-leader Imram Asgari on September 25 in Zamboanga City.
An airstrike on October 30 in Sulu aimed at the camp of Abu Sayyaf leader Umbra Jumdail (a.k.a. Dr. Abu) killed three Abu Sayyaf sub-leaders, an aide to the Malaysian-born Jemaah Islamiyah (JI) bomb expert Zulkifli bin Hir (a.k.a. Marwan), and possibly Zulkifli bin Hir himself.
Coordination between Abu Sayyaf and the MILF is nothing new, but the current pressure on Abu Sayyaf makes it more advantageous than ever for Abu Sayyaf to integrate with MILF ranks. Abu Sayyaf has fewer than 400 fighters and can benefit from the 12,000-strong MILF providing reinforcements and harboring Abu Sayyaf fighters who hide out in areas near where the MILF has autonomy.
A new alliance of Abu Sayyaf members and rogue former MILF and MNLF fighters in a group called "Awliya [Friends of Allah]" is especially alarming to the AFP. [1] Since 2010, the AFP has been monitoring the cult-like group, which is led by the religiously "unorthodox" Hatib Zacharia and whose members practice a form of "mystical Islam" influenced by Sufism in which members do not care if they die (Inquirer [Zamboanga City], October 17).
Awliya attacked an AFP base in Talipao, Sulu Province on September 25, killing two soldiers but leaving as many as 20 Awliya men dead. Unlike the practice of other Mindanao rebel groups that recover the bodies of their dead, no one retrieved the bodies of the slain Awliya fighters or sent relatives to collect them. Awliya's rationale for their attack may be more consistent with other jihadist groups, however. One theory is that Awliya targeted the soldiers in Talipao because they were securing the grounds of a school being constructed with funds from the United States (Zamboanga Times, September 27).
While it is too early to tell whether Awliya is an ominous sign of a new brand of Islamist militancy in Mindanao, the group's composition of Abu Sayyaf members and former MILF and MNLF fighters under the influence of an obscure millenarian ideology could make Awliya as dangerous and unpredictable in the 2010s as Abu Sayyaf was in the 2000s.
Jacob Zenn graduated from Georgetown Law as a Global Law Scholar in 2011 and works as an international security consultant. He was a State Department Indonesian language scholar in 2011 and writes on security issues and international affairs in Southeast Asia.
Note:
[1] The Awliya in Islamic tradition were the righteous supporters and defenders of the Quran and the Prophet in the earliest days of Islam.