Islamist Reaction to the NATO Airstrike on the Pakistani Border
Publication: Terrorism Monitor Volume: 9 Issue: 45
By: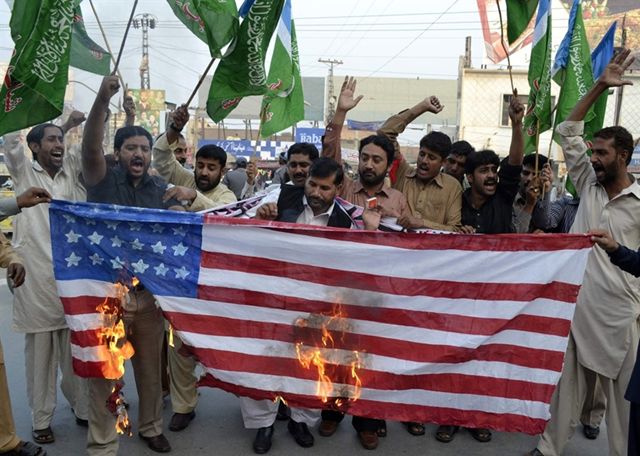 Following the November 26 incident in which two Pakistani Army check posts in the Salala area of the Mohmand tribal agency were hit by a NATO air strike that killed 24 Pakistani soldiers, Islamist religious parties and banned militant organizations have joined Pakistani authorities in reacting with outrage to what they perceive as a violation of Pakistan's territorial sovereignty. The Islamabad government has already closed NATO/U.S. supply routes through Pakistan to Afghanistan and has also banned the commercial sale of fuel to Afghanistan, citing domestic shortages and high prices (Daily Times [Lahore], December 4).
Pakistani military spokesperson Major General Athar Abbas claimed that NATO helicopters carried out an unprovoked and indiscriminate attack on a military post in Mohmand Agency, adding that he didn't believe NATO or Afghan forces had received fire from the Pakistani side, raising the possibility that the attack was a deliberate strike by NATO (Express Tribune [Karachi] November 27; Daily Jang [Karachi] November 27, Guardian, November 27).
On the other hand, Afghan and NATO officials claimed that a small group of U.S. and Afghan forces conducting a nighttime raid on a suspected Taliban insurgent base in Afghanistan's Kunar province near the Afghanistan-Pakistan border were fired upon from a position inside Pakistani territory, prompting calls for the close air support that wiped out the two Pakistani mountain posts (Tolo News [Kabul], November 27).
Abu Hamza, a senior Afghan Taliban commander who leads the militants in the Kunar Khas area of Kunar province, strongly denied having carried out any attack on NATO or Afghan forces in Kunar the night NATO helicopters bombed the Pakistani military posts. However, Abu Hamza said that a group of Pakistani militants led by Omar Khalid (real name Abdul Wali Khan), a key leader of Tehrik-e-Taliban Pakistan (TTP), planted an improvised explosive device during the day of November 25 on Kunar's main road which later struck a U.S. tank (The News [Islamabad] November 30).
Although the Pakistani military claimed that there was no militant activity in the area at the time of the attack, Mohmand is a well-known hub of militancy which has a significant impact on the security situation on both sides of border. Omar Khalid heads the network of Mohmand militants that carries out terrorist attacks in both countries. [1] The Pakistani military claimed that it had cleared 80% of the Mohmand area of militants and the operation would be completed in a few days. Seventy-two soldiers, including three officers, have been killed during the operation (Dawn [Karachi] September 1).
Afghan officials also regularly complain about cross-border incursions in Kunar province originating in the Mohmand tribal agency. Kunar's governor says that the Dangam, Shigal and Sarkan districts of Kunar have suffered casualties and losses from cross-border missile attacks from Mohmand Agency (Pajhwok Afghan News, June 18). Former Afghan intelligence chief Amrullah Saleh accuses Pakistan of creating the problem that led to the recent NATO attack in Mohmand, asking who is supporting Omar Khalid and who is supporting unrest in Kunar? (Friday Times [Lahore] December 2-8). Many security experts are of the view that Pakistani and Afghan militants have teamed up to attack each other's border areas, killing civilians and military officials and aiming to disrupt security co-operation between Islamabad and Kabul (see Terrorism Monitor, July 22).
Maulvi Fariq Muhammad, deputy head of the TTP, has said that the recent NATO attack on Pakistani check posts proved that "the United States can never be a friend of Pakistan" and that Islamabad should accept Taliban's stance after this attack (BBC Urdu, November 29). Mukarrum Khurasani, an aide to Mohmand Agency TTP leader Umar Khalid Khurasani, has said that Pakistan should sever its relationship with the United States. Instead of merely stopping NATO supplies, Mukarrum said Pakistan should take revenge for every person killed (Express Tribune, November 28).
The heated diplomatic row between Pakistan and NATO has escalated since the attack, with Pakistan ordering the United States to vacate the important Shamshi Air Base in Balochistan, closing NATO's supply routes through Chaman and the Khyber Agency and boycotting an international conference on the future of Afghanistan in Bonn, Germany (Daily Jang, November 27).
The retaliation taken by Islamabad in the aftermath of the NATO attack clearly matches the demands recently made by the TTP as a prerequisite for holding peace negotiations with the government. TTP demands for Islamabad to halt NATO supply convoys and evict U.S. forces from the Shamshi Air Base were made public on November 19 (Daily Aaj [Peshawar), November 20). Speculation regarding TTP-Government peace talks has been widespread since the passage of a resolution endorsing talks with the Taliban at an All-Party Conference held in Islamabad on October 18. The conference was chaired by Pakistani Premier Yusuf Raza Gilani and attended by all the key political parties of the country in a bid to bring peace (The News, December 1).
Following the NATO attack, thousands of enraged Pakistanis, including members of religious parties and banned militant outfits, took to the streets across the country, setting fire to American flags and shouting anti-American slogans. Jamaat-ud-Dawa (JuD), a banned outfit whose previous name was Lashkar-e-Taiba, has been in the forefront of protests against the NATO operation.
In rallies across the country, JuD leaders urged the young protestors to prepare for jihad and called on the Pakistani military to give a "befitting response" to the NATO attack. Ahl-e-Sunnat wa'l-Jamaat (ASWJ), the new name of the banned Sipah Sahaba Pakistan (SSP), also organized anti-NATO protests in various cities. Opposition parties are also supporting the government's stance by condemning the NATO attack (Daily Umamt [Karachi] November 29).
Although it is currently unknown what triggered what one analyst described as the "tactical development" along the Afghanistan-Pakistan border, it seems the only way to prevent cross border attacks is to tackle the militants operating in the border areas of both countries. [2] Though the security forces of both countries have begun operations to repel further attacks, the Islamabad and Kabul government as well as NATO must deal collectively with the issue of cross-border militancy in order to avoid the mistrust created by incidents like that of November 26.
Zia Ur Rehman is a journalist and researcher and works on militancy, human rights and development in Pakistan's tribal areas. He is a Pakistan Pashtun belonging to the Swat Valley and has written for The Friday Times, Central Asia Online, Himal South Asian, New York Times, The News and other media publications.
Notes:
1. Telephone interview with a Mohmand Agency-based journalist who requested anonymity, November 29, 2011.
2. Telephone interview with Raees Ahmed, a Karachi-based political analyst. December 2, 2011