It's All About the Ruble: How to Resolve the Looming Regional Economic Crisis in Central Asia?
Publication: Eurasia Daily Monitor Volume: 12 Issue: 125
By: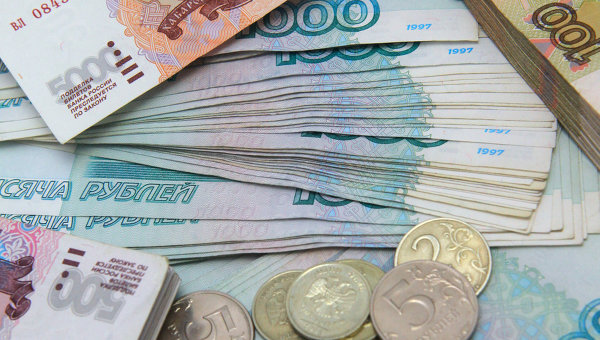 On June 22, the World Bank approved $12 million in additional financing for Tajikistan for a project creating temporary employment in rural districts (clearing irrigation and drainage canals). This financing is a specific effort to assist the country in tackling the impact of falling remittances (Worldbank.org, June 22; AKIpress, June 24). Among Central Asian countries, Tajikistan is most dependent on migrant remittances, which are equivalent to almost half of its GDP (World Bank, accessed July 1). Most Tajikistanis working abroad are in Russia, and following the ruble plunge, their salaries, as well as the salaries of other guest workers, shrank in dollar terms (see EDM, January 5, February 23). Data from the Central Bank of Russia estimates that dollar-denominated remittances sent from Russia to the countries of the Commonwealth of Independent States (CIS) via money transfer agents in March 2015 fell by some 42 percent compared to March 2014 (Cbr.ru, June 25).
The Russian ruble lost approximately 58 percent of its value against the US dollar between June 2014 and June 2015. This continues to exert downward pressure on the local currencies of Central Asia countries, for which Russia remains one of the most important trade partners. The currency depreciation, which all Central Asian countries have experienced over the past year (Nationalbank.kz, Nbkr.kg, Nbt.tj, Cbu.uz, Cbt.tm, accessed June 28), raised the risks of inflation, suppressed consumer demand, and hurt savings.
Tajikistan, in particular, was unable to smooth over the currency shock that followed the sharp depreciation of the Russian ruble; and interventions by the National Bank of Tajikistan resulted in a serious depletion of its currency reserves. Therefore, regulators opted for strict currency controls, which, in turn, led to the creation of a black market. The difference between the official and black market exchange rate of the Tajikistani somoni to the US dollar grew to around 8 percent (Cabar Asia, May 26). The economic situation in Tajikistan is also aggravated by the fact that many migrants working in Russia are now, in fact, returning home either because of deportation or new harsh regulations requiring guest laborers to obtain a work permit or medical insurance and pass a Russian-language test (see EDM, November 26, 2014).
The situation in neighboring Kyrgyzstan, which relies on remittances from Russia for a third of its GDP, is somewhat better. The country joined the Moscow-led Eurasian Economic Union (EEU) earlier this year and already managed to negotiate attractive terms for its migrant workers in Russia, simplifying Russian regulations and persuading Moscow to grant amnesty to deported workers (Azattyk.org, June 17).
In Uzbekistan, there is no credible information on the impact of remittances on its GDP, but this most populous republic of Central Asia has the largest migrant workers' force in Russia, reaching some two million people (Podrobno.uz, April 9). A recent statement by the International Monetary Fund (IMF) concluded that Uzbekistan will be able to shield its economy from the slowdown experienced by other countries in the region thanks to strong public investment and a strategic re-orientation of gas exports from Russia toward China (Imf.org, May 13). The foreign exchange market is heavily regulated in Uzbekistan, and only a 10-percent depreciation was allowed to the official exchange rate, while a sudden 20-percent drop of the black market rate in May was quickly resolved by law enforcement agencies (Ozodlik.org, May 22). Nonetheless, the country's exports to Russia fell significantly. Due to increasingly restricted access to the Russian market and the depreciation of the ruble, exports of cars produced in Uzbekistan fell by 58 percent in the first quarter of 2015, compared to the first quarter of 2014 (Regnum, April 26).
Kazakhstan represents a different case: this republic does not send many migrants to Russia, but its economy is dependent on oil; and this past year's drop in the oil price by almost half led to a serious reduction in export and tax revenues. Kazakhstan is also a member of the Eurasian Economic Union and, so far, has experienced mixed benefits from this membership. The issue of the ruble is a cornerstone of the domestic debate now, as local firms increasingly blame disparities in currency rates for their poor performance (Forbes.kz, June 25). The National Chamber of Entrepreneurs of Kazakhstan "Atameken" recently asked the government for continued subsidies and protection, citing increased competition with Russian firms (Forbes.kz, June 26). Domestic banks, former champions of Kazakhstan's consumer spending growth, are now themselves experiencing a crisis in attracting new deposits and issuing new loans (Ratel.kz, June 24). The issue of further devaluation is on hold, as the authorities fear social unrest (Kazakhstan has already had two currency devaluations since 2011). So far, the Kazakhstani government relies on its accumulated reserves, in excess of $100 billion, but necessary spending increases may challenge fiscal stability, and the government will have to turn to unpopular measures like cutting social subsidies.
Finally, in Turkmenistan, a devaluation of the manat led to price increases, which were accompanied by the government's decision to end the system of subsidies for energy use in both the residential and the transport sectors. Falling natural gas revenues and Russia's own monetary crisis will likely be severely felt by Turkmenistan's economy in 2015 (Centralasiaprogram.org, June 16).
So far, all Central Asian countries are expected to post positive GDP growth in 2015, with the lowest forecast for Kyrgyzstan, 1.7 percent, and highest for Turkmenistan—9 percent (Imf.org, May 2015). The regional governments remain optimistic; at least until recently, they were largely expecting that the crisis in Russia as well as the slowdown in commodity markets would be temporary. But the Central Asian republics' dependence on revenues from commodity exports or migrant remittances is now becoming painfully evident, particularly as these dwindling revenues are increasingly being spent on import-dependent consumption rather than new domestic production. After more than 20 years of independence, the countries of Central Asia remain largely inside a common economic space with Russia. But because of Russia's grim economic and political outlook, Central Asians cannot expect to remain isolated from its negative consequences. New World Bank loans are part of the short-term remedy, while the diversification of economic structures and trade partners is a long-term solution. Although China has long been considered a possible savior from Russia's domination of Central Asia, Chinese and other foreign donor assistance may be insufficient if the region's economic slowdown turns into a full-fledged crisis.