Ivanishvili's Government Is Readjusting 'The Law on Occupation'
Publication: Eurasia Daily Monitor Volume: 10 Issue: 25
By: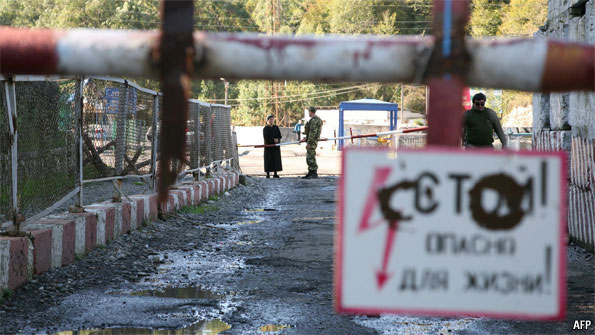 At a specially convened press conference, the State Minister for Reintegration Paata Zakareishvili announced that the government approved a bill on making significant amendments to the Law on Occupied Territories, which is often referred to as "the Law on Occupation" (https://www.civil.ge/eng/article.php?id=25727).
This legislation (https://www.smr.gov.ge/docs/doc216.pdf) was originally passed by the parliament soon after the five-day Russia-Georgia War in 2008. The essence of the law is about recognition of Abkhazia and South Ossetia as "territories occupied by Russia." The law regulates economic, social and transportation issues related to these two regions, the activities of international and non-governmental organizations, as well as the border-crossing procedures in the relevant areas. The spirit of this legislation implies strict compliance with the concept of "occupation" by all actors. Therefore, any change in the law is perceived by its proponents as an attack on the foundations of the Georgian state.
In spite of this, State Minister for Reintegration Zakareishvili has recently told Jamestown that the law on occupation became outdated and it was necessary to tweak it to create a more favorable climate for dialogue with the authorities in the breakaway regions and Moscow. "We have no intention to drop the Law on Occupied Territories completely, but we plan to make amendments that will increase trust and facilitate discussions about settlement," Zakareishvili said. The state minister remarked to Jamestown that among the first measures the government would adopt will be recognition of Abkhazian and South Ossetian passports, which were issued by their respective authorities, as valid throughout Georgia. "They will receive the opportunity to enjoy the same rights as all citizens of Georgia," Zakareishvili explained. However, this particular initiative has not been translated into a piece of legislation yet, as the government of Bidzina Ivanishvili is cautious about granting the same validity to Abkhazian and South Ossetian passports as to the Georgian government IDs. Ivanishvili's government fears that it will be accused of sanctioning the "recognition of the independence of Abkhazia and South Ossetia." Zakareishvili's second proposal, on the other hand, has already been formalized into an amendment. This amendment softens the penalties for foreign nationals who cross into Abkhazia and South Ossetia from Russia.
These Russian-Abkhazian and Russian-South Ossetian parts of the Georgian border with Russia were officially closed by President Eduard Shevardnadze's decree back in 2001 (https://georusparitet.com/official_statement/20110328/151456693.html). However, since in reality Tbilisi does not control those areas, Georgian authorities could not prevent citizens of Russia and other countries from entering Abkhazia through the Psou checkpoint, or South Ossetia through the Nizhniy Zaramag crossing. However, if Russian citizens visited Georgia with a stamp in their passport signifying that they had previously crossed the Abkhazian and South Ossetian borders, they were immediately put under arrest. Oftentimes this happened at the airport. Subsequently, these individuals would be tried for "unlawful crossing of the state border" (https://www.vestikavkaza.ru/articles/24797.html). For the past several years, dozens of citizens of Russia and Armenia were given sentences of 2–4 years. However, all of them soon were released after they paid large fines, up to $4,000.
Moscow regularly protested against this piece of Georgian legislation. Responding to an earlier decision by President Mikheil Saakashvili to drop visa requirement for Russian citizens unilaterally, Russian Minister of Foreign Affairs Sergei Lavrov stated that Russia would not remove its visa regime for Georgia in response. Speaking at hearings in the Russian State Duma, Lavrov pointed to the "discriminatory norm" of the Georgian legislation toward Russian citizens that penalized them for crossing the border into Abkhazia and South Ossetia through ways most convenient to them, circumventing Georgian territory (https://www.golos-ameriki.ru/content/lavrov-2012-03-14-142661546/664970.html).
"We are not against visits of Russians and other foreigners to Abkhazia and South Ossetia—but only via the territory of Georgia, not Russia," Nugzar Tsiklauri, one of the legislators from the presidential party United National Movement (UNM) who drafted the law, told Jamestown. According to Tsiklauri, "Any Russian can come to Georgia and visit Abkhazia and South Ossetia from here." In their turn, the authorities in the breakaway territories regard a route via Georgia to be undesirable. Because of these obstacles, many friends of this author who happen to be journalists and experts from Moscow and regularly visit Georgia and the "occupied territories," tend to have several passports. Some of the passports are used to visit Abkhazia and South Ossetia and others for visiting Georgia (https://slon.ru/world/kak_isportit_otpusk_v_gruzii-777461.xhtml).
Paata Zakareishvili does not propose allowing access to the former Georgian autonomies via "illegal checkpoints," but only to soften the punishment for such a "trespass." "According to our amendment, if the person visited Abkhazia and South Ossetia via Russia and then came to Georgia, he will not be arrested, but will only be fined for the first instance. Criminal law will be invoked only after the person breaks the law for the second time," Zakareishvili said.
The minister's caution is due to the backlash from UNM over the proposed amendments to the "Law on Occupation." "It is not about punishment, but about the fact that the government undermines the very concept of occupation, sending a false message to the world community," the leader of UNM's faction in the parliament, David Darchiashvili, told Jamestown. Darchiashvili said that the opposition in the parliament is unlikely to support the amendment to the legislation. The ruling Georgian Dream coalition led by Ivanishvili controls almost two thirds of the seats in the parliament, so it can pass the amendment, but the discussion will not be easy. The upcoming debates will be difficult especially as not all experts agree with the government's initiative, while part of the Georgian public considers the amendments a "capitulation to the Russian ultimatum."