JI's Moneyman and Top Recruiter: A Profile of Noordin Mohammad Top
Publication: Terrorism Focus Volume: 3 Issue: 29
By: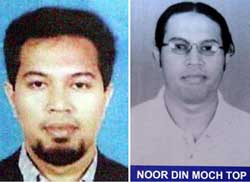 Of all the known leaders of Jemaah Islamiya (JI) at large, no one strikes more fear than Noordin Mohammad Top. A Malaysian national, he along with his compatriot, the late Dr. Azahari bin Husin, were the masterminds behind seven past suicide attacks to hit Indonesia. While Azahari was the group's leading bomb-maker, Noordin is believed to be the top recruiter and strategist. Nicknamed "The Moneyman," he is also thought to be an important fundraiser for JI.
Noordin was born in Johor, Malaysia on August 11, 1968 and attended the Sekolah Islam Luqmanul Hakiem, a madrassa in rural Johor state, that was established by JI's founders Abdullah Sungkar and Abu Bakar Ba'asyir, and where the mastermind of the 2002 Bali bombing Mukhlas was the headmaster. He went on to study at the Universiti Teknologi Malaysia (UTM), where he befriended his professor, Dr. Azahari. He received a bachelor's degree (B.Sci.) from UTM around 1991, but his whereabouts in the following years are not well known. He was briefly an accountant before returning to teach at the Luqmanul Hakiem School. He became increasingly involved as JI developed its network and organization in the 1990s, although unlike other operatives he did not receive training in al-Qaeda camps. Like many JI members, he married within the JI family; he wed Rahmah Rusdi, a sister of another JI member.
Noordin was active in JI's Mantiqi I (one of JI's regional divisions), but fled with Azahari to Indonesia, probably in late 2001 or early 2002. Azahari was deeply involved in the planning of the 2002 Bali bombing that killed 202 people and was the first suicide attack by a Southeast Asian national. Noordin and Azahari made suicide attacks the weapon of choice for JI. While Azahari built the bombs, Noordin was the primary recruiter and has been described as a very charismatic individual. Noordin's magnetism has also been seen in his ability to co-opt other organizations. He recruited a member of Darul Islam to become a shaheed (martyr) in the August 2003 bombing of the JW Marriott in Jakarta.
Noordin and Azahari sought to institutionalize suicide attacks. While Azahari's cookbooks were widely disseminated, the two also made a video lecture on bomb construction. Azahari seemed to study other jihadist organizations for inspiration. The bomb-making video also taught recruits how to perform their final ritual acts, such as prayers and debt repayments, and how to narrate a video-will; several of these wills have now been recovered in Indonesia.
Perhaps the most glaring foreign innovation was Noordin's Abu Musab al-Zarqawi-like video threat that aired on Indonesian television in November 2005, following the death of Azahari who was killed in a police shootout. Like videos from Iraq, the footage of a masked man—believed to be Noordin—explicitly threatened the West: "As long as you keep your troops in Iraq and Afghanistan and intimidate Muslim people, you will feel our intimidation and our terror…America, Australia, England and Italy. You will be the target of our next attack. Especially for Australia, as long as its troops are in Afghanistan and Iraq and engage in intimidation there, you will also feel our intimidation" (BBC, November 18, 2005). While this type of video statement is commonplace in the Middle East, it had never been used in Southeast Asia. The video also included a "martyr's statements" recording by one of the Bali II bombers of October 2005, further evidence that JI is trying to develop a cult of martyrdom.
Noordin has been one of the top targets of regional security forces, but his repeated escapes have raised questions about corruption within Indonesia's police. In 2003, he and Azahari fled a cordon, as police feared they would detonate their suicide vests (Associated Press, November 12, 2003). In another case, Indonesian police announced that they had come within two hours of capturing him in the middle of the night on September 26, 2005 in a central Javanese village. He then traveled to Bali to plan the October attacks, but left before they were executed. In November 2005, Indonesian police raided a safe house in a small town in central Java. Although Noordin was not there, his two aides were apprehended and a cache of weapons was uncovered, including a backpack filled with explosives, a similar design of the bombs that were used in the October 2005 triple Bali bombings that killed 20 people. Noordin married a second woman, Munfiatun al-Fitri, also a sister of a JI member, who was sentenced to jail in June 2005 for giving him material assistance.
Noordin has been the leading proponent of targeting Western interests in Indonesia. In addition to the two Bali and two Jakarta attacks, Noordin has ordered his operatives to conduct reconnaissance on a large foreign-owned power plant southeast of Surabaya that provides much of the electricity for the province of East Java (Yomiuri Shimbun, April 17). Detained JI members have also revealed that Noordin ordered the targeting of Japanese targets, perhaps mirroring al-Qaeda statements that identified Japan as an enemy. In January, he announced the formation of a new organization, Tanzim Qaedat al-Jihad, although it is still unclear whether this is a distinctly independent organization from JI.
Noordin has been designated by the U.S. Treasury Department and the UN Security Council as a terrorist financier. He remains one of the most important JI figures at large. He is a charismatic leader and a recruiter, who has proven to be innovative and single-minded in his desire to implement the al-Qaeda line and target Western interests.