Kadyrov: the West is Behind the North Caucasus Insurgency
Publication: Eurasia Daily Monitor Volume: 6 Issue: 176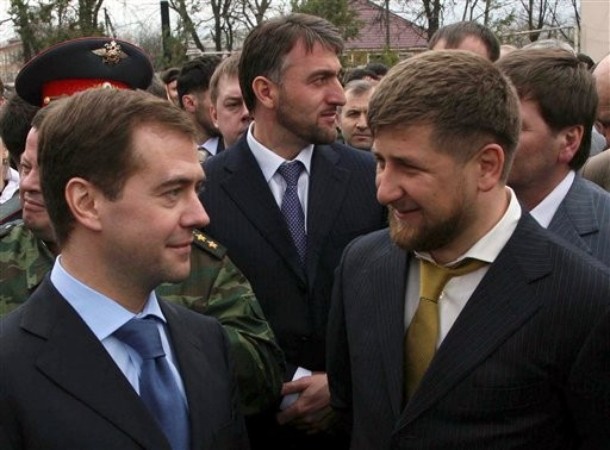 In an extensive interview with the Russian ultra-nationalist newspaper Zavtra published on September 23, the Chechen President Ramzan Kadyrov said that he has picked Adam Delimkhanov, the State Duma deputy representing Chechnya, to be his successor. The choice is particularly noteworthy given that Delimkhanov has been named by authorities in Dubai as having been behind the murder of Vostok battalion commander Sulim Yamadaev in the emirate in March 2009. Delimkhanov denies the allegation.
Kadyrov said Delimkhanov is "closer than a brother" and is "fighting in the mountains" – an apparent reference to Delimkhanov's leading role in counter-insurgency operations in the republic. More generally, Kadyrov said that the "Kadyrov cause" would continue after he was no longer president: "There is a team, there are people who will continue my cause," he said. Kadyrov said in a recent interview that he will step down as Chechen leader in about five years, when life in the republic has returned to "normal," and that he would like to give lectures on "Wahhabism," extremism and war after he leaves office (EDM, September 18).
Asked by the interviewer, Zavtra editor in chief Alexander Prokhanov, why the security situation in the North Caucasus has worsened lately, Kadyrov said that the security bodies in Ingushetia and Dagestan have not been operating effectively. He also said that rebels in the region are "given narcotics tablets," turned into zombies, after which they go "to blow themselves up," and that "the hand of the West" is behind all of this. Kadyrov insisted that the rebels in the North Caucasus receive little aid from the "Muslim world" and that all of their weapons come from Soviet stockpiles in Georgia and Azerbaijan.
"The West is interested in severing the Caucasus from Russia," Kadyrov told Prokhanov. "The Caucasus is Russia's strategic frontier. If they take away the Caucasus from Russia it's like taking away half of Russia. In their time, the Americans created Bin Laden, taught him the art of terrorism. Now they are blanketing us with groups of foreigners. These are not 'freedom fighters' – these are brilliantly trained terrorists. We are fighting in the mountains with the American and English special services. They are fighting not against Kadyrov, not against traditional Islam; they are fighting against the sovereign Russian state. Putin united Russia, pulled it out of chaos, sent off [the Russia tycoons] Berezovsky, Gusinsky, Khodorkovsky. He took away everything from them. Do you think they forgave him? Now a new blow is being struck against Putin, against Russia. Chechnya, Dagestan -they are weak, vulnerable links in the Russian state."
Kadyrov noted that many Chechens emigrated to Europe, Turkey and Georgia. "It is precisely from these [people] that terrorists are being recruited [and] being sent to us," he said, adding that they will not succeed and that only a month or a month and a half more is needed to "smash" the rebels. "We will not give our territory to the Americans," Kadyrov said. Asked by Prokhanov if he meant that he had found "traces" of the CIA and MI6, Kadyrov answered: "Of course." The Chechen president added: "There was a terrorist Chitigov, he worked for the CIA. He had U.S. citizenship. He was a brigadier general under Khattab [the late Arab commander of Chechen rebel forces-EDM]. When we killed him -I was in charge of the operation then- we found a U.S. driving license on him and all the other documents were also American" (www.zavtra.ru, September 23).
Kadyrov has made such accusations in the past: in July, he claimed that he had learned from a captured rebel that agents of Western special services were giving young people in the region "some kind of tablets" to prepare them for rebel activities by putting them in a robot-like state (EDM, July 9).
In the interview with Zavtra, Kadyrov also called the Memorial human rights group as an "organization invented for the undermining of Russia," adding that that those who work for it "are not Russian patriots."
Prosecutors yesterday (September 24) overturned a decision by the Moscow police not to launch a criminal investigation of Memorial head Oleg Orlov for accusing Kadyrov of being behind the murder of Natalya Estemirova, the Chechen rights activist. Estemirova worked for Memorial in Grozny and was found murdered in Ingushetia on July 15 several hours after she was kidnapped in the Chechen capital (www.newsru.com, September 24). Moscow's Tverskoi district court is set to start hearings today into a lawsuit filed by Kadyrov against Orlov. The Chechen leader has accused the rights activist of libel and "insulting his honor and dignity" and is demanding a public apology and the equivalent of $316,000 in compensation (Radio Free Europe, September 11).
Meanwhile, the president of Kabardino-Balkaria, Arsen Kanokov, has also alleged that Western intelligence agencies are trying to destabilize the region. "Along with the activities of local nationalist groups, in that [same] direction there can be discerned the subversive activities of foreign special services, and non-governmental organizations under their control, aimed at spreading the idea of separatism and at destabilizing the situation in the region," Kanokov was quoted as saying (www.kavkaz-uzel.ru, September 24).