Kadyrov's Spokesman Defends Zakaev
Publication: North Caucasus Weekly Volume: 10 Issue: 5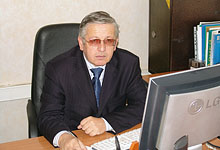 On January 29, the spokesman for the Chechen president and government, Lema Gudaev, responded to press reports quoting the Federal Security Service (FSB) as accusing Akhmed Zakaev, the London-based prime minister of the separatist Chechen Republic of Ichkeria (ChRI), of setting up his own armed units and directing attacks in Chechnya (North Caucasus Weekly, January 30).
In comments carried by the Chechen government's website, Chechenya.gov.ru, Gudaev called Zakaev "one of the few and most adequate representatives of the so-called government of Ichkeria," adding that Zakaev "rejects terrorist methods of resistance and does not have a record of grave crimes." Gudaev said that Zakaev's statement made in response to the FSB's claims, in which Zakaev declared, in Gudaev's words, "his readiness to discuss issues whose resolution could stop the bloodshed in the region," clearly demonstrates that Zakaev is "not interested in discrediting himself." Gudaev approvingly cited comments by Aleksei Malashenko of the Carnegie Moscow Center that reports "compromising" Zakaev are aimed at disrupting the Chechen authorities' efforts to woo former political opponents back home (North Caucasus Weekly, January 30).
Gudaev also noted that Chechen President Ramzan Kadyrov had earlier issued an appeal to Zakaev through the media to return home to contribute to the process of reviving the Chechen Republic, and that Zakaev had not ruled out that this might be a topic for discussion (see Mairbek Vatchagaev's article in this issue).