Kadyrov's Visit to Baku: What Are Azerbaijan's Interests in the North Caucasus?
Publication: Eurasia Daily Monitor Volume: 9 Issue: 220
By: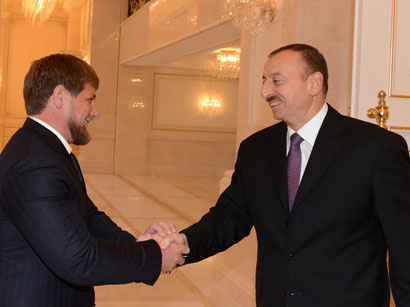 On November 15, Head of Chechnya Ramzan Kadyrov began his two-day visit to Baku. This was the second visit of the Chechen leader to Baku in the last couple of years. Despite the fact that Kadyrov faces heavy criticism in Europe and the United States for abusing human rights and repressing opposition to his rule (see EDM, October 26, 2010; State Department Report on Human Rights in Russia, 2011), the Azerbaijani establishment has been helping maintain his official legitimacy.
The government of Azerbaijan invited the Chechen head several times, and Kadyrov visited Baku and met with Azeri President Ilham Aliyev in November 2009 (azernews.az, November 9, 2009). Allahshukur Pashazade, Sheikh-ul-Islam and Grand Mufti of the Caucasus, who is based in Baku, also officially backs the current Chechen leader, providing crucial support for legitimizing Kadyrov's rule. The head of Chechnya has taken multiple steps to attract the Caucasian Grand Mufti's good graces. Notably, a street in Grozny is named after Sheikh-ul-Islam Pashazade, and the Azerbaijani religious leader visited Chechnya as recently as August 2012 where Kadyrov presented him with a special award for helping facilitate Chechens' passage through Azerbaijan on the Hajj (topnews.az, August 31).
This time, on November 15, Kadyrov came to Azerbaijan with a large delegation consisting of Prime Minister of the Chechen republic Abubakar Edelgeriyev, member of the Russian Duma Adam Delimkhanov, the chief Mufti of the Chechen republic Sultan Mirzayev, as well as ministers responsible for industrial development, transport and communication. "We are interested in further development of relations between Azerbaijan and Chechnya, as well as Azerbaijan's experience in construction and education and other areas," the Chechen head stated (Regnum, November 15).
The same day, President Aliyev met with Kadyrov. During their meeting, Aliyev stressed that his country's relations with individual subjects of the Russian Federation contributes to positive Azerbaijani-Russian relations. Aliyev mentioned that the Chechen delegation's visit is a good indicator of the friendly and brotherly relations between the two nations. He noted the importance of expanding cooperation in the economy, investment, culture and other areas. Aliyev praised Kadyrov for maintaining stability in Chechnya and implementing large-scale construction and infrastructure projects. Kadyrov, in turn, said that the Chechen people regard their Azerbaijani counterparts as friendly and fraternal (Turan, November 15).

The next day, the heads of the two governments—Arthur Rasizade from the Azerbaijani side and Abubakar Edelgeriyev of Chechnya—signed an agreement on trade and economic, cultural, and technical cooperation. Both sides stressed the importance of such agreements, which positively affect the development of mutual projects (Trend, November 16).
During his visit, Kadyrov has also met with Sheikh-ul-Islam Pashazade. In their meeting, the sides discussed Azerbaijani-Chechen relations and the religious situation in the North Caucasus. In particular, the parties discussed the activities of various religious movements that "deal a blow to [moderate] religion." The Caucasian Grand Mufti declined to specify which radical religious movements this implied, but it is well known that the most active in the region are Wahhabis or Salafis. The sides agreed that to counter these trends, more work in educational instruction is needed (Turan, November 17).
As an explicitly Kremlin-backed leader, Kadyrov also represents the Russian Federation on his trips abroad. Azerbaijani political scientist Fikrat Sadykhov argues, therefore, that Kadyrov brought a personal message from Moscow to Baku on issues related to bilateral cooperation (Echo, November 15). Local analyst and the head of the Center of Political Innovations and Technologies Mubariz Ahmadoglu agrees, believing that Russia is interested in Azerbaijan's participation in economic projects in the Russian North Caucasus. Russia needs Azerbaijani investments there and that is why the heads of Dagestan, Ingushetia, Kabardino-Balkaria and Karachaevo-Cherkessia have all recently visited Baku (Echo, November 16). Yet, there is also another reason for why Ramzan Kadyrov has kept such close ties with Azerbaijan's authorities.
The Chechen head needs legitimacy and international recognition in the region in order to be able to claim a major leadership role in the Caucasus. Personal support from the Sheikh-ul-Islam of the Caucasus as well as the blessing of President Aliyev can assist Kadyrov in becoming the strongest leader in the North Caucasus. Moreover, massive investments from Azerbaijan to the economy of Chechnya would allow Kadyrov to improve the image of as well as increase the welfare of his post-war republic.
For Azerbaijan, meanwhile, there are several reasons to back the head of Chechnya and help him with his republic's economic development. The Azerbaijani government clearly sees Russia's role in the North Caucasus as a guarantor of stability, even though Moscow's methods have caused hardship for the population. The perception is that a weakening of Russia (and by extension its regional strongmen such as Kadyrov) in the region could bring increased, unchecked instability on Azerbaijan's northern border. Against this background, Baku has come to the view a Russian success in Chechnya (and, therefore, also Kadyrov's continued legitimacy) as necessary in order to maintain peace in Dagestan. Azerbaijan is thus willing to help Russia in this process.