KARIMOV FORGING PARTNERSHIP WITH JAPAN
Publication: Eurasia Daily Monitor Volume: 3 Issue: 162
By: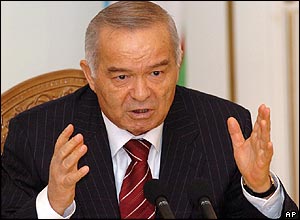 Still tainted by the May 2005 Andijan massacre and its aftermath, Uzbek President Islam Karimov has discovered that Japan is willing to explore economic cooperation and to develop closer relations with the Tashkent regime. Japanese Prime Minister Junichiro Koizumi visited Central Asia in late August as part of Tokyo's efforts to lessen its reliance on the Middle East for its energy needs. Japan's entry as a player into the Central Asian region will further complicate Russian and Chinese efforts to minimize the local impact of powers from outside the region. Karimov used the opportunity to promote Uzbekistan's economic aspirations and to build a partnership with a useful member of the G-8.
Karimov offered to cooperate with Japan in uranium production, which seems to suit the interests of both countries, and to promote long-term joint ventures in this sector involving Japanese companies. In fact, this cooperation supports Karimov's stated goal of raising $1.2 billion in foreign investment in 2007. Equally, this emphasis on Uzbekistan's economic interests was also apparent in Karimov's thinking during the informal Eurasian Economic Community (EurAsEc) summit in Sochi on August 16. He argued that the Collective Security Treaty Organization (CSTO) should merge at some point with the EurAsEc. "A decision [on Uzbekistan's rejoining the CSTO], which was made in Minsk, has been endorsed. This is a big event in Uzbekistan's life, and I hope in that of the CSTO. This is a needed body and, maybe, the time will come when we unite the CSTO with the EurAsEc," suggested Karimov (Itar-Tass, August 16; Interfax, August 25-30).
Seeking new partners among the G-8 membership, overstating the potential of Uzbek CSTO membership, and placing greater attention on economic issues signals business as usual for Tashkent. The regular theme has been to represent Uzbekistan as a country that the world's leading economic powers can deal with successfully. Of course, Tashkent's needs in this sphere are not new, having long struggled economically, but neither is there anything novel in Karimov's security posture. If Western countries are to re-engage the Uzbek defense and security sectors, there should be no doubt that this is the same unaltered and unreformed regime that led the Andijan massacre.
Evidence of this continuity within Uzbekistan is clear and growing. On August 14 Karimov chaired the Uzbek National Security Council as that body considered the findings of Tashkent's own investigation into the Andijan events of May 12-13, 2005. Predictably, there were no indications of steps to revise the security response, and the Security Council meeting effectively served to officially whitewash the actions of the various security agencies and armed forces in dealing with the incident (Uzbek Television Channel One, August 14). The regime was offered foreign assistance in conducting such investigations, which it repeatedly refused to countenance.
Meanwhile, on August 23 Tashkent officially announced the detention of Abdurahim Tuhtasinov, the leader of Hizb-ut-Tahrir (Islamic Party of Liberation) in Uzbekistan. He was captured as a result of an anonymous telephone call to the authorities resulting in an Interior Ministry anti-terrorist squad capturing the suspect in Namanagan. "Abdurahim Tuhtasinov, an internationally wanted figure and leader of the terrorist organization Hizb-ut-Tahrir, has been detained in Namanagan," according to a spokesman for the local police (Interfax, August 23). Karimov's obsession with the Islamic extremist group has served to blur the distinction between that organization and terrorism — a view not shared outside the region.
In the past, Western states offering security assistance to Uzbekistan have tirelessly pushed for more effective regional security cooperation in order to tackle head on the threats posed by terrorists, drug smugglers, and weapons proliferation. Kyrgyzstan, however, has taken a step back from cooperation with the Uzbek security services. On August 16 Kyrgyz ombudsman Tursunbai Bakir said that Bishkek must now reassess its willingness and purpose in cooperating with Tashkent in counter-terrorism operations. "The recent events in Kyrgyzstan's southern part had the easily recognizable hallmarks of the Uzbek secret services: killing suspects without trial or investigation as well as police and secret services planting weapons, drugs, and religious literature in the homes or vehicles of suspects," Bakir said (24. kg, August 16). Bakir pointed to one specific example of Uzbek tactics that provided cause for concern. A joint anti-terrorist operation held between Kyrgyz and Uzbek special task forces on August 6 resulted in the shooting of Muhammadrafiq Kamalov, an imam in Karasuu, Osh region (see EDM, August 16). Authorities at first claimed the imam was a member of a religious extremist group, but later said he may have been taken hostage by plotters. If Bishkek continues to cooperate with Uzbek security agencies in such coercive actions, Bakir argued, Kyrgyzstan might witness the emergence of a Kyrgyz version of the Islamic Movement of Uzbekistan.
Karimov hopes that Uzbekistan's evolving relations with Japan, albeit economically based, will contribute to an atmosphere of possible rapprochement with the West. Some Western capitals, including Washington, are keeping open the channels of communication with Tashkent, but the timing of widening relations to reconsider the merits of defense cooperation remain fraught with risks when dealing with a regime frozen in a vacuum of human rights abuses and openly utilizing its security agencies as tools of political repression.