KARIMOV'S SEARCH FOR SECURITY PARTNERS LEADS TO PAKISTAN
Publication: Eurasia Daily Monitor Volume: 3 Issue: 90
By: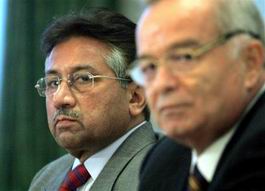 Uzbek President Islam Karimov visited Pakistan on May 2, making a point of placing security atop the agenda for bilateral meetings. Karimov is staking considerable political capital on deepening Tashkent's relations with Pakistan, principally based on building economic ties and appealing to mutual security interests in Afghanistan. The Karimov regime is now actively seeking other possible sources of security cooperation, while maintaining its regional multilateral ties, mainly through the Shanghai Cooperation Organization (SCO).
Karimov is looking to Pakistani President Pervez Musharraf to supply more military training and equipment and to unlock the military-technical potential in bilateral relations. Musharraf's visit to Uzbekistan in March 2005 laid the foundation for Karimov's return visit and the Uzbek leader's emphasis has shifted more directly into the security sphere.
Karimov is clearly pessimistic regarding the stabilization of Afghanistan, and he hopes this will form the basis for mutual interests and exploring ways in which Uzbekistan and Pakistan could cooperate with other countries in the region to promote stability in Afghanistan. As things currently stand, the international community's efforts to stabilize Afghanistan are causing Karimov, among others, some concern. "We have serious fears that if the state of affairs is not changed radically, it may deteriorate rather than improve. That is why the aim of the visit is to consider all these issues as a single key issue. Today the economy depends on security and stability. At the same time, we cannot watch the development of events from the sidelines," Karimov explained (Uzbek Radio First Program, Uzbek TV First Channel, May 2).
Nikolai Bordyuzha, Secretary-General of the Collective Security Treaty Organization (CSTO), believes that member states are ready to deepen and expand security cooperation with Uzbekistan. Speaking in Minsk on May 4 during a meeting of a CSTO anti-terrorist media forum, he speculated that the current trend towards closer integration in the pursuit of joint activities between CSTO states and Uzbekistan may pave the way for eventual membership to be extended to Tashkent, should this invitation be wanted. Considering Tashkent's past difficulties with Russia, which presaged its exit from the Collective Security Treaty, and Karimov's current problems with the West, such talk of a potential geopolitical rapprochement suggest that Uzbekistan will pursue security relations within the SCO and on a more sensitive level with the CSTO (UzReport.com, May 5).
Bordyuzha's comments were tempered with caution, reflecting improved relations between Moscow and Tashkent, yet based on tangible progress such as the June 2005 meeting of security council representatives from the CSTO states plus Uzbekistan that took place in Dushanbe, and Tashkent's willingness to consider the CSTO as another mechanism through which it may strengthen its security.
There are complex factors at work as the Karimov regime calibrates its security partnerships. One is its ongoing interest in promoting the SCO as a multilateral security body, although it does not primarily function as such. It is also subtly influenced by Kazakhstan's security agenda, mostly driven by competition between the two states, and Tashkent's search for multiple foreign sources of security assistance that present viable alternatives to Western support, which came at a price, namely, emphasis on democratization and the rule of law.
On May 2 the Kazakh Senate (upper house of parliament) endorsed a draft law on the ratification of an agreement on the SCO's Regional Anti-Terrorism Structure (RATS) database, based in Tashkent, which consolidates the legal mechanisms for overseeing joint efforts in the fight against terrorism. China, Uzbekistan, Tajikistan, and Kyrgyzstan have already ratified the agreement (Interfax-Kazakhstan, May 2). In Tashkent such events are interpreted as confirmation of the validity of placing such high confidence in the SCO.
The Chinese government has recently allocated 15 million yuan (around $2 million) to the Tajik Defense Ministry in no-strings military aid. The figure for 2005 was around half that amount, and there has been an upward trend in China's military assistance to Tajikistan since 2000 (Avesta, May 3). Such trends are noted in Tashkent, as the regime searches for more foreign security aid without incurring political demands.
Karimov may figure that he has more to gain by remaining on the periphery of the CSTO while fostering closer relations with the organization in practical ways and strengthening ties with its member states. He would like to benefit more from China's increased interest in Central Asia, which can offer "no-strings attached" military and security assistance. Equally, Pakistan could supply some of Uzbekistan's security needs, again without incurring political risk in Tashkent. Karimov is pushing security further onto the agenda of his emerging dialogue with Musharraf as well as highlighting what he considers to be the current failure of the NATO-led mission to stabilize Afghanistan. Bordyuzha's assessment of Uzbekistan's openness toward the CSTO as a mechanism through which its security interests could be strengthened, ending a period of clear animosity against the organization, is rooted in Moscow's conviction that Uzbekistan is too big a player in Central Asia to be ignored. Its isolation and difficulties appear to be temporary phenomena, which states in the region are keen to end.