Kazakh Presidential Hopefuls Keen on Participating – Not Winning
Publication: Eurasia Daily Monitor Volume: 8 Issue: 37
By: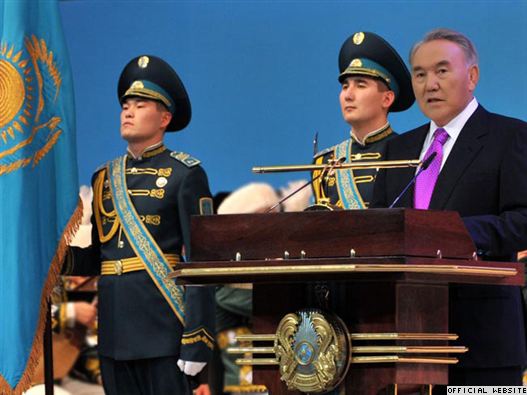 Although Kazakhstan's President Nursultan Nazarbayev is expected to coast to an easy re-election victory on April 3, the predictable poll is full of unexpected color. A total of 22 presidential hopefuls from all walks of life, including the incumbent, submitted their nominations to the Central Election Commission in Astana by the February 20 deadline. Formal registration of the candidates will end on March 2.
The wide range of professional backgrounds of these largely unknown candidates has been striking – among them an environmentalist, the director of a travel agency, a security guard, a pensioner, a clairvoyant, and one man who admitted he simply wanted to impress his wife. In short, the roster of possible candidates, with the exception of Nazarbayev, has been sorely lacking any political heavyweights.
"The word 'elections' is poorly chosen. Nazarbayev is guaranteed 92 percent [of the votes]," explained Serikbolsyn Abdildin, a political activist and former head of the Communist Party of Kazakhstan, adding "Knowing this, self-respecting people are not running."
The elections were announced on January 31 and are being held almost two years early. They are being boycotted by Kazakhstan's leading opposition party Azat, the Communist Party, and the unregistered Alga! Party.
This has not deterred the eccentric Amantai-kazhy Asylbek, a civic activist from Almaty with a history of trying to run for president, from also throwing his hat into the ring. Unlike most of the other nominees, who have largely made bland statements about their support for the current leader, Asylbek enjoys media attention and has set himself apart by making outspoken remarks and wearing only traditional Kazakh dress. "In Kazakhstan, there are many unmarried women. This is a national tragedy because we are losing potential mothers," he said, before suggesting "I think polygamy would solve the problem" (Adam Reader's, February 15).
Alas, Asylbek neglected to appear before the linguistic commission in Astana to take the Kazakh language examination required for the approval of his candidacy. He also missed a second date and was subsequently denied registration.
Out of the 22 nominees, six failed the strict Kazakh language examination and one withdrew his candidacy. Three were nominated by political parties – President Nazarbayev by the People's Democratic Party Nur Otan, Zhambyl Akhmetbekov by the Communist People's Party of Kazakhstan, and Gani Kasymov by the Party of Patriots of Kazakhstan. Kurmangazy Rakhmetov was nominated by the non-governmental organization Zheltoksan (December). All the other presidential hopefuls were self-nominated (Central Election Commission, press releases on February 21).
Kasymov, a member of the upper house of parliament, the Senate, and a Nazarbayev loyalist, was a surprising last-minute nominee on February 20. Even more astonishing was the fact that he passed the Kazakh language examination. When he ran for president in 1999, he did not yet know Kazakh very well. Analysts believe his nomination was designed to add a candidate of some substance to the list of Nazarbayev's competitors.
In the end, only 14, two of them women and all ethnic Kazakhs, were admitted to be candidates and have until March 2 to submit the necessary documents for final registration. They will each have to gather 91,010 verifiable signatures in their support in at least 9 of the 14 oblasts of the country as well as in the cities of Astana and Almaty, will have to present a copy of their and their spouse's income tax declaration and property declaration and pay a deposit of 799,950 tenge (approximately $5,400) to the Central Election Commission (Kazakhstanskaya Pravda, February 19). Campaigning will start on March 3.
So far, only President Nazarbayev, who has been at the helm since 1989, has been officially registered as a candidate. At 70, the authoritarian leader is also the oldest of the nominees.
Kazakhstan has never held elections that were judged as free or fair by the Organization for Co-operation and Security in Europe (OSCE).
Meanwhile, the Communist Party of Kazakhstan and the Alga! Party warned that food prices and tariffs will soar after the elections, which will primarily affect people with lower income and cause discontent. Prices have already noticeably increased over the past few weeks. The two parties claim the poll was called early because Nazarbayev's popularity is bound to fall once prices rise, which could be as soon as at the end of April or in May. The authorities will try to maintain the current level of prices with all their might until election day, says Kozlov, chairman of the Alga! Party (Press conference in Almaty, February 21).
The World Bank said on February 15 that global food prices are rising at "dangerous levels" and that a sharp rise in food prices across Central Asia could also have social and political implications for that region (Reuters, February 15).