Kazakhstan Adopts New Policy Toward Foreign Migrants
Publication: Eurasia Daily Monitor Volume: 11 Issue: 10
By: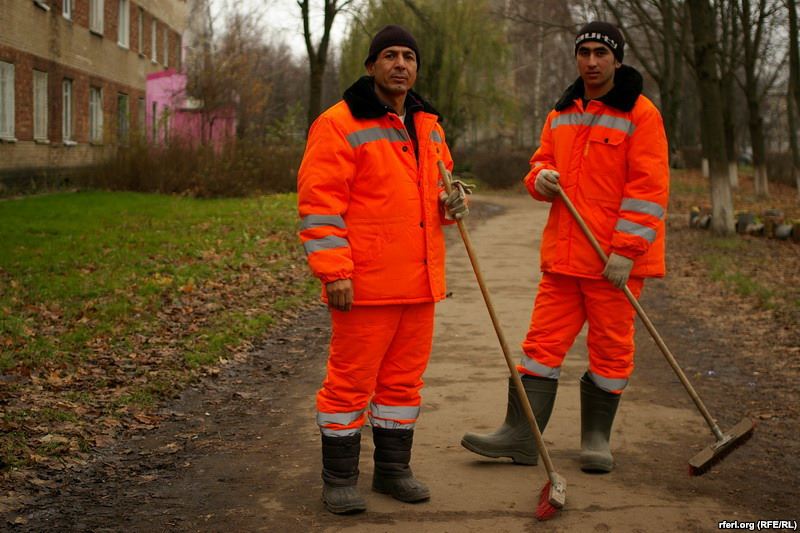 In December 2013, Kazakhstani President Nursultan Nazarbayev signed a new law to simplify the issuing of work permits to foreign migrant workers by individual Kazakhstani citizens. The more flexible regulations, which will take effect in a few weeks, contrast with the increasingly severe labor rules in other Eurasian countries. Improving international migration is one of the long-term priorities of the government's Kazakhstan-2050 national development strategy, adopted last year.
When the bill was introduced to the Senate of Kazakhstan, the minister of economy and budget planning, Erbolat Dossaev, said that "the main purpose of the bill is to legalize labor migrants in Kazakhstan and improve state regulation of migration processes" as well as increase tax revenue (Parlamentskaya Gazeta, October 31, 2013).
On January 6, Aidyn Belgibayev, the deputy head of the migration police management of Alamaty, stated that, "The law is aimed at simplification [and] … will contribute to legalization of labor migrants. It will also decrease factors supporting corruption … [and] foreigners will be removed from [the] 'shadow sector'" (24.kg, January 8, 2014). He explained that the intent is to make it easier for Kazakhstanis to hire household help (as nannies, gardeners, cooks, drivers, for household repairs, etc.) and not for commercial profit by private businesses. The migrant's only requirement is to make a preliminary personal income tax payment.
Kazakhstan applies a quota system to establish how many foreigners can legally work in the country. The central government determines the annual quota of work permits that they will issue based primarily on forecasts of how many foreign workers are needed for major economic activities.
One constraint the Kazakhstani authorities face is that many foreign workers circumvent the quota by working illegally. Since the government has a visa-free entry regime with many other countries of the Commonwealth of Independent States (CIS), their migrants can enter Kazakhstan legally but then engage in illegal employment. A common practice is for migrants from other Central Asian countries to cite visiting friends and family as the reason for their visit, but then engage in illicit employment (Tengri News, August 21, 2013).
The Kazakhstani government has been seeking to develop more simple, comprehensive and effective policies regarding foreign workers and migrant laborers, both in Kazakhstan and internationally. At home, the large number of illegal workers in Kazakhstan relative to the size of its population has led the government to adopt measures to legalize their status. In 2006, Kazakhstan implemented "one-off" legislation to allow employers to register illegally hired migrants for up to three years. This special measure covered some 165,000 irregular migrants (International Labor Organization, May 2008).
More recently, the government has been pursuing more comprehensive and enduring reforms. In December 2013, Kazakhstan's lower chamber (Majilis) enacted legislation simplifying the migration procedure for foreign labors employed as household workers by allowing Kazakhstani citizens to hire up to five foreign laborers, from countries having visa-free entry and stay agreements with Kazakhstan (Kyrgyzstan, Uzbekistan and Tajikistan, but not Turkmenistan), by simply signing a contract with them. The laborer can then apply to the migration police for a one-year work permit.
Kazakhstan's head of the Migration Police, Serik Akhanov, says the law aims to bring large numbers of illegal workers out of the shadow economy as well as raise state tax revenues (Tengrinews, August 21, 2013). As a result of this law, guest workers will be obliged to pay about 3,700 tenge (about $24) annually in taxes, they will be required to obtain a personal identification number, and they must have a bank account with enough money to return home. After one year, they will have to leave the country; but they will be eligible to return to Kazakhstan after one month as long as they filled in the declaration affirming their incomes and tax payments in Kazakhstan for the previous year (Trend, January 9).
Kazakhstani authorities are also working with foreign governments and international organizations to shape global policies toward foreign workers. Various government agencies collaborate with the International Organization for Migration (IOM) office in Kazakhstan to address legal and human rights issues of migrants, including human trafficking issues. On June 5, 2013, Foreign Minister Erlan Idrissov co-chaired the second Ministerial Conference on Refugee Protection and International Migration ("The Almaty Process"), which was co-chaired by IOM Deputy Director General Laura Thompson and the UN High Commissioner for Refugees (UNHCR), Antonio Guterres (Kazakh Foreign Ministry, June 6, 2013). The Almaty Process, which involves a dozen Eurasian countries, works to balance border control and security issues while protecting migrants' rights and ensuring refugees access to asylum, and compares with similar arrangements in other regions, such as the Bali and Budapest processes (Kazakh Foreign Ministry, June 6, 2013).
The emerging Eurasian Union has been the focus of recent Kazakhstani attention in many areas, including migration. On January 1, 2012, an agreement on the Legal Status of Migrant Workers and Members of Their Families came into effect between Russia, Belarus and Kazakhstan as part of the Customs Union—the forerunner to the planned Eurasian Union. The intention of this agreement is to establish the legal framework necessary for the emergence of a common labor market within the Single Economic Space supported by the Customs Union. According to the Kazakhstani Migration Police head Akhanov, "citizens of the Customs Union member states do not have to clear registration procedures while in another member state in the first 30 days. After the first 30 days they are issued a permit to sojourn for the period of their work contract" (Tengri News, August 21, 2013).
Although the new regulations adopted in December make it easier for individual Kazakhstani citizens to employ a few migrants to help with family chores and small business activities, domestic and foreign companies in Kazakhstan still confront a costly and complicated maze of regulations requiring them to justify why they must hire a foreigner. The government may need to make it easier for non-Russian energy companies in particular to hire international experts to help develop Kazakhstan's national energy resources and the new high-technology sectors that government wants to build in coming years.