Kazakhstan Finally Gains WTO Membership
Publication: Eurasia Daily Monitor Volume: 12 Issue: 129
By: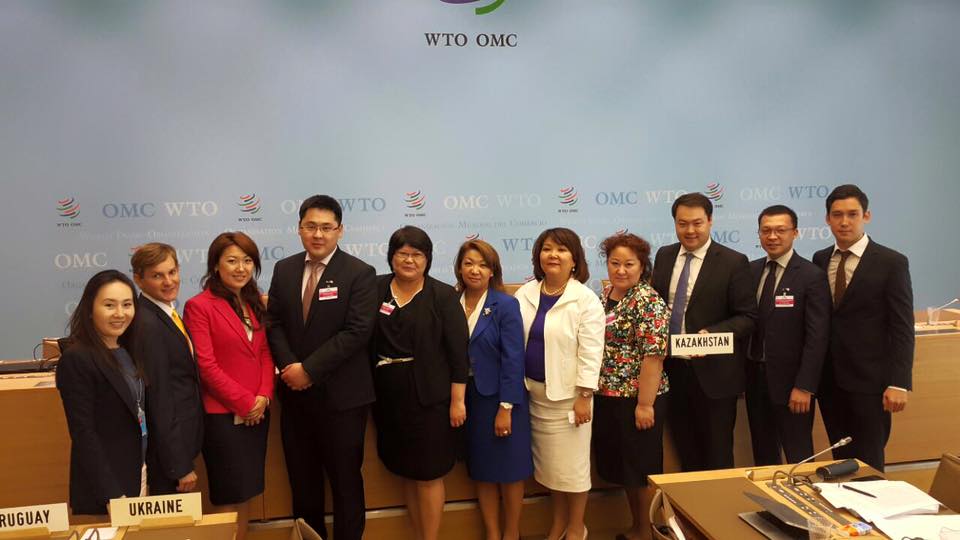 On June 10, Kazakhstan and the World Trade Organization (WTO) announced they had reached an agreement for Kazakhstan's accession to the trade body, bringing an end to an almost 20-year negotiation process that began when the Central Asian republic applied in January 1996 (Wto.org, June 10). On June 22, the WTO Working Group on Kazakhstan formally approved its entry (AzerNews, June 24). The members praised the "high quality" of Kazakhstan's accession package, saying it would provide significant improvements in market access opportunities for all WTO members. To close the deal, Kazakhstan concluded 29 bilateral market access agreements on goods and 15 bilateral market access agreements on services.
President Nursultan Nazarbayev hailed the "historic" event, saying that, "Accession to the WTO is a victory for the whole country, and recognition of Kazakhstan as an integral part of the global economic system" (Astana Times, June 24). Foreign Minister Erlan Idrissov had earlier said that, "Through the WTO, we will get access to an extensive global trading system, to its standards, rules and regulations" (AzerNews, February 26). Through accession, Kazakhstan aims to diversify its economy, enhance its competitiveness, and integrate further into the world economy.
Kazakhstan first applied to join the WTO less than five years after achieving full independence from the Soviet Union. Since then, its economic progress has been remarkable. Over the past two decades, Kazakhstan's economy has achieved some of the highest growth rates in the world thanks substantially to its growing oil exports, openness to foreign investment, and market reforms.
Despite these successes, however, Kazakhstan—like other former Soviet republics—has been struggling to join the WTO; only half of the Commonwealth of Independent States (CIS) countries (Armenia, Georgia, Kyrgyzstan, Moldova, Ukraine and Russia) are members. Astana hoped to conclude its WTO negotiations in 2013 or 2014, but accession talks failed to proceed as rapidly as hoped (AzerNews, February 26). Kazakhstan needed more time to resolve discrepancies regarding bilateral market access, government subsidies of domestic industries, tariff adjustments, sanitary regulations, and trade-related investment measures that were inconsistent with WTO requirements (Wto.org, July 23, 2013).
In recent years, the creation of the Customs Union (CU) with Russia and Belarus, and the transformation of the CU into a new Eurasian Economic Union (EEU), which resulted in Kazakhstan having to adopt Russia's higher external tariff rates, have presented the greatest barriers to Kazakhstan's entry. In practice, Kazakhstan found itself importing more expensive goods from Russia in place of less costly goods from WTO member states outside of the Customs Union (Iss.europea.eu, March 2014). Meanwhile, the CU's establishment made it harder for Kazakhstan and the EU to negotiate trade and other agreements (Europarl.europa.eu, October 2013).
In the end, Kazakhstan had to amend ten different CU and EEU agreements and some 50 laws to achieve WTO ascension (Silk Road Reporters, July 1). Nazarbayev said that "the negotiation process was challenging for us [Kazakhstan] due to subsidy-reducing requirements, but we defended our positions, as well as the markets of financial services and telecommunications. In addition, we have managed to combine the requirements of the WTO and the [EEU] based on our national interests" (The Astana Times, June 24).
WTO membership will not help Kazakhstan overcome its current depressed growth due to low world energy prices, Russian economic difficulties and other present problems. While Kazakhstan will gain access to more markets for its products as a WTO member, it will probably experience an increased influx of cheaper imports from countries outside the EEU, which will exacerbate the pre-existing pressure on domestic producers (Central Asia–Caucasus Analyst, June 10). Although Kazakhstan has already liberalized its trade policy, and the WTO will likely not affect the country's oil and gas exports to any appreciable degree, WTO membership will reduce the price of some imports (GTR Global Trade Review, June 24).
According to Rakhim Oshakbayev, the deputy chairman of the Board of Kazakhstan's National Chamber of Entrepreneurs, Kazakhstan will need the help of the other EEU countries to prevent the re-export of its imports to other members (Tengri News, June 25). Some concerns persist that WTO membership could disrupt Kazakhstan's recent progress in developing its agriculture and light industry. As point of comparison, Armenia, Georgia, Kyrgyzstan and Moldova have not achieved significant economic success since their WTO accessions, and the impact of WTO membership on Russia's economy has been marginal so far.
Over the long term, however, Kazakhstan's WTO entry and the adoption of some policies required in the WTO Accession Package should boost economic growth by increasing inward foreign investment, improving access to more diverse export markets, giving Kazakhstan international legal rights and mechanisms to counter other states' arbitrary protectionist measures (namely those of Russia), and putting the government in a stronger position to pursue domestic market reforms (Tengri News, June 25).
The inflow of foreign investments to Kazakhstan should increase owing to such factors as the general post-accession elevation of the country's international economic status, increased openness and transparency of government policies, improvement of national legislation and regulations, and greater access for national producers to foreign clients and markets. The increased investment, in turn, should lead to higher domestic production, greater industrial modernization, faster export growth, more employment, and the transfer of new technologies and skills to domestic producers (Paperity.org, February 2015).
Thus, while the membership in the WTO may have short-term negative consequences, it will likely benefit Kazakhstan in the long term.