Kazakhstan Makes Bet on Development of Country's Transit Capacity
Publication: Eurasia Daily Monitor Volume: 11 Issue: 24
By: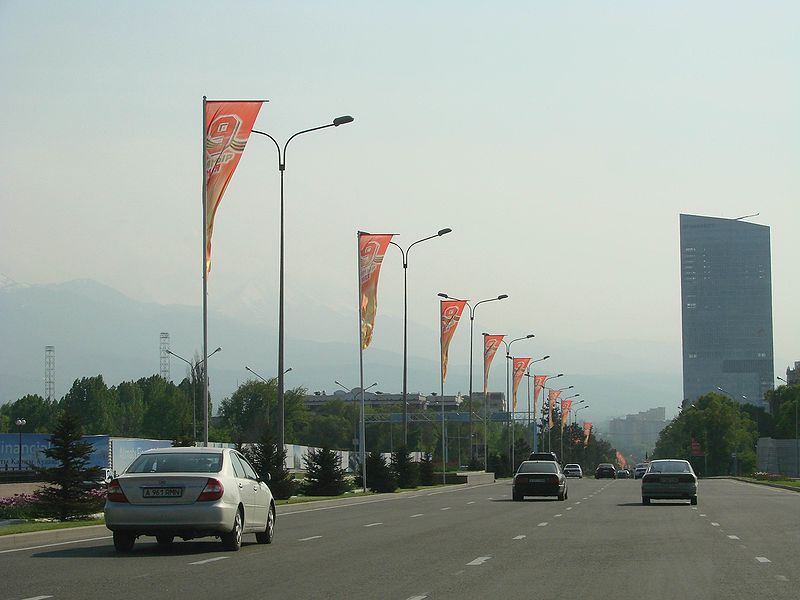 On January 17, Kazakhstani President Nursultan Nazarbaev delivered his annual address to the nation, titled "Kazakhstan's way—2050: common aim, common interests, common future." The address largely elaborated on the national development plan and ways to achieve the goal of bringing Kazakhstan into the group of the world's 30 most developed countries by 2050. Focusing on several priorities, it particularly underlined the importance of developing the so-called "infrastructure triad"—agglomerations (boosting the size and density of knowledge-based sectors in urban centers), transportation and energy—with an emphasis on enhancing internal transit capacity to support domestic development. This focus is significant given the need for Kazakhstan's policymaking establishment to ensure internal connectivity to allow the country to become a major transit hub in Eurasia.
"According to many forecasts, the next 15–17 years will be a "window of opportunity" for large-scale breakthrough development of Kazakhstan. During this period, we will have a favorable external environment, rising demand for resources, energy and food, and the growth of the Third Industrial Revolution. We should make [the most] of this time," Nazarbaev said in his address (akorda.kz, January 17). Each of the mentioned global trends creates a wealth of opportunities for Kazakhstan and its partners willing to invest in related industries, including transit infrastructure, which is vital for economic development and for facilitating the transport and exports of food, energy resources, and machinery to internal and external markets.
For a country as vast and sparsely populated as Kazakhstan, building sufficient transportation infrastructure is no easy task. But it is at the top of the government's agenda as Kazakhstan seeks to take advantage of the country's domestic potential and the benefits rendered by the rise of China and expanding connectivity across Eurasia. In this regard, Kazakhstan is highly interested in developing east-west and north-south transit vectors by cooperating with China, Russia, India, the EU, Central Asian countries, Afghanistan and Iran. For all this to work, however, Kazakhstan needs to significantly enhance its own internal transit capacity. "Transport infrastructure is at the heart of industrial economy and society," Nazarbayev said, adding, "I have said many times that it is impossible to reach the level of a developed country without modern high-quality highways. As we are located between Europe and Asia, between the North and the South; transportation remains of great importance to Kazakhstan. To set up a network of internal roads, we have initiated the construction of highways 'Astana-Karaganda-Almaty,' 'Astana-Pavlodar-Ust'-Kamenogorsk,' [and] 'Almaty-Kapchagay-Ust-Kamenogorsk.' […] These [transit corridors] are already used by trains that are twice as fast" (akorda.kz, January 17).

Kazakhstan's focus on transit development became especially pronounced following the global financial crisis, which forced the government to diversify its energy export–dependent economy by stimulating investment into transit, trade, logistics and other sectors (https://www.kisi.kz/img/docs/5773.pdf). Under the "infrastructure triad" plan, the government intends to turn the four largest cities—Astana in the north, Almaty in the southeast, Shymkent in the south and Aktobe in the northwest—into regional development centers connecting major industrial zones. It also envisions the construction of the new, 1200-km Zhezkazghan-Shalkar-Beineu railway by 2015, linking the country's west and east and connecting Kazakhstan via the Caucasus to the European Union and China's Lianyungang seaport on the Pacific Ocean (akorda.kz, bnews.kz, January 17). For 2014, the government had earmarked 2.8 trillion tenge ($18 billion) to support transport development, planning to upgrade up to 85 percent of national highways and 70 percent of local roads as well as to increase the speed of internal cargo transit via railways by 15–20 percent and external cargo transit by up to 20–30 percent. It also aims to increase the volume of cargo transit to 25 million tons and collect $1.5 billion in transit revenues in 2015 (https://www.kisi.kz/img/docs/5773.pdf).

Harboring their own geopolitical designs, Kazakhstan's partners offer certain advantages for it to participate in transcontinental transit projects, concurrently enabling it to synchronize its internal transit and economic development priorities. This is also more significant given the size of the annual trade turnover between Europe and Asia, which stood at $400 billion in 2011 and is expected to hit $1 trillion by 2015, according to some estimates (https://www.kisi.kz/img/docs/5773.pdf).
Issues within the Russia-led Customs Union aside (see EDM, February 4), Kazakhstan aims to develop its logistics services sector and use the territory of the union members, potentially also including Kyrgyzstan and Tajikistan in the future, for transit and export of its goods via north and south. To the west, it anticipates using the Baku-Tbilisi-Kars railway, due to start operating by the end of 2014, to export its oil and grain (see EDM, January 14). To the south, it looks to reap benefits of the recently constructed railway to Turkmenistan and Iran, which enables an outlet to the Persian Gulf.
Geopolitically, perhaps even more significant is Kazakhstan's participation in the "Western Europe–Western China" transit corridor, the completion of which is due by 2015. In this context, the development of the Khorgos crossing at the border with China is of utmost priority. Khorgos falls under China's New Silk Road Economic Belt strategy unveiled in 2013. Both Astana and Beijing plan to turn it into a Special Economic Zone with its own air, ground and railway infrastructure connecting the Khorgos crossing with the Chinese financed high-speed railway line, which will link Astana and Almaty. Kazakhstan and China have also considered investing $100 million into the construction of terminal infrastructure in China's Pacific port of Lianyungang with the aim of increasing the volume of transit traffic from 18 million to 36 million tons of cargo by 2020 (see EDM, July 10, 2012; January 14, 2014; inform.kz, September 17, 2013).
Positioned between large and dynamic markets, boasting a middle-income economy, and being the indisputable economic leader within the Central Asian region, Kazakhstan may well be on track to make it to the list of the world's top 30 most developed economies by 2050. Building up its domestic transit capacity to become a major Eurasian transit bridge is an important ingredient in this regard. Yet, to achieve it, the government will need to pursue a series of complicated objectives. These challenges will include modernizing the transport system while focusing on investment in new technologies. Other areas Astana will need to address will include reducing customs clearance times and simplifying trade procedures, along with implementing measures to reduce domestic transit prices. Finally, better policy planning and a close collaboration with international development institutions will also be vital as the government seeks to address related challenges under its "triad" plan.