Kazakhstan Proposes Gas Pipeline Project Connecting Russia and China
Publication: Eurasia Daily Monitor Volume: 20 Issue: 60
By: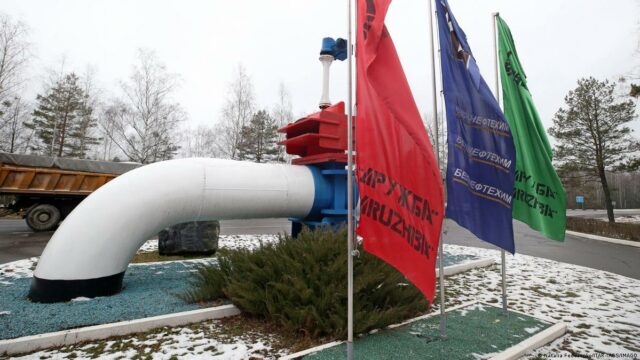 Kazakhstan has recently proposed the building of a new international gas pipeline to Russia that would run through Kazakhstani territory and connect to China (Interfax, February 22; Astana Times, March 25). The new pipeline project has emerged as a vital need in delivering natural gas resources to Kazakhstan's eastern regions. The final decision on the project is set to be made by May 1 (Inform.kz, February 24).
Overall, the proposed pipeline is planned to become the quickest and shortest way to deliver Russian gas to China through Kazakhstan's eastern regions, though exact details have yet to be released (Stan.kz, February 22). Previously, in May 2022, the Kazakhstani Energy Ministry and Russian energy giant Gazprom discussed the gasification of Kazakhstan's eastern and northern regions and agreed to step up efforts to address the most crucial aspects of cooperation. Furthermore, former Kazakhstani Energy Minister Magzum Mirzagaliyev, in October 2021, suggested that Russia should supply gas to Kazakhstan on mutually beneficial terms (Interfax, February 22).
In truth, Moscow has emphasized its eastward shift toward Asian energy markets, as a result of Western sanctions. In 2022, Russian gas exports fell by 25 percent; however, China received unprecedented amounts of Russian gas via the Power of Siberia pipeline (The Moscow Times, February 14). China is the third-largest consumer of natural gas in the world, after the United States and Russia. Nevertheless, Australia has been China's largest supplier of liquefied natural gas for many years (Global Times, October 17, 2021). Even so, recently, China has begun searching for other sources of stable gas supplies. In this regard, Russian gas reserves are critically important for Beijing. And having lost half of the European market, Moscow is extremely interested in expanding its share of the Chinese energy market (Qazaq Times, March 12).
Yet, relations among these three countries need to be considered in a broader context, as Kazakhstan sits at the center of key transit and energy corridors connecting Asia and Europe. In some sense, the relationship is a bit fractious. For example, since the start of its all-out war against Ukraine, Russia has reduced the amount of Kazakhstani oil that it is willing transport through Russian territory (Azerbaycan24, June 20, 2022). And, last year, under its "zero-COVID" policy, China closed its border with Kazakhstan, which had a negative impact on Kazakhstan's trade revenue and economy (Astana Times, January 10; Eurasianet, January 13).
Despite recent regional upheavals, Kazakhstan remains quite reliant on Russia for its economic needs. According to the Eurasian Development Bank, over the past five years, Russian foreign direct investment in Kazakhstan has amounted to roughly $11.2 billion (Pravda.az, March 30). Additionally, millions of citizens from Central Asia, including Kazakhstan, work as labor migrants in Russia, sending their earnings home. And that financing carries a certain weight in the budgets of the Central Asian states.
Furthermore, Kazakhstani energy supplies are actively being transported to Europe via Russia (see EDM, March 29). Kazakhstan transports its oil to global markets primarily via pipelines passing through Russia. In total, about 76 percent of Kazakhstan's oil is sent to Europe annually, which has been critical for meeting European energy needs (Modern.az, January 13). In official statements, Astana has indicated that participation in Russian-led initiatives is possible only under the condition that Kazakhstan's interests and sovereignty are respected.
In recent years, Kazakhstan has become China's investment favorite in Central Asia. In the past 15 years, China has invested about $30 billion in the Kazakhstani economy; some independent experts suggest that this number may be twice as high (Pravda.az, March 30). Currently, Kazakhstan's debt owed to China amounts to 16 percent of GDP, representing a general trend with the Central Asian states in owing sizable debts to Beijing. Relations between Kazakhstan and China truly began to strengthen with the announcement of Beijing's Belt and Road Initiative, with an emphasis on industrial development as well as transit and energy infrastructure investment in Central Asia.
For its part, China buys 16 percent of its oil from Kazakhstan (Modern.az, January 13). Moreover, largely thanks to the joint terminal located at China's Port of Lianyungang, the number of containers being transported from China to Kazakhstan and further onward to Russia, Europe and Central Asia is increasing. This increase is expected to stimulate the revival of international trade in the region and open new transit and logistics possibilities for Astana. Furthermore, China is Kazakhstan's largest trading partner (Kaz.people.cn, October 31, 2022). Between 1993 and 2022, trade turnover between the two countries increased by 70 times (Shygystanu.kz, September 26, 2022). One of Beijing's special interests for development and stability in Kazakhstan is related to its administration of the Xinjiang Uyghur Autonomous Region, as Kazakhstan shares a long border with the region (Modern.az, January 13).
In recent years, Russian-Chinese relations have reached the level of strategic partnership. Yet, both are now competing for influence in Central Asia, as their interests in the region do not entirely coincide (Egemen.kz, September 5, 2022). From an economic point of view, Russia is interested in the production and transportation of hydrocarbons in Kazakhstan. However, China's increased economic plans in Kazakhstan have further accelerated the decline of Russian influence in the region. Beijing's economic superiority vis-à-vis Russia is the primary factor driving its growing influence. According to claims made in expert circles, Beijing, which has been secretly competing with Moscow for many years in Central Asia, is now trying to push Russia out of the region—and, to some extent, it is succeeding (Pravda.az, March 30).
Therefore, while, generally, new routes for the transit of energy resources is in the shared interests of Russia, China and Kazakhstan, nailing down the specifics could become complicated. Since before Russia's all-out aggression against Ukraine, Kazakhstan had already been discussing new gas pipeline projects for the gasification of its remote areas. And while the prospect of becoming a gas hub between Russia and China is rather attractive to Astana, the new pipeline project is not aimed at helping Russia circumvent sanctions. While the technical details still need to be finalized for the pipeline project, it is already clear that it will require billions of dollars to complete. And with Western sanctions affecting both China and Russia, the financing angle could become difficult.
Thus, in the face of these complications, it is doubtful that Russia and Kazakhstan will implement the proposed project anytime soon. And while borrowing from Beijing could be an option, Astana may want to avoid this as it would further increase Kazakhstan's dependency on China. Thus, Kazakhstan may look elsewhere for cooperation and funding in improving its energy and transit infrastructure—perhaps toward the West.