Kazakhstan Reacts to Video of Children With Islamic State
Publication: Eurasia Daily Monitor Volume: 11 Issue: 224
By: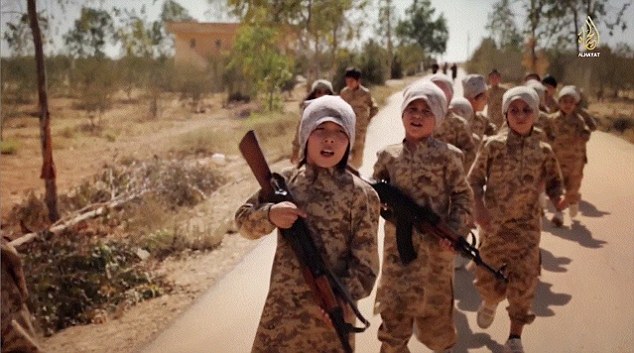 On November 22, the Islamic State organization (formerly known as the Islamic State of Iraq and Syria—ISIS) released the fifth edition of its online magazine, Dabiq 5, which on the back cover featured a full-page photo of a boy in military fatigues (RIA Novosti, worldanalysis.net, November 22). On the same day, the Islamic State's media wing, al-Hayat, separately released a video called "Race Toward Good," which was uploaded and disseminated on the Internet by the British tabloid Daily Mail (Centrasia.ru, November 24; Daily Mail, November 22). This video featured the same boy from Dabiq 5's back cover, Abdullah, among a group of more than ten Kazakh boys training in militancy, Arabic language and Islamic education in Syria.
In the video, Abdullah says, "O kuffar [infidel], Inshallah [God Willing] we will slaughter you," and declares Islamic State head Abu Bakr al-Baghdadi as his leader. Footage later shifts to a Kazakh man in a classroom of Kazakh boys decrying how the "infidels poisoned the minds" of Muslims with poetry. Other footage shows over 30 men—presumably Kazakhstanis—running through the desert while a caption says, "God has given you a test."
The November 2014 video was the first one featuring Kazakh children as militants in Syria, but it is not the first video to highlight Central Asian children among jihadists. In July 2013, a video called "Letters from the Epic Battlefield" showed about 150 Kazakhstanis, including their wives and children, appearing to live comfortably in a community that was reportedly near Aleppo (Interfax, October 22, 2013). Other Central Asian militant groups, such as the Uighur-led Turkistan Islamic Party (TIP) and Islamic Movement of Uzbekistan (IMU), have also shown videos of child soldiers, including most recently in a TIP video released on December 12, 2014 (Islom Awazi, December 12). The IMU's leader, Usman Ghazi, has also pledged his allegiance to Islamic State (Vestnik Kavkaza, October 6).
None of the Kazakhstani men from the July 2013 video reappeared in the November 2014 clip. This suggests that the November 2014 footage shows a separate community of Kazakhs or that many of the men in the July video have already died in combat. As many as 80 percent of Kazakhstanis who have gone to fight in Syria have already been killed, according to a recent estimate by Kazakhstan's Committee for Religious Affairs (KDR) (Central Asia Online, November 21). It is, therefore, possible that Abdullah and other boys in the video are orphans, who will grow up as wards of the Islamic State.
The July 2013 and November 2014 videos differ from the videos released years ago by Jund al-Khilafah, which was a Kazakhstani jihadist group based in Pakistan from 2011 to 2013. Jund al-Khilafah declared itself to be fighting against Kazakhstan's government. Notably, in its proclamations, the organization labeled the country's leaders as tyrants and its secular system as "anti-Muslim"; it focused on Kazakhstan's "fawning" to Russian interests; and it criticized Kazakhstan's violent dispersal of a labor protest in Zhanaozen in December 2011 (see Terrorism Monitor, December 15, 2011). On the other hand, the Kazakhstani militants featured in the July 2013 and November 2014 Islamic State videos appear to show less interest in their home country than did Jund al-Khilafah.
This difference in rhetoric is likely due to the fact that Jund al-Khilafah was intended to be a "liberation" movement for Kazakhstan, despite the futility of such aspirations. In contrast, Kazakhstanis fighting in Syria and Iraq are operating under the umbrella of the Islamic State, which sees Kazakhstan as one of many territories around the world in which Muslims will one day need to establish sharia law. Kazakh fighters are valuable for the Islamic State in two distinct ways. First, they help the militant organization portray itself is a truly global movement, and the Kazakhstanis' involvement obscures the fact that most of the Islamic State's leaders, skilled fighters and recruits are Sunni Muslim Arabs. And second, the Islamic State organization originated not in the context of a global war on Islam but arose out of Sunni Arab alienation in Syria and Iraq—two Iranian-supported countries with governments led mostly by Alawites (a heterodox branch of Shiism) in Damascus and Shias in Baghdad.
One reason why a disproportionate number of Kazakhstani children in Syria and Iraq, like Abdullah, may be orphans is that Kazakhstanis—who generally arrive at Islamic State militant camps with little fighting experience—are used as "cannon fodder." Some Uighurs fighting in Kobani, for example, report that they were forced to serve on the Islamic State's front lines and were killed if they wanted to retreat; while inexperienced Americans and Southeast Asians have also been selected for suicide missions soon after entering Syria (wantchinatimes.com, December 13). Many of the Kazakhstanis who traveled to Syria were not hardened fighters like Chechens or Libyan civil war veterans, but rather were "ordinary" people who became interested in the jihadist cause based on viewing Islamic websites or interacting with unprofessional imams in unregulated mosques in Kazakhstan or after studying at Salafist institutions abroad. However, other Kazakhstanis sought to "migrate" to Syria and Iraq with their families to live in a "pure" Islamic State and escape economic and career troubles in Kazakhstan (RFE/RL, September 12).
This video of Kazakh children does not imply that Kazakhstanis are being radicalized en masse. But it does reflect the fact that even in a fairly prosperous country like Kazakhstan, with a tradition and national ideology of tolerance, the Islamic State can still manage to gain traction and attract recruits. Consequently, Kazakhstan will likely take serious measures to prevent what has now been several hundred Kazakhstanis who have migrated to Syria and Iraq from becoming several thousands if nothing is done to combat the trend.
The government may, therefore, institute new policies, including to seek international cooperation to prevent Islamic State videos from being readily available on the Internet. Additionally, Astana may seek to professionalize religious education in Kazakhstan and monitor where Kazakhstanis are acquiring their religious education abroad. The government could also establish de-radicalization and rehabilitation programs for Kazakhstanis who return to the homeland, including children. Finally, Astana will probably try to collect more intelligence on the Kazakhstanis fighting in Syria and Iraq in order to rescue children from Islamic State enclaves, or if such is impossible, to keep track of Kazakhstani militants who may return home with the intent to carry out attacks domestically.