Kazakhstan's Nazarbayev Center Moves Into High Gear
Publication: Eurasia Daily Monitor Volume: 9 Issue: 186
By: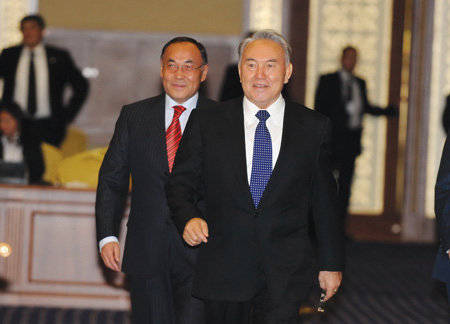 The Nazarbayev Center was created in January 2012 to study and promote Kazakhstan's history of statehood—its cultural, economic, humanitarian, and political development (Interfax-Kazakhstan, January 23). The Center includes an in-house think tank that conducts research, a library with 600,000 books and other items, and a museum that profiles Kazakhstan's history—before and after the Soviet era—and the achievements of the new country's founding president, Nursultan Nazarbayev.
The Center interacts with Kazakhstan's public bodies, scientific and cultural institutions, civil society structures, and mass media through sponsored research and publications, conferences, symposia, exhibits, and other activities. It also collaborates with foreign and international institutions on research projects, conferences, seminars and exhibitions.
The Center's formal description is that of a multifunctional research, analytical, humanitarian, and educational public institution (Kazakhstan Today, January 23), somewhat analogous to the presidential library institutions in the United States.
The Nazarbayev Center had already attracted a high-powered team of managers and analysts. Kanat Saudabayev, former Secretary of State and Minister of Foreign Affairs of Kazakhstan, has become its Chairman. Saudabayev has been a leading statesman in Kazakhstan's history—having also served as the country's ambassador to Turkey, the United Kingdom and, for seven years, to the United States—as well as a close associate of President Nazarbayev (Colin Berlyne, "The Nazarbayev Center and its Director," Edge Magazine, 2012, http://www.edgekz.com/solidifying-kazakhstans-international-role-the-nazarbayev-center-and-its-director.html).
Saudabayev said that he hopes that the Center "will significantly contribute to the continued strengthening and development of independent Kazakhstan, to the patriotic education of our citizens, and to the strengthening of our country's role in the international community" (Berlyne, "The Nazarbayev Center"). For example, its humanitarian and educational activities range from training courses to one-off lectures to a public lecture series of issues of importance to Kazakhstan's history and development.
With respect to its enhancing Kazakhstan's foreign policy, the Center "will share with the international community Kazakhstan's experience as a leader of the global non-proliferation movement, as a successful multinational and multi-ethnic state, and as the driver behind various integration processes and a number of dialogue platforms for strengthening peace, stability and security" (Berlyne, "The Nazarbayev Center").
The Center's best known initiative internationally is its ATOM Project (http://www.theatomproject.org/en/). The name of the project is an English-language abbreviation that stands for "Abolish Testing—Our Mission." This program aims to build on Nazarbayev's and Kazakhstan's legacy as a leader in the nuclear disarmament movement as well as highlight Kazakhstan's contributions to regional and global security.
Since their country became independent in 1991, Kazakhstan's leaders have strongly opposed the spread of nuclear weapons, including in their own country, even while supporting the safe, secure, and peaceful development of nuclear energy. With US and Russian assistance, Kazakhstani officials eliminated or transferred to the Russian Federation all the nuclear weapons left on their soil following the Soviet Union's disintegration. This denuclearization process included the elimination of some 1,300 nuclear warheads as well as various delivery vehicles and nuclear weapons–related equipment. They also closed the Soviet-era nuclear weapons test site at Semipalatinsk, the site of hundreds of nuclear detonations that have inflicted severe costs on the surrounding environment and people. More recently, Astana has sought to support nuclear materials security at the 2010 and 2012 Nuclear Security Summits and discourage Iran and other countries from developing nuclear weapons.
Unlike these top-down initiatives, driven by Nazarabyaev and other senior domestic and foreign leaders, the ATOM Project seeks to mobilize international grassroots support behind ending nuclear weapons testing and global nuclear disarmament. The web site has a petition that any individual can sign calling on the world's governments to adopt the Comprehensive Nuclear Test Ban Treaty.
The ATOM Project was launched at a parliamentary assembly in Astana on August 29, 2012, which coincided with the "International Conference: From A Nuclear Test Ban Treaty to a Nuclear-Weapons-Free World" in Kazakhstan as well as the UN International Day Against Nuclear Tests that marks the closing of the Semipalatinsk nuclear test site on August 29, 1991 (Trend, August 29). President Nazarbayev and others consider shutting the Semipalatinsk facility and eliminating all the nuclear weapons programs Kazakhstan inherited from the Soviet Union as one of their country's main achievements.
Kazakhstani officials say that the ATOM Project aims to decrease global nuclear threats, spread knowledge about the consequences of nuclear weapons tests, and mobilize the international community to end nuclear testing. The ATOM Project uses social media like Facebook and Twitter to promote dialogue among survivors of nuclear explosions as well as NGOs and other Internet users (Central Asia Times, August 29).
Saudabayev is also Chairman of the Commission under the President of Kazakhstan on Non-proliferation of Weapons of Mass Destruction. In this capacity, and as the chairman of the Nazarbayev Center, he is now providing assistance to the Netherlands, which will host the 2014 Nuclear Security Summit (Kazakhstan Today, February 10).
The Nazarbayev Center also highlights Kazakhstan's cooperation with foreign countries. For instance, at the end of May it organized a photo exhibition entitled, "In the Precepts of Ancestors," with the Embassy of Hungary in Astana that highlighted the historical and cultural ties between Hungarians and Kazakhs (Kazakhstan Today, May 31).
Along with the US Embassy to Kazakhstan, the Center convened a conference on May 18 on "Kazakhstan-US: 20 Years of Partnership for Security and Development." The event was timed to mark the 20th anniversary of the first official visit of Nazarbayev to the United States in 1992 at the invitation of US President George H. W. Bush. The panels and exhibits addressed the two countries' collaborative efforts in nuclear nonproliferation and disarmament, energy and economics, technology, democratic development, and regional security, such as regarding Afghanistan (TengriNews, May 21).
US Ambassador to Kazakhstan Kenneth Fairfax, President of KazAtomProm Vladimir Shkolnik, Deputy Foreign Minister Kairat Umarov, former US Ambassador to Kazakhstan John Ordway, Kazakhstan's first Foreign Minister Tuleutai Suleimenov, and many other diplomats and business executives from the two countries attended the conference or sent messages to the participants. In a video address to the conference, former US Secretary of State (1989–1992) James Baker said that "stable Kazakhstan-American relations keep playing an important role in protection of interests of both countries" (Tengrinews.kz, May 18). The conference proceedings were also broadcast live on the Internet.
Finally, the Nazarbayev Center promotes Kazakhstan's culture and history. For example, it displays the works of famous Kazakhstani artists, such as Aubakir Ismailov, People's Artist of Kazakhstan, whose paintings were displayed in an exhibit called "The World in a Nomad's Colours" (Astana Times, September 29). The Center also helped launch the Kumai open-air archaeological and ethnographic complex near Astana (BNews.kz, September 10). From June 12 to July 12, the Center displayed a collection of ancient geographic maps made by Europeans who visited Kazakhstan in an exhibit called "Maps and Traveling: Introducing Kazakhstan to Europe, from Alexander the Great to Queen Victoria in Astana" (Tengrinews.kz, June 13).
Establishing institutions such as the Nazarbayev Center in 2012 and the Nazarbayev University in 2010 is a sign that Kazakhstan is gradually transferring leadership to the next generation of national leaders. Along with the law on the leader of the nation adopted in 2010, the two institutions are an effort to secure a smooth transition to new leadership and a continuity of national priorities. President Nazarbayev is evidently aiming to safeguard a successful transition to a post-independence leadership as he builds institutions to preserve his legacy and continue his influence on formulating Kazakhstan's foreign policy and national security priorities. The first international project of the Nazarbayev Center, the ATOM project, expands on Nazarbayev's highest achievement—nuclear disarmament.