Kazakhstan's Socio-Economic Modernization Strategy: Challenges and Opportunities for the Next Decade
Publication: Eurasia Daily Monitor Volume: 9 Issue: 39
By: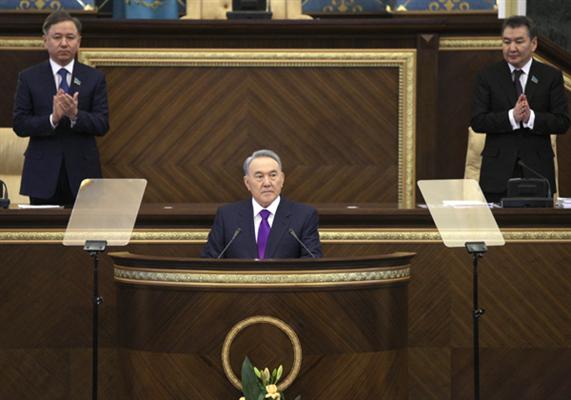 On January 27, 2012, Kazakh President Nursultan Nazarbayev addressed the people of Kazakhstan with a statement titled "Socio-economic Modernization: the Main Vector of Kazakhstan's Development." In what now resembles an American state-of-the-union address, Nazarbayev outlined ten main priorities that will shape the country's development in the next decade. Some of these priorities feed on the long-standing agenda of promoting a more diversified, innovative and industrialized economy able to compete in the globalizing world. Others reflect the lessons learned from recent events and the need to better tackle domestic socio-economic challenges that are also increasingly a function of fragile global conditions.
The choice of words in the statement's title is not coincidental. The strategy now also puts emphasis on the social component without discarding the important role of the economic constituent, aiming for "optimal balance between economic success and provision of public goods." A series of recent developments have shown that Kazakhstan's general economic successes overshadowed its uneven regional development, lack of socio-economic opportunities in the periphery, and sluggish progress on the political front, indicating the need for socially significant policies amid uncertainty in global markets (Interfax, January 27).
Some of these developments are worth highlighting to understand the vision laid out in the presidential address. In 2011, Jund al-Khilafa group, whose leadership is based in Afghanistan-Pakistan border areas, carried out a number of deadly attacks against the government and civilian targets, shaking the perception of a secure Kazakhstan. In December 2011, clashes between striking oil workers and police left more than a dozen killed in the small oil town of Zhanaozen, further exposing vulnerability of the relatively more stable country in the region. In January 2012, the government came under criticism for reportedly fraudulent parliamentary elections, which some observers argue should still help with the government-sanctioned transition to a multi-party system at a later date. Some critics also note the government's struggling efforts to bring the economy to the pre-crisis growth of more than 9 percent and bolster investment climate amid lingering ills in the banking system. This is despite reports of the arguably solid macroeconomic indicators (economic growth in 2011 was 7 percent; inflation – 8.3 percent; unemployment – 5.2 percent) attained following the global financial crisis that hit the Kazakh economy hard.
The presidential address offered a timely platform to try to regain the trust of the domestic and foreign public, reaffirming Kazakhstan's commitment to a gradual political yet dynamic socio-economic development. At least half of the stated priorities focused on social development. The government plans to create quality jobs for 1.5 million people by 2020 by developing entrepreneurship in rural areas and improving training and labor mobility across the country's major economic zones. It also intends to improve human capital through better education and healthcare, upgrade pension system, create more affordable housing, develop regions and small towns, improve public services by curbing corruption and simplifying administrative procedures, and modernize judicial and law enforcement systems (Interfax, January 27).
The social and economic priorities have been tailored to be mutually reinforcing. The government will now train a political class of managers to meet the new demands of governance. This is indicative of the need to reduce government inefficiency and mitigate potential setbacks amid the gradual opening of the political system and head of major leadership changes. It also plans to boost agricultural development through improved access to credit and creation of a grain holding to ensure food security amid occasional spikes in food and fuel prices on global and local markets. Agriculture now contributes approximately 4.6 percent to GDP, while the industry and service sectors – about 34.2 percent and 55.7 percent respectively.
To calm and invite potential investors, Nazarbayev said the administration was committed to the Accelerated Industrial and Innovative Development program, which aims to modernize and diversify the economy dependent on hydrocarbons by developing petrochemicals, food processing, transport and other sectors. Planned multi-billion dollar projects are here to help and include construction of several enterprises: a power station in Balkhash to address the energy deficit in the south; a petrochemical complex to produce propylene and polyethylene; a compound fertilizer complex for agricultural development of Zhambyl and southern areas in general; an oil-processing plant in Atyrau to increase fuel supply; a gas processing plant at the Karachaganak field; and gas pipelines to central regions and the capital Astana. They also include the completion of Kazakhstan's part of the international auto corridor "Western Europe-Western China" to integrate Kazakhstan and others within Eurasia and two railway lines connecting Jezkazgan and Beyneu and Arkalyk and Shubarkol to develop the Jezkazgan-Arkalyk region.
Authorities plan to use National Fund resources to finance these projects, but it is not clear what investment options they will ultimately pursue. Attracting foreign direct investment (FDI) may prove forward-looking. Kazakhstan has attracted more than $122 billion in FDI since 1993, but it needs more FDI to transform the economy from the one previously based on Moscow's heavy planning. In his address, Nazarbayev highlighted tourism as a lucrative sector, saying it attracts up to 10 percent of GDP in developed countries, but only less than 1 percent in Kazakhstan. This should not come as a surprise because Kazakhstan is not a developed economy, despite its eager efforts to become one in the future. This is not to dismiss the important strides Kazakhstan has made in opening up to the rest of the world. The FDI figures aside, Kazakhstan advanced from 74th to 59th place among 183 economies in the World Bank's "Ease of Doing Business" report and has made a series of major improvements in the investment climate. However, it is yet to improve corporate governance, legal and regulatory environment, and boost efficiency of production and improve infrastructure, according to the Ernst & Young's Investors Opinion Survey (EDM, June 23, 2011). Nazarbayev mentioned the "Business Roadmap – 2020" program and plans for Kazakhstan to become a WTO member in 2012 as steps needed to further boost the investment climate.
In a region prone to instability, doing so requires foreign policy commitments promoting security in Eurasia and the world at large. In his speech, Nazarbayev focused on the need to advance nuclear security initiatives, including the imperative of adopting the Comprehensive Declaration of Nuclear-free World, and the "G global" scheme to accelerate the exit of the global economy from the current malaise. He also underscored Kazakhstan's commitment to the "balanced foreign policy," saying it will continue cooperation with West, East, and Russia and Belarus as part of the single economic space. He further noted the need for a "Eurasian police" to combat crimes in the expanding economic zone (Interfax, January 27).
Whether Kazakhstan can deliver on its grand domestic and foreign policy ambitions remains unclear, not least because the priorities in the presidential address require long-term commitments. By emphasizing the socioeconomic component of its modernization strategy, the country's leadership not only seeks to silence critics at home and abroad, but also accelerate the economically dynamic yet socially stable development of the country, whose image of a Central Asian outlier has been recently tarnished.