Khashoggi, the Hudaydah Offensive and Prospects for Peace in Yemen
Publication: Terrorism Monitor Volume: 16 Issue: 22
By: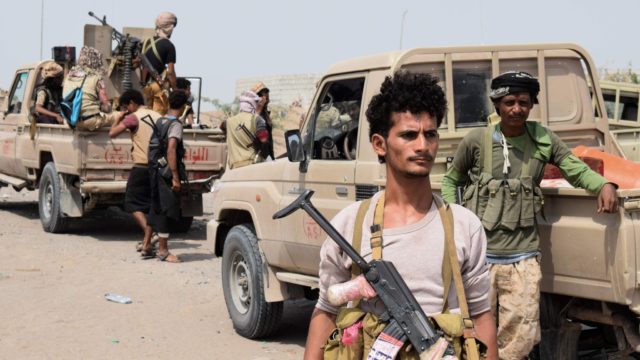 Saudi Arabia's dubious military tactics in Yemen have long been underreported and have drawn surprisingly little scorn from international leaders. The death of Saudi journalist and Washington Post columnist, Jamal Khashoggi, at the Saudi consulate in Istanbul, Turkey, however, has led many Western nations to reevaluate their relationship with the Kingdom and Crown Prince Mohammed Bin Salman. The Khashoggi saga seemingly created an opening for several heads of state to use the widespread condemnation of the Saudi regime as leverage to push for an end to the war in Yemen and renewed peace talks in Sweden. Saudi Arabia, however, went the opposite direction by launching a fresh offensive on the vital Red Sea port city of Hudaydah, a city that is a strategic linchpin for the Houthis and the main entry point for the delivery of humanitarian supplies.
Renewed Focus on Saudi Involvement in Yemen
For the past several years, many Western nations have been wary to condemn Saudi Arabia for its tactics and the subsequent death of countless civilians during the course of the military intervention. Neither has the West fervently used available diplomatic tools to push for an end to the war. The fear of riling such a close, strategic ally in the Middle East while most other nations remained cordial generally prevented such rhetoric. Khashoggi's murder, the location in which it occurred, and the extensive actions taken to cover it up, however, was apparently too much for the international community to ignore.  Country after country issued statements spurning the crown prince and the Saudi government for summarily killing an outspoken critic of the Kingdom on foreign soil (al-Bawaba, October 22).
During an event at the U.S. Institute for Peace, Secretary of Defense James Mattis called for all parties involved in the war in Yemen to agree to a ceasefire, stating,
 "the longer-term solution, and by longer-term, I mean 30 days from now, we want to see everybody sitting around the table, based on a cease-fire, based on a pullback from the border, and then based on ceasing dropping of bombs, that will permit the [U.N.] special envoy—Martin Griffiths, who's very good, he knows what he's doing—to get them together in Sweden and end this war" (USIP, October 31).
Mattis released a statement on November 9 indicating that the United States would no longer refuel Saudi planes in Yemen, another step in U.S. efforts to distance itself from the war in Yemen (Department of Defense, November 9). This statement was echoed by U.S. Secretary of State Mike Pompeo and other international leaders.
Hudaydah Offensive 2.0
Saudi Arabia and its allies in Yemen, primarily UAE-backed and trained forces, launched a fresh offensive on Hudaydah in early November, shortly after Mattis's comments calling for a ceasefire within 30 days. The UAE-backed al-Amaliqah (Giants Brigade) is one of the primary forces leading the ground charge in Hudaydah.  With support from Saudi Arabia, on November 2 al-Amaliqah began the offensive after moving forces toward the front line in late October. Pro-government forces have been working to surround the city, trying to cut it off from the main port area while Saudi planes bombard Houthi positions. Some of the heaviest fighting was reported near the airport to the south of the city, Kilo 10 and 16 to the east, and al-Thawra Hospital near the Red Sea. Heavy bombing by Saudi planes was reported throughout the governorate, but most notably in al-Hawak and al-Hali just outside Hudaydah City. Dozens of civilians were reportedly killed and civilian infrastructure destroyed. [1]
Similar to Mattis, UK Foreign Secretary Jeremy Hunt also made stern statements and attempted to use shuttle diplomacy to de-escalate the offensive (Al-Monitor, November 13). For a few brief days, it appeared his efforts might have helped as the Houthis and Saudi coalition reportedly came to an informal ceasefire agreement.  A lull in fighting was reported on November 12 and many believed a concerted effort was underway to de-escalate the conflict in Hudaydah. The leader of the Houthi's Supreme Revolutionary Committee, Mohammed Ali al-Houthi, indicated that the rebels were halting drone and missile strikes on the Saudi coalition. [2] Houthi spokesman Mohammed Abdulsalam, however, posted on Twitter that the pause was not a ceasefire—it was Saudi Arabia taking time to reinforce its lines before restarting the offensive.
While the situation remains relatively unclear, reports of heavy clashes between pro-government forces and Houthi fighters have been ongoing since November 18, with fighting and civilian casualties being reported within three miles of the port as well as in southern and eastern suburbs of Hudaydah City. [3] UAE-backed forces are also reportedly beginning to send reinforcements to the outskirts of the city, suggesting the fragile ceasefire might be coming to an end.
Conclusion
The renewed offensive on Hudaydah is undoubtedly worsening prospects for peace in Yemen. The short lull in violence was unlikely to hold, even if it had been a genuine effort by Houthi and Saudi leaders. It is unclear how much of a handle the Yemeni government and Saudi Arabia have on many of the important forces fighting against the Houthis in Hudaydah and surrounding areas.  If Saudi Arabia again fails to seize control of Hudaydah from the Houthis it will likely only serve to bruise their ego and bolster their resolution to secure a military victory as opposed to conceding defeat and pushing for a diplomatic solution. Similarly, given Saudi Arabia's rhetoric and past attempts to broker peace, a victory in Hudaydah would likely only lead to a longer military push to further eradicate the Houthis. This would remove the group from the political equation as much as possible, paving the way for a political settlement more amenable to the Kingdom's goals. At this juncture, it appears that further international condemnation and more coordinated diplomatic action are the only avenues that would bring Saudi Arabia to the table after another defeat in Hudaydah. Khashoggi's death could be the spark that finally starts that process.
Notes
[1] Author's interviews with Yemenis based in Hudaydah on November 12
[2] Official statement released via Twitter on November 18 https://twitter.com/Moh_Alhouthi/status/1064266212786520069
[3] Author's interview with Hudaydah-based aid worker on November 19