Our Kind of Warlord: Afghanistan's Deal With Gulbuddin Hekmatyar
Publication: Terrorism Monitor Volume: 14 Issue: 20
By: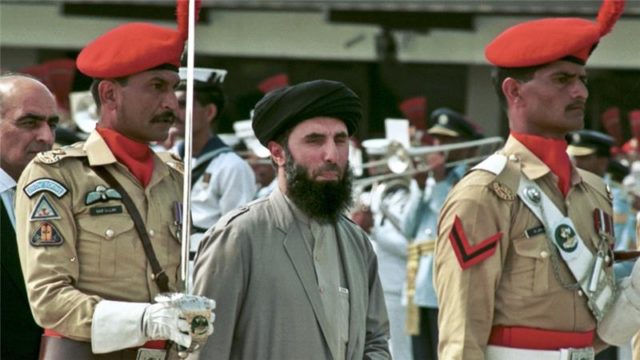 Hizb-e Islami Afghanistan (HIA), one of Afghanistan's oldest jihadist factions and largest Islamic parties, concluded a comprehensive peace deal with the Afghan government on September 29. Speaker after speaker in the Afghan capital's grand Arg presidential palace declared the deal "historic," a milestone for restoring peace to Afghanistan after nearly four decades of war (Tolo News, September 29).
The deal is expected to result in the removal of the notorious Islamist warlord Gulbuddin Hekmatyar, the leader of HIA, who has been a fixture on the Afghan battlefield since the early 1980s, from U.S. and UN terrorist lists.
Kabul hopes it will also serve as a template for concluding a peace agreement with the Taliban, who now account for most anti-government combatants in the country. While they have issued no official reaction, the Taliban have made it quite clear how they feel about Hekmatyar's deal.
Amnesty Deal
The deal pardons Hekmatyar for past crimes and guarantees Kabul will ensure his de-listing from U.S. and UN terror lists, where he has been featured as one of the most prominent Afghans since 2003. The agreement also offers tens of thousands of HIA members government and international aid to facilitate their return to Afghanistan and their eventual reintegration.
In return, HIA has agreed to renounce violence, embrace the Afghan constitution and complete its transition from an armed faction into a mainstream political party. "I pray that our country be independent and sovereign, and our innocent and war-weary nation end the fighting and ongoing insecurity, and that unity prevails," Hekmatyar said, while addressing the signing ceremony through a video link (Taand, September 29).
Afghan President Ashraf Ghani said he hoped the deal would prove that power could come through ballots, not bullets. "Our constitution gives the people of Afghanistan the right to gain power through elections," he said adding an appeal for the Taliban to join peace negotiations with the government. "Now is the time for the Taliban to think about whether they want to continue the war or come for peace" (Dawn, September 29).
The deal is expected to complete HIA's transition from a prominent armed faction that has played a central role in the various cycles of war in Afghanistan, into one of the largest Islamist political parties active in the country.
Unlike the Taliban, Hizb-e Islami has been trying to integrate into the new political system since the demise of the Taliban regime in late 2001. In the initial years, some senior HIA members became government advisors, governors and cabinet members. By 2005, some of them registered the movement as a political party distinct from the armed faction led by Hekmatyar. HIA emerged as a leading faction in both parliaments that were formed following elections in 2005 and 2009. Hekmatyar's rehabilitation will complete the return of all HIA cadres and leaders into the government fold, apart from some radical elements who defected to the Taliban in recent years.
Limited Battlefield Impact
Under the deal, HIA will dismantle all its military formations. This may have little impact as Hekmatyar has had only limited involvement in Afghanistan's conflict in recent years and the group hardly has any fighters to demobilize inside Afghanistan.
HIA's presence on the battlefield essentially ended in July with the death of Hekmatyar's longtime jihadist comrade Haji Kashmir Khan, who was considered HIA's last major combat commander. Journalist Rahimullah Yousafzai has described Hekmatyar as playing a "major political role: in the past," but said his role in the current fighting was "next to nothing" (Radio Mashaal, September 29).
As such, HIA's political return is not expected to have a significant impact on the battlefield and will likely do little to downgrade the Taliban military machine. However, the return of a large number of HIA loyalists from exile in Pakistan could potentially deprive the Taliban of recruits (Dawn, September 17).
Hekmatyar's return is also likely to dent Taliban claims to be fighting to rid Afghanistan of foreign occupiers. In his September 29 speech, Hekmatyar called on the Afghan government to immediately begin peace talks with the Taliban (Tolo News, September 30).
"I ask the president to initiate talks with the Taliban to prove his sincerity and honesty and release their prisoners without any condition [as a goodwill gesture]," Hekmatyar said. "The Taliban, too, should come to the negotiating table and should share their legitimate demands and we will support them."
Angry Reaction
The Taliban, however, appears to be in no mood to listen to Hekmatyar or the government. While the hardline movement has issued no formal reaction to the agreement, it has also made no secret of its views via its own media networks.
An article published on the official Taliban website, Voice of Jihad, implied that Hekmatyar was committing "a major crime" by entering into an agreement with the government. The Pashto-language article did not name Hekmatyar, but references to his peace deal and his overall career were clear (Voice of Jihad, September 26). It also repeated the Taliban position that the current Afghan government is a puppet of Western powers, saying: "[Hekmatyar is] backing this government by concluding a peace agreement with it, Isn't it tantamount to supporting the occupying forces and joining them?"
The Taliban also questioned Hekmatyar's nearly 40-year militant career, which has included his transformation from a student rebel in the 1970s into the leader of the most powerful anti-Soviet guerilla faction of the 1980s. "If making peace with the occupiers was of such importance, then why didn't these peace-loving people make peace with the Russians, who killed two million people and their occupation was followed by a brutal civil war?" the article asked (Gandhara RFE/RL, September 26).
Another article on the pro-Taliban "Nun Asia" website used quotes from Hekmatyar's past pronouncements to question his change of heart. "My advice as a sympathizer to him is that he should give up on this venture. Many of your comrades and relatives have benefited enormously from the current political system," said an article entitled "An Open Letter to Hekmatyar" (Nun Asia, September 30).
An earlier editorial on the same website offered greater detail on why the Taliban has remained silent about the peace deal (Nun Asia, September 24).
"The Afghan government views the Hekmatyar agreement as a precursor to a [peace] deal with the Taliban," it said. "But the Taliban views a peace agreement within the parameters set by the Afghan government as an instrument of surrender. This is why the Taliban have not paid any attention to this agreement and have instead expressed their reaction by speeding up military operations in [the southern province of] Uruzgan and other regions."