Klichko Refuses to Sign Coalition Accord with Tymoshenko's Party
Publication: Eurasia Daily Monitor Volume: 9 Issue: 193
By: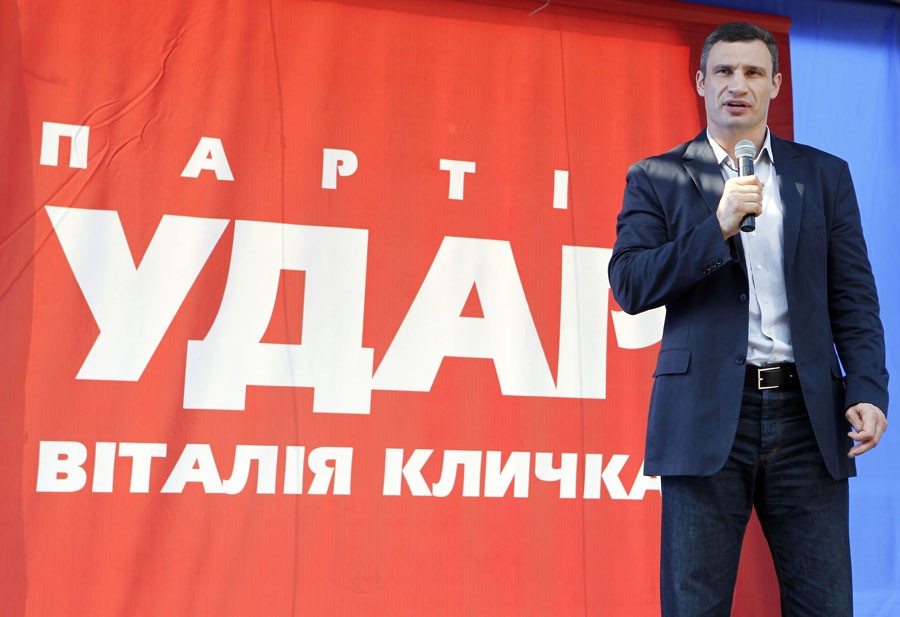 Ukraine's two most popular opposition forces, Punch (UDAR) and Fatherland, have had a serious quarrel ahead of the October 28 parliamentary election. First, the two parties failed to agree which of their candidates were supposed to bow out of the races in single-seat constituencies so as not to compete against each other. Second, Punch refused to sign a coalition agreement with Fatherland and the third most popular opposition party, the far-right Freedom. This prompted Fatherland and Freedom to suspect that Punch would bandwagon with the government once elected to parliament. These developments have confirmed that Fatherland and Punch do not trust each other so a strong and united opposition to President Viktor Yanukovych in the next parliament is probably out of the question.
The Ukrainian Democratic Alliance for Reform (UDAR), a young right-of-center party whose short name is best translated into English as "Punch," has resisted calls for unification with the established opposition parties from the start. Its leader, charismatic boxing champion Vitaly Klichko, announced last spring that his party would go it alone and join forces with other opposition parties only once in parliament. He was commenting on the intention of Fatherland, the party headed by the imprisoned former Prime Minister Yulia Tymoshenko, and the Front of Change led by former parliament speaker Arseny Yatsenyuk to form a joint list ahead of the election (Channel 5, March 31). Klichko claimed Punch would score more votes if campaigning on its own. History will most certainly prove him right. The Front did join Fatherland, but the unification has produced no synergy effect, while Punch, which was only the fifth or sixth most popular party a year ago, has largely caught up to Fatherland since then.
While Fatherland and Freedom last July compiled a joint list according to the principle "one constituency–one opposition candidate" for the single-seat constituencies, from which half of the 450-seat legislature will be elected, talks on the same between Punch and Fatherland were difficult. Finally, on October 14–15 Fatherland and Punch each removed 26 candidates in the single-seat constituencies, but neither party is happy with the outcome. Punch complained that Fatherland removed its candidates only in a third of the negotiated constituencies, while Fatherland claimed that Punch did not want to negotiate seriously (Ukrainska Pravda, October 14). Later on, Yatsenyuk who heads Fatherland while Tymoshenko remains in prison, said Fatherland refused to remove from the race the candidates it considered political heavyweights in favor of Punch candidates who, Yatsenyuk said, he did not even know (Channel 5, October 19).
Later on, Punch rejected calls from Fatherland and Freedom to sign a coalition agreement ahead of the election. Klichko said the opposition should first defeat the ruling Party of Regions (PRU) in the election (Ukrainska Pravda, October 17). Fatherland and Freedom did sign the accord on October 19, pledging to do their utmost to impeach Yanukovych; free Tymoshenko and former Interior Minister Yury Lutsenko from prison, cancel the PRU-sponsored language law that gives several of Ukraine's minorities the right to use their languages in education, advertisement and dealing with the state (see EDM, June 4); extend the market-unfriendly ban on farmland sales until 2016; and cancel the pension and tax reforms that were agreed with the International Monetary Fund (Ukrainska Pravda, October 19).
Punch's refusal outraged its would-be coalition partners. Fatherland said Punch was playing into the PRU's hands and was thus becoming an ally of the PRU. Fatherland also accused Klichko of pursuing his private interests at the expense of "interests of Ukraine and its people" (byut.com.ua, October 18). Freedom deputy head Andry Mokhnyk predicted that Punch would join the opposition if the opposition won the election and the PRU if the PRU won (UNIAN, October 21). In his turn, Klichko complained that the other opposition parties had been slinging mud at him for a long time. He claimed that Punch was the main alternative to the PRU regardless of that (kp.ua, October 19).
Punch is being attacked from two sides. Sitting on the fence on the language matter, Punch members are portrayed in the national-minded west of Ukraine as haters of Ukraine and in the Russian-speaking east as Russophobes. The PRU and the Fatherland-Freedom alliance both say that Punch, rather than being a new party that it claims to be, has harbored many former government officials. While Fatherland and Freedom accuse Klichko of being in cahoots with the government, the PRU has been non-committal on a possible alliance with Punch, which makes Punch more vulnerable to accusations of foul play. The PRU caucus leader Oleksandr Yefremov, commenting on a PRU backbencher's public suggestion that the PRU and Punch would form a coalition, said that was only a private opinion. At the same time, he ruled out cooperation only with the Freedom party (bbc.co.uk/Ukrainian via Ukrainska Pravda, October 17). PRU deputy chairman Serhy Tyhypko, when asked whether the PRU could form an alliance with Punch, said it would be difficult to make a coalition with either Punch or Fatherland due to differences on the language law in particular. At the same time, Tyhypko said the PRU would prefer a broad coalition (kp.ua, October 19).