KREMLIN CRITICS SAY THE PUTIN–MEDVEDEV TANDEM WILL PLAY "GOOD COP–BAD COP"
Publication: Eurasia Daily Monitor Volume: 5 Issue: 37
By: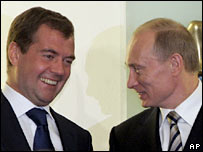 On Monday, February 25, just six days before Russia's presidential election, Amnesty International released a report on the human rights situation in Russia expressing deep concern about the state of freedom of expression, freedom of association, and freedom of assembly. "All three fundamental rights have been curtailed in recent years," the report said. "Human rights defenders, independent civil society organizations, political opponents, and ordinary citizens have all been victims of this rollback on civil and political rights. The space for dissenting views, independent media, and independent organizations to operate is shrinking in the Russian Federation" (Associated Press, Reuters, February 26).
Amnesty International said in a February 26 press release: "In the run-up to parliamentary and presidential elections, the clampdown on freedoms of assembly and expression has been particularly visible. The authorities violently dispersed some opposition demonstrations, while pro-government events went ahead without interference. Human rights activists and journalists who monitored demonstrations and public meetings were harassed by law-enforcement bodies. In a country where TV and many other media outlets are controlled by the state, there is less and less space for independent reporting. Those journalists who attempt to report independently are obstructed from conducting their professional work and they may face intimidation and possibly prosecution. For example, the radio station Ekho Moskvy was repeatedly asked to provide transcripts of their programs to the prosecutor's office in relation to preliminary investigations into allegations that they had aired extremists' views."
In one of the latest example of such problems, Lev Ponomarev, the veteran human rights campaigner who leads the "For Human Rights" movement and was recently in the United States to call attention to, among other things, the plight of political prisoners in Russia (see EDM, February 13) and the mistreatment of inmates in Russian prisons, was charged on February 22 with criminally "slandering" General Yuri Kalinin, who heads Russia's Federal Penitentiary Service.
Ironically, all of this is taking place at a time when Vladimir Putin's handpicked candidate to succeed him as president, Dmitry Medvedev, has been making overtly liberal political and economic policy pronouncements. In a speech to the Krasnoyarsk Economic Forum on February 15, Medvedev called for a number of economic and administrative reforms and stressed the need to fight corruption and ensure a genuinely independent press (see EDM, February 20). "Freedom is better than unfreedom," he stated.
How can this yawning gap between Medvedev's liberal rhetoric and the distinctly illiberal reality of Russia under Vladimir Putin be explained, particularly given that Putin presumably will be serving as Medvedev's prime minister?
A number of Kremlin critics say that the apparent differences between Putin and his successor are largely a matter of tactics. According to Andrei Piontkovsky, the political commentator who is himself being prosecuted under Russia's law on extremism, the Putin-Medvedev duumvirate is a classic case of "good cop-bad cop."
"Apparently, Putin is tired of performing the role of both good and bad cop by himself," Piontkovsky wrote. "And he decided to divide those two functions. In the post-March Russian political construction, he [Putin] will not only hold a plenitude of real power in his formally new role of prime minister, but will be playing the role of bad Chekist … Along with ceremonial functions, the role of good liberal in the propaganda sphere will fall to Medvedev. He was nominated by Putin not to carry out an independent policy, but to serve as a reliable element in a new political construction that allows Putin to remain for a third term forbidden by the constitution." Given that the ruling elite is united in opposition to permitting a free press, Piontkovsky added, "whatever Medvedev's personal intentions are, a thaw or perestroika should not be expected with his arrival," (Grani.ru, February 26).
Garry Kasparov, the former chess champion and opposition leader, told Radio Free Europe/Radio Liberty's Russian service that Medvedev will have even less democratic legitimacy as president than Putin. "Medvedev is receiving power from the hands of Putin," he said. "We don't know how much power he is getting and in general whether he will be a real president or a puppet. I'm inclined to believe that he will be a puppet … But I repeat: we are engaging in reading tea-leaves, because all of this is taking place in the thicket of Kremlin offices; [it is] a Byzantine court intrigue, which by definition must be hidden from the eyes of those around it. The transfer of power is completely lacking even the minimal veil of legitimacy that Putin has had. One of the slogans we are putting forward is 'Out of the Kremlin, False Dmitry!' We think it is also important to emphasize that the government will actually be relying on crude force and the remaining inertia in society" (RFE/RL, February 26).
Still, Andrei Piontkovsky noted that the ruling elite is split, locked in a power struggle "for control of many billions in financial flows." This, he said, could make the relationship between Putin and Medvedev unpredictable. "So far, Putin is managing to play the role of mediator between these clans, using the huge powers given to the president by the Russian constitution. Will he be able to keep those powers when they formally belong to someone else? It cannot be ruled out that a situation will arise in which one of the groups of siloviki, unhappy with some specific decision by Putin, tries to orient itself toward Medvedev and turn him from being a toy in the hands of the regent into a genuine tsar, offering itself as his support." Whatever the case, wrote Piontkovsky, this "regime" of warring clans "will continue to close off Russia's path to the future."