KYIV ON GEORGIA: DIPLOMACY AWKWARD, PARTIES DIVIDED
Publication: Eurasia Daily Monitor Volume: 5 Issue: 157
By: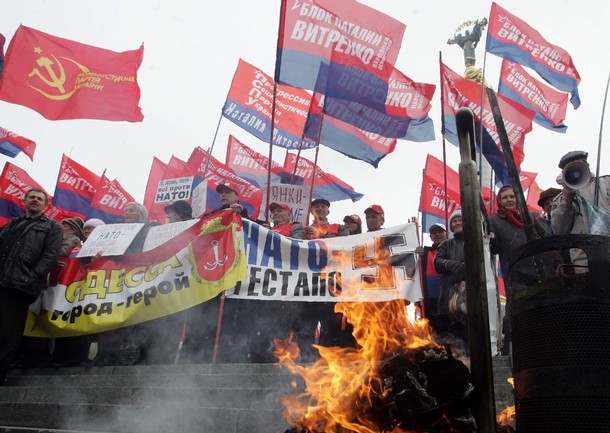 Kyiv was among the first capitals to define its stance clearly in the early stages of the conflict in South Ossetia. Deputy Foreign Minister Kostyantyn Yeliseyev was the first high-ranking foreign official to arrive in Georgia on a peacemaking mission. While the West was slow in articulating its position, Kyiv hurried with statements condemning Russia but had to backtrack somewhat later. Ukrainian parties have been divided in their attitudes to the conflict.
Yeliseyev said in Tbilisi that Ukraine was ready to mediate in talks between Georgia and South Ossetia (UNIAN, August 9). He also hinted that Ukraine could provide military aid to Georgia (Ukrainska Pravda, August 9). Later on, however, Yeliseyev said that Kyiv did not plan to provide such aid to Georgia (UNIAN, August 11).
The leaders of Georgia's breakaway regions of South Ossetia and Abkhazia accused Ukraine of direct interference. Abkhazia's leader Sergei Bagapsh blamed the West and Ukraine for bloodshed in South Ossetia (ITAR-TASS, August 10). South Ossetian leader Eduard Kokoity said that Ukrainians were spotted among "unknown men in NATO uniforms" in Tskhinvali (Rossia TV, August 10). His foreign minister Murat Dzhioyev suggested that Ukrainian mercenaries must have been fighting on Georgia's side (www.24.ua, August 11). Ukraine denied the allegations (Interfax-Ukraine, August 11).
On August 10, Ukraine warned that it might take measures to prevent Russian Black Sea Fleet (RBSF) ships sent to Abkhazia's coast from returning to their base in Sevastopol (see EDM, August 11). Later on, however, the Ukrainian Foreign Ministry's spokesman Vasyl Kyrylych admitted that the threat to ban Russian ships from returning had been hollow. "I can say nothing about mechanisms to banish the warships from Sevastopol. We just made public our official position," said Kyrylych. (Kommersant-Ukraine, August 11).
Yushchenko subsequently issued a controversial decree apparently aimed both at saving face for Kyiv and at avoiding open confrontation with Russia. The decree required the RBSF to agree on any future movement of its ships with the Ukrainian Foreign Ministry. Russia rejected the decree, pointing out that this requirement was not stipulated in the 1997 Kyiv-Moscow accords on the RBSF (Channel 5, August 13).
Richard Holbrooke, a former U.S. Ambassador to the U.N., and Ronald Asmus, a former Deputy Assistant Secretary of State, said in an article that Ukraine would most likely be Moscow's next target (The Guardian, August 11). Their concern was shared by the leader of Crimean Tatars, Mustafa Dzhemilev, who suggested that Russia could provoke a conflict over Crimea. Vadym Karasyov, an analyst close to the Yushchenko administration, said that although a conflict between Russia and Ukraine was highly unlikely, Kyiv should not have provoked Moscow by the statement on the RBSF (Blik, August 11).
In theory, Russia could use the presence of its citizens in Crimea as a pretext for a conflict with Ukraine, like it did in South Ossetia. Apart from the BRSF personnel stationed in Sevastopol, many Crimean residents also reportedly have Russian citizenship. It has been claimed that Russian citizenship has been extended to as many as 170,000 Crimean residents (1+1 TV, August 13).
Ukrainian leaders and parties have been divided in their attitudes to the Russia-Georgia conflict. Yushchenko went to Georgia to express his support for Georgia's territorial integrity (Ukrainska Pravda, August 12). Prime Minister Yulia Tymoshenko did not venture any comment for several days, which prompted the presidential office to suspect her of trading principles for cheaper natural gas from Russia and Russia's support in the future presidential race (UNIAN, August 13). First Deputy Prime Minister Oleksandr Turchynov, Tymoshenko's right-hand man, criticized Georgia for killing civilians in South Ossetia (UNIAN, August 12).
The left-wingers sided with Russia. Communist Party leader Petro Symonenko condemned "the aggressive policy" of Georgia as early as August 8. He called on the Ukrainian leadership to stop supplying arms to Georgia. The Communists also urged a stop to military exercises involving NATO in Ukraine (Interfax-Ukraine, August 8-11). Hanna Herman, an unofficial spokesperson for the main opposition force, the Party of Regions (PRU), urged the creation of an ad-hoc commission in parliament to look into the supplies of Ukrainian arms to "hot spots," meaning Georgia (Ukrainska Pravda, August 9).
The PRU called on the government to refrain from openly supporting Georgia. PRU leader Viktor Yanukovych was backed by Moscow against Yushchenko in the 2004 Ukrainian presidential election. "We condemn the powers-that-be for irreparably damaging Ukraine's national interests by unequivocally taking one side in the Georgian-Ossetian-Russian conflict," the PRU said in a statement (Ukrainska Pravda, August 12).
Yushchenko's Our Ukraine People's Union party expressed concern over Russia's use of the RBSF "for tasks incompatible with the status of its deployment in Ukraine." Although many Ukrainians sympathize with Georgia, Kyiv has seen no mass actions in support of Georgia. Several pickets near the Russian Embassy have been staged by marginal far-right parties and Georgians residing in Ukraine (Interfax-Ukraine, August 11; Inter TV, August 12). A television station reported that UNA-UNSO, a far-right group, was recruiting young men in western Ukraine, a region where Russia is historically disliked, to help the Georgian army (Inter, August 13).