Kyrgyz President, Opposition Agree to Negotiate
Publication: Eurasia Daily Monitor Volume: 6 Issue: 44
By: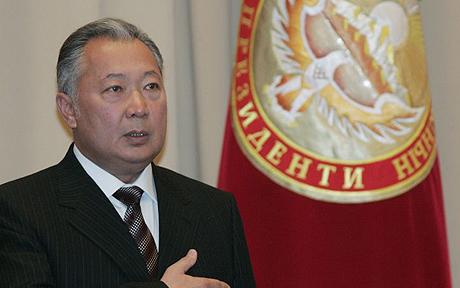 Kyrgyz President Kurmanbek Bakiyev proposed holding negotiations with opposition forces to discuss future political developments in the country. The opposition, in turn, agreed to the negotiations but demanded that the meeting be held in a neutral location and in the presence of independent observers. The opposition's major goal is to end political suppression. Both parties agreed to hold the negotiations on March 5 or 6 (www.24.kg, March 3). Depending on the outcome, the opposition will decide whether it wants to continue talks with the president.
Bakiyev's opponents recently formed a United Opposition Movement (UOM) that calls for the removal of the current regime. The UOM would have been more successful in mobilizing crowds against the regime if the winter had been colder and had resulted in an energy crisis, which would have antagonized the public against Bakiyev. The government was able to deal with the winter crisis thanks to warm temperatures and regular power rationing.
After a successful winter, Bakiyev has become excited about running for president again. Throughout 2008 he suppressed freedom of speech and association and in the meantime has taken full control over the security structures. Two newspapers, Alibi and De facto, had to shut down in 2008; and at least three journalists have fled the country to escape unfair trials and persecution by the regime.
Bakiyev's sincerity about cooperating with the opposition came into doubt again on March 3, when Syrgak Abdyldayev, a journalist and member of the Ata Meken opposition party, was severely beaten by unknown assailants. Abdyldayev was stabbed over a dozen times and was beaten with stones wrapped in towels until his arms, shoulders, and ribs were broken (www.akipress.kg, March 4). Kyrgyz authorities concluded that the act of violence was an assassination attempt. Local experts believe, however, that the journalist, who has little political ambition and is not among the most popular in the country, fell victim to the regime's policy of intimidating the local mass media in general.
The violence against Abdyldayev served as a warning to other political activists in the country. According to Ata Meken chair Omurbek Tekebayev, all opposition members must now be accompanied by bodyguards to ensure their own safety. In its official reaction to the violence, Ata Meken said, "Attacks against journalists and even assassinations are practiced more frequently now in our country, endangering not only the security of journalists but also freedom of speech in general" (www.24.kg, March 4). One Bishkek journalist told Jamestown that Abdyldayev's case shocked most of his colleagues who were now afraid for their own security. "Most reporters are paid to publish pro-regime material, and this is the price of their safety," the journalist said.
A number of Kyrgyz experts suspect Janysh Bakiyev, the president's brother and head of the National Security Service, of masterminding brutal attacks similar to the one against Abdyldayev. Janysh was previously suspected of inserting heroin into Tekebayev's luggage while he was en route to Poland and of sending a finger and ear of a dead vagrant to an undisclosed political official in 2007. These acts were intended to remind political opponents that more aggressive actions could be taken against them.
Meanwhile, Bakiyev, disappointed at the lack of cooperation with the United States on the status of the military base at Manas Airport, is striving to receive support from both Moscow and Washington. Following his February 3 announcement that the U.S. base had to be closed, Bakiyev hoped to secure more lucrative deals with Russia and the United States. In an interview with BBC (March 4), Bakiyev said that Kyrgyzstan was open to negotiations with Washington. As one Kyrgyz analyst commented to Jamestown, Bakiyev's family members are interested for their personal gain in continuing supplies of fuel and other services to Manas.
Prior to Bakiyev's visit to Moscow in early February, UOM members were planning to travel to Russia as well to meet with top-ranking officials there; but 10 days before the opposition's planned departure on January 30, Alikbek Jekshenkulov, a UOM activist, was put under house arrest. The UOM had to cancel the trip.
Whether Bakiyev will be able to quiet the opposition before the presidential election should become clearer next week. His promise to stop political persecution should not, however, be taken seriously by either the opposition or the international community until his most immediate goal of being re-elected has been fulfilled. Similarly, Bakiyev's final decision on the U.S. base is a matter of continuing political games by his administration.