Latest Georgian Casualties in Afghanistan Spark Unprecedented Public Debate and Doubts about Georgia's NATO Perspectives
Publication: Eurasia Daily Monitor Volume: 10 Issue: 116
By: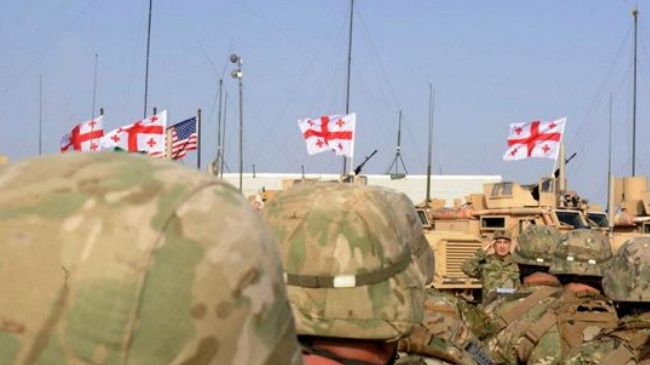 On June 6, seven Georgian soldiers were killed in a truck bomb attack in Afghanistan (TV9; Rustavi 2, June 6). Just three weeks earlier, on May 13, three more Georgian soldiers died in another truck bomb (1TV; Maestro; TV9, May 13). These latest attacks bring the total death toll of Georgian soldiers in the International Security Assistance Force (ISAF) mission in Afghanistan to 29 men. Georgia deploys 1,560 military personnel in Afghanistan, the largest military contingent among countries that are not members of the North Atlantic Treaty Organization (NATO) and the seventh largest when compared to NATO members. Currently, two Georgian battalions are stationed in the highly volatile Helmand province (www.civil.ge, June 6, 7).
Both Georgian President Mikheil Saakashvili and Prime Minister Bidzina Ivanishvili quickly followed up the incident with declarations that Georgia would stay in Afghanistan (Rustavi 2, June 6; TV9, June 7). But the latest casualties brought an unprecedented and unfortunate twist to the debate about the continuing rationale for keeping Georgian troops deployed in Afghanistan (www.radiotavisupleba.ge, June 17) and raised public doubts about Georgia's NATO perspectives.
A small group of citizens staged a demonstration on Rustaveli Avenue in front of the old parliament building, protesting the Afghan deployment and demanding the Georgian troops' withdrawal (www.liberali.ge, June 8). A similar demonstration was held in the second largest Georgian city of Kutaisi (www.topnews.com.ge, June 7; www.interpressnews.ge, June 8). Another small group of citizens staged anti-NATO demonstration in Batumi—a heretofore unprecedented development in Georgia. Protesters condemned Georgia's military presence in Afghanistan and held up posters that said, "We Don't Want NATO" (www.geoworld.ge, June 7). Some pro-Russian groups in the country quickly jumped on this bandwagon, suggesting that Georgians were in fact occupiers in Afghanistan. They suggested that in exchange for its military support to the United States (and the West in general), Georgia received no meaningful assistance during its most difficult crisis when Russia invaded the country in August 2008 (www.saqinform.ge, June 10).
For years, the general public narrative was that Georgia's large-scale participation in the ISAF mission in Afghanistan and earlier in Iraq could help Georgia's accession to NATO as the North Atlantic Alliance members would see Georgia's efforts and sacrifices and accept the country into the organization. Some now question whether such a hope is realistic. Many argue that Georgian sacrifices proved futile in convincing Western countries to accept Georgia into the Alliance; the process is dragging indefinitely in the face of Russia's ongoing occupation of the breakaway Georgian regions of Abkhazia and Tskhinvali Region (South Ossetia). Meanwhile, the West is unwilling to aggravate Moscow, which sees Georgia's NATO membership as anathema to its domination of the Caucasus. Hence, according to an increasing number of Georgians, there is no need to continue spilling Georgian blood in Afghanistan, and, therefore, it is time to withdraw (www.medianews.ge; www.itnerpressnews.ge; Rezonansi, June 7).
The latest casualties also unfolded a blame game. President Saakashvili's opponents accused him of sending such a large military contingent to Afghanistan in order to increase his personal standing before the West, at a time when other NATO countries are reducing their troop numbers or trying to leave Afghanistan altogether. The Speaker of Parliament David Usupashvili also criticized Saakashvili, stating that the participation of so many Georgian soldiers in the ISAF mission was an exaggeration for such a modest-sized country. He called the president's position to increase Georgia's Afghan contingent incorrect (www.tspress.ge, June 7). Overall, the entire debate became so intense that Speaker Usupashvili deemed it necessary to declare that Georgia would still fulfill its stated obligation and stay in Afghanistan (www.primerinfo.ge, June 8).
Traditionally, Georgian public opinion has been overwhelmingly in support of Georgia's NATO membership, since many see it as the most potent guarantee of Georgia's national security and independence against Russian aggression in the region. A recent public poll showed that 77 percent of Georgians supported the country's NATO membership (www.civil.ge, December 12, 2012).
However, this might be changing now. The debate following the attack on Georgia's Afghan contingent shows that public debate and opinion might be shifting, as Georgians are becoming more frustrated about the reluctance of NATO to take in Georgia regardless of Georgia's casualties in Afghan and earlier in the Iraqi mission. Such a backlash may further increase in the future if Georgian casualties in Afghanistan mount and NATO continues to drag its feet regarding accepting Georgia.
The debate also indicates that the West will need to act fast to provide Georgia a clear and realistic perspective of NATO membership. Alliance steps may include granting Georgia in the near future a Membership Action Plan (MAP), which is often considered the final step for candidate countries before actual membership. Such a move, first and foremost, would strengthen the still strong pro-Western sentiments in the country, accelerate the process of democratization, and silence critics and cynics who argue that Georgia's long and hard efforts toward Euro-Atlantic integration have been futile and even self-destructive for the country. Otherwise, public opinion may start taking an unfortunate turn, sliding toward accepting the idea—already present in Georgian society—that going back to Russia is the only solution to avert Georgia's further and final dismemberment and to acquire some sense of security in return for reinstating Russia's influence over Georgia.