Latest Kerry-Lavrov Deal on Syria Destined to Unravel
Publication: Eurasia Daily Monitor Volume: 13 Issue: 146
By: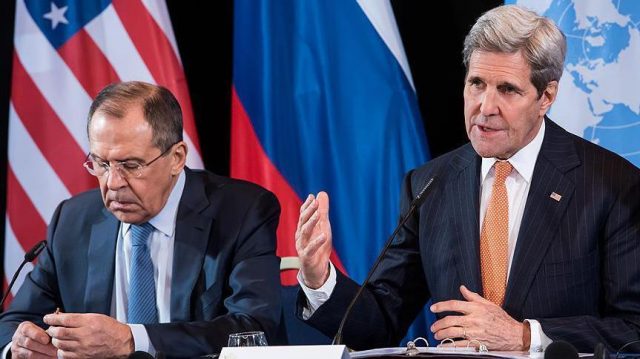 The agreement on managing the Syrian civil war, reached between the United States and Russia in Geneva in the early hours of Saturday, September 10, was both surprising and pre-determined. US Secretary of State John Kerry had invested so much effort in the endless rounds of marathon talks with Russian Foreign Minister Sergei Lavrov that the absence of a deal would have amounted to a personal failure. US President Barack Obama, who met with Russian President Vladimir Putin a week ago in Hangzhou, China, for the G20 summit (September 4–5), was far from enthusiastic about the prospects for such a deal (Kommersant, September 5). And in his recent remarks at Oxford University, US Defense Secretary Ashton Carter was even more skeptical about Russian readiness to curtail support for Syrian President Bashar al-Assad (Newsru.com, September 7). Yet, Lavrov radiated satisfaction with this past weekend's compromise and supplied tired journalists with vodka to toast it, while expressing confidence that al-Assad's forces would observe the agreed ceasefire (TASS, September 10).
The new Geneva deal stipulates no limitations on al-Assad's grasp on power, even though most Western and regional stake-holders in this devastating war have demanded that the Syrian leader be forced to step down—a condition rejected by Moscow (Lenta.ru, September 7). Meanwhile, the motley pro-Assad forces are not really aiming to capture besieged Aleppo, but have successfully turned this battle into a pressure point for the US and Western powers, who are appalled by the scale of this protracted humanitarian catastrophe (Kommersant-Vlast, August 29). Though seemingly unconcerned about civilian casualties, Russia finds it opportune to play on these US concerns in order to push for excluding from the ceasefire not only the Islamic State (IS—a.k.a. Daesh) but also Jabhat Fateh al-Sham (formerly known as al-Nusra Front) and other rebel groupings, which Moscow defines as terrorist organizations (Nezavisimaya Gazeta, September 8). Indeed, this proposition has been formalized in the Kerry-Lavrov deal: after a week-long pause in hostilities, the US and Russia agreed to create a joint military center for distinguishing between moderate opposition forces and terrorist groupings, which would be targeted by coordinated air strikes (RBC, September 10).
Russia has compiled a long list of such terrorist forces that includes just about every Syrian opposition group. But for the US, this separation of "rebels" from "terrorists" is an absolutely hopeless task, which is further aggravated by the ongoing Turkish intervention. In Hangzhou, Obama discussed with Turkish President Recep Tayyip Erdoğan plans for joint operations against the Islamic State (Nezavisimaya Gazeta, September 9). However, these plans are severely undermined by the fact that for Turkey, the People's Protection Forces (YPG) of the Syrian Kurds are most certainly a terrorist organization, while the US considers this group a valuable ally (Polit.ru, September 9). Russia officially expressed "serious concerns" about the Turkish intervention, emphasizing the violation of Syria's sovereignty and a threat to its territorial integrity (Mid.ru, September 7). Nonetheless, Putin also reassured Erdoğan that he has few objections to Turkey's direct involvement—in fact adding pressure on Washington to make a deal with Russia because a ceasefire around Aleppo was a precondition for a Turkish offensive on the IS stronghold in al-Raqqah (RBC, September 6).
Putin's reconciliation with Erdoğan after the angry row caused by the downing of a Russian bomber by a Turkish fighter jet last November is still ambiguous. Moreover, Russia's attempt to gain new leverage in the Syrian war by upgrading the strategic partnership with Iran has failed (Carnegie.ru, September 8). Tehran granted Moscow limited access to the Hamadan airbase but was so irked by the bragging of Russian politicians about the expansion of military presence that the permission was revoked in less than a week (Kommersant, August 23). The value of this base was determined by the change in the pattern of Russian airstrikes delivered increasingly from high altitude by long-range Tu-22M3 bombers, which have limited load departing from the Mozdok airbase in the North Caucasus (Gazeta.ru, August 16). The Russian high command decided to minimize close air support for the Syrian army due to the high risk to its own pilots and to reduce the use of the Khmeimim airbase outside Latakia due to the threat of terrorist attacks (RBC, September 5).
Moscow holds a rather weak military hand for its diplomatic games, but it has sought to maximally exploit the perceived confusion in US policy. Lavrov even lashed out against "those who tried to derail the deal," referring in particular to the "absolutely arrogant" enforcement of new sanctions (RIA Novosti, September 10). In fact, US authorities merely continued fine-tuning Washington's preexisting sanctions policy and closing outstanding loopholes (Politcom.ru, September 8). Moscow is nervous about these steps because Russia's economic situation keeps deteriorating; the government's most hopeful forecasts merely amount to a shift from recession to stagnation (Kommersant, September 9). The decline of Russians' disposable income and the curtailing of their social benefits most directly add to the accumulation of social discontent, but the finance ministry now dares to demand a cut in the defense budget of no less than 6 percent in the coming three years (Vedomosti, September 9). On September 9, Putin called a special meeting to set priorities for the new Armament program for 2018–2025. Yet, clearly, the ambitious aims for building up the military might have to be painfully scaled down (Kremlin.ru, September 9).
Russia's ability to play a major role on the world stage is fast diminishing, while its ambition to be acknowledged as a "great power" remains firm. Indeed, Moscow's eagerness to manipulate conflicts and its simultaneous inability to contribute to peace-building are particularly evident in the Middle East. Only 22 percent of Russians believe that the US and Russia are allies in the struggle against international terrorism (Levada.ru, September 10). The latest Geneva deal is essentially a twist in the intrigue aimed at compromising Washington's Middle East policy—and not anything resembling a breakthrough in extinguishing the Syrian civil war. Progress toward peace in Syria depends on the departure of the authoritarian leader responsible for the destruction of his country; but such pacification would undermine Russia's influence. The ceasefire celebrated by a new wave of Syrian airstrikes is designed, therefore, to exacerbate divisions between various rebel groups and their sponsors. As such, it is certain to unravel as the retreat and defeat of the Islamic State eliminates the basis for unity between the irreconcilable parties to the unfolding tragedy.