LEADING KYRGYZ ACTIVIST ATTACKED
Publication: Eurasia Daily Monitor Volume: 3 Issue: 73
By: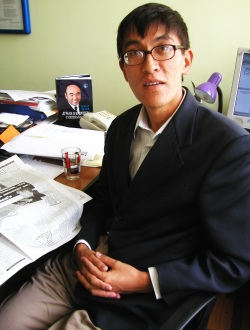 Prominent Kyrgyz civil-society activist Edil Baisalov was attacked near his office in Bishkek, the capital of Kyrgyzstan, on April 12. Baisalov has been an outspoken critic of the dangerous fusion between crime and politics in the country since the March 2005 Tulip Revolution. His concerns were followed by concrete actions, such as numerous interviews with local and international media. He also organized a peaceful demonstration in Bishkek on April 8 (see EDM, April 11). Often Baisalov took more radical and critical positions against organized crime than have many Kyrgyz government and parliamentary officials. The assault on Baisalov shows that, with the government unable to curb the activities of civil society, organized criminal groups are mobilizing against local non-governmental organizations.
Prime Minster Felix Kulov visited Baisalov at the hospital on the day of the attack, where he was recovering from head injuries. Kyrgyz President Kurmanbek Bakiyev has promised that the attackers will eventually be caught. Bakiyev commented that the criminals seek to destabilize his political union with Kulov and are interested in bringing a sense of instability to the country (Akipress, April 13). Unlike Bakiyev's previous statements, his reaction to the attack on Baisalov indicated that the president is informed and concerned with the mounting popular anxiety about criminal activities.
Reputed mafia boss Rysbek Akmatbayev's April 9 victory in the parliamentary by-elections provoked condemnation in political circles. During the reign of president Askar Akayev, Rysbek was officially and unofficially accused of a number of criminal activities. He escaped prosecution by going to Kazakhstan, Russia, and parts of Western Europe.
There are apparently some Rysbek supporters among the Kyrgyz public. He is often portrayed as a Kyrgyz "Robin Hood" who was able to bring social order into peripheral areas in Issyk Kul oblast. The governor of Issyk Kul oblast, Esengul Omuraliyev, has defended Rysbek, saying that voters in the Balykchi constituency are demanding that Rysbek be allowed to take his seat in parliament immediately (Kabar, April 14).
Kyrgyz parliamentarians have reacted differently to Rysbek's victory. Melis Eshimkanov, Dooronbek Sadyrbayev, and Omurbek Tekebayev warn that if Rysbek is finally granted a parliamentary mandate, he will have stronger political leverage on the president and the parliament (analitikkg.org, April 4). However, there are a number of parliamentarians who consider Rysbek to be a legitimate political actor due to his strong local support in Balykchi.
Prime Minister Kulov has warned that he will sack any militia representative who is connected with or controlled by criminal groups. Kulov has bullied militiamen that were reportedly beaten by Rysbek's people in Balykchi but refused to report the attack. The prime minister noted: "We have already turned into ridicule for the rest of the world; never before did the USA, Russia, and OSCE voice their concerns so unanimously" (Kabar, April 13). Both Bakiyev and Kulov agree that the assassination attempt against Baisalov had political motives. Moreover, Kulov and a number of other top officials openly accused Rysbek Akmatbayev and his supporters of criminal activity (analitikkg.org, April 13). Rysbek has accused Prime Minister Kulov in the assassination of his younger brother, Tynychbek Akmatbayev, in November 2005.
Baisalov and his NGO, the Coalition for Democracy and Civil Society, have been criticized for functioning exclusively under the direction of Western donors. The Coalition is often attacked by the Russian mass media as serving the one-sided interests of the U.S. government (vpk-news.ru, April 6). Baisalov himself does not deny that his NGO has received several grants from various Western sources, but the organization has already developed into a self-sufficient entity that is able to shape its own agenda without external influence.
During his April 11 visit to Bishkek, U.S. Assistant Secretary of State Richard Boucher emphasized that the U.S. government did not sponsor the Kyrgyz Tulip Revolution last year. U.S. Ambassador to Kyrgyzstan Marie Yovanovitch has expressed her concerns with the increasing instability. At the same time the Ambassador also mentioned that Kyrgyz civil society is the most developed in the region (Akipress, April 14).
Baisalov was the first victim in the Kyrgyz NGOs' fight against organized crime. Previously the government was the only force trying to curb the activity of various civil society institutes. However, today, as one Kyrgyz student from Bishkek accurately noted, "It is a one-on-one fight between Edil and Rysbek."
Baisalov and a dozen other NGOs and parliament members are organizing another demonstration on April 29 against the merger of the state and the criminal world. The rally's slogan, "We are looking for an honest state," describes the proposed reforms to improve the workings of the Kyrgyz state. The attack against Baisalov will likely mobilize greater numbers of people in the upcoming demonstrations. Various Kyrgyz mass media and political figures are calling on the republic to support Baisalov's initiative. If President Bakiyev remains unresponsive to civil society's urgent call for a major fight against organized crime, his actions will be interpreted as a move in Ryzbek's favor.