Liberal Economist Minister in Russian Cabinet Arrested for Alleged Bribe-Taking
Publication: Eurasia Daily Monitor Volume: 13 Issue: 185
By: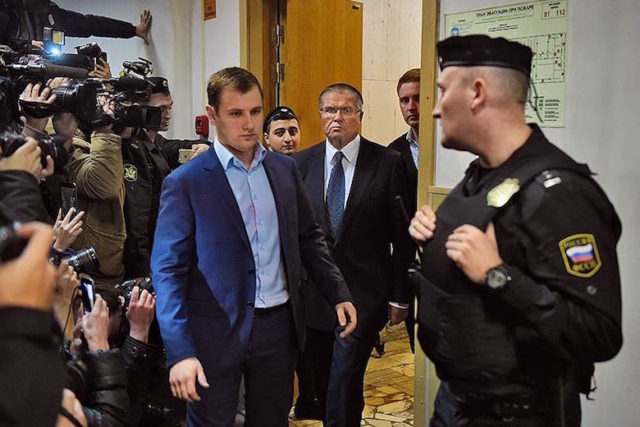 The arrest (on November 15) of Alexei Ulyukaev (60), the minister of economic development of the Russian Federation, dominated the news coming out of Moscow this week. Ulyukaev is accused of soliciting a $2 million bribe from Rosneft—Russia's largest state-owned oil major. Ulyukaev was promptly ousted by President Vladimir Putin and placed under house arrest. Officials have stated that Ulyukaev has been under surveillance by the Federal Security Service (FSB) since at least this past summer: His phone was tapped and the premises electronically bugged. Last summer, Ulyukaev publicly disagreed with plans to sell the state-owned oil company Bashneft to Rosneft, arguing that this did not represent real privatization. Rather, it was more like moving a valuable asset out of one state pocket and shoving it into another. Nevertheless, on October 10, Rosneft purchased a majority share in Bashneft for some 330 billion rubles ($5 billion), without any other potential buyers allowed to bid for this highly profitable asset. Ulyukaev was arrested in the Rosneft headquarters after allegedly accepting $2 million in cash as gratitude for reversing his position on the Bashneft sale. Rosneft reportedly alerted the authorities that Ulyukaev demanded a payoff. FSB agents waited for him at the Rosneft offices, while the $2 million in $100 bills allegedly meant for him was marked with invisible ink and placed into two suitcases. Ulyukaev's lawyers told the press this was a provocative sting operation and that their client never touched the money. Sources in the FSB claim Ulyukaev touched the handle of one of the money cases that was also tainted with invisible ink and that there is ample evidence of criminal wrongdoing (Interfax, November 16).
Ulyukaev is known for having been a prominent member of the group of liberal economic and political reformers in the team of Yegor Gaidar (prime minister of Russia from June to December 1992), who drastically overhauled Russia from a centrally-planned Communist state to a market-orientated economy, following the collapse of the Soviet Union in 1991. After Putin took over the Kremlin in 2000, Ulyukaev was appointed first deputy of Putin's favored economic guru, then–finance minister Alexei Kudrin. In 2004, Ulyukaev became first deputy head of Russia's Central Bank. In 2013, Ulyukaev joined Prime Minister Dmitry Medvedev's Cabinet as minister of economic development. An unnamed "source in law enforcement" told the Rosbalt news agency, "Ulyukaev, together with other top state officials, was under secret FSB surveillance and wiretapping for many months." These officials were allegedly conspiring to stop the purchase of Bashneft by Rosneft. The investigation was apparently initiated and led by an FSB officer, General Oleg Feoktistov, who recently took over as chief of Rosneft's security service while continuing to actively serve in the FSB. (In Russia, this is known as "pricomandyrovaniye"—a military or security serviceperson is ordered to take a position in another department or private company, but continuing active service and receiving pay, benefits and directives from both employers.) Ulyukaev was allegedly preparing to retire from government service and solicited a $2 million payout from Rosneft as a retirement benefit. Security officials hope other top officials that opposed the Bashneft buyout may still be arrested, if Ulyukaev implicates them under interrogation (Rosbalt, November 16).
According to information leaked to the business daily Vedomosti, Deputy Prime Minister Arkady Dvorkovich and Putin's economic aide, former minister of economic development Andrei Belousov, who both publicly criticized the proposed purchase of Bashneft by Rosneft, were under secret FSB surveillance and wiretapping since the summer, together with other lesser officials. Putin apparently was informed about the secret FSB investigation and surveillance activities. The CEO of Rosneft, Putin's former right-hand man Igor Sechin, evidently used his connections with the FSB and the Kremlin to smash any opposition to his drive to further enlarge his oil firm (Vedomosti, November 16).
According to a recent report by Transparency International, Russia is one of the most corrupt countries in Europe and Central Asia. Russian citizens feel helpless when faced with overwhelming state and government corruption (Interfax, November 16). Still, the Ulyukaev case seems peculiar against the background of Russia's sea of corruption. For one thing, the alleged $2 million bribe seems too small by Moscow standards—particularly in comparison with the multi-billion-dollar cost of the Bashneft purchase—to warrant all the tumult created by the public arrest of a sitting cabinet minister. And second, why would Ulyukaev have risked threatening the formidable and influential Sechin simply to extract the relatively meager sum of $2 million?
Was Alexei Ulyukaev's downfall a relatively isolated incident—the result of Igor Sechin's vengefulness, organized by FSB General Feoktistov? Or is it, in fact, a manifestation of more substantial shifts within the Russian ruling elite? Ulyukaev, who was pushed out of power in the second half of the 1990s, together with the rest of the "Gaidar team," refrained from becoming embroiled in any political controversies after Putin returned him to the ruling elite in 2000. A Duma deputy from the ruling United Russia party, Elena Panina, believes Ulyukaev's arrest will lead to the subsequent disgrace of other liberal economic officials and a radical change in Russia's economic policies. She predicts that Russia may start to abandon more open-market policies in favor of greater protectionist trade and financial restrictions. According to the Russian parliamentarian, the election of Donald Trump to the White House signals the death of free trade and open market liberalism—and Russia must follow suit (RIA Novosti, November 15).
Rosneft is itself up for partial privatization—some 19.5 percent of the state-held stock (worth over $10 billion) will be up for sale soon to partially cover the state budget deficit. Reportedly, Rosneft might be allowed to buy back its own stock under the guise of privatization, which would make Sechin even more rich and powerful (Kommersant, November 16). As billions of dollars of assets change hands, the FSB has publicly acknowledged it is secretly wiretapping and investigating cabinet ministers and top Kremlin officials (see above). The practice of placing top government and party officials under surveillance was routinely carried out by the FSB's predecessor security services during Joseph Stalin's rule; but this was specifically forbidden after his demise. So does the Ulyukaev case portend the replay of certain elements of Stalinist state terror, or is this just another fight for resources within the Russian elite, fueled primarily by greed?