Local Elections in Kyrgyzstan Strengthen the President, While Past Rivals Fade
Publication: Eurasia Daily Monitor Volume: 10 Issue: 1
By: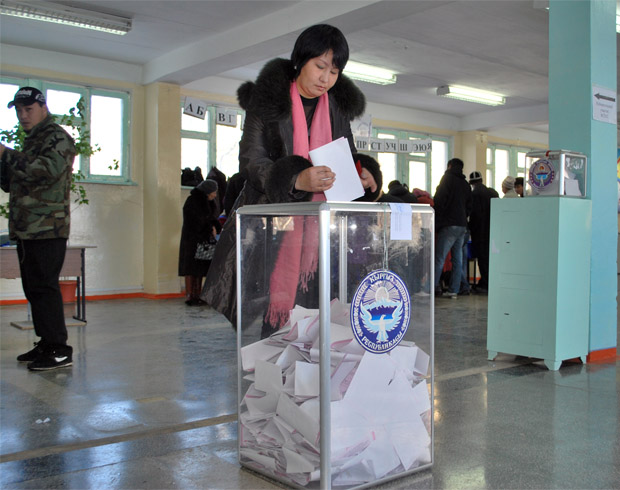 Local elections in many of Kyrgyzstan's major towns have strengthened the Social Democratic Party of Kyrgyzstan (SDPK), which is led by the country's president, Almazbek Atambayev. Atambayev's party will now hold a plurality of council seats in the capital Bishkek, where the mayor's office is seen as a stepping stone to national politics. Mayors are appointed by local councils, which are seated according to local election results. On December 12, the Central Election Commission had finally released certified results from the November 26 poll (Akipress.org, December 12, 2012).
Four major northern-based parties won seats in the hard-fought local Bishkek election, with Atambayev's SDPK receiving 21 seats, followed by former Prime Minister and one-time Atambayev tandem partner Omurbek Babanov's Republic party with 11. Ata-Meken, an odd coalition of longstanding populist elites and pro-Western newcomers, will have seven, while Zamandash (Contemporary), another clutch of incumbent populists, took six.
The result will not give Atambaev's allies total control of the Bishkek government, though it only needs to carry the support of one of the other blocs, or a few free agents, to dictate policy in the capital and appoint the mayor. Isa Omurkulov, the incumbent mayor and Atambayev supporter who has struggled with nepotism scandals since his appointment in 2010, may survive in the post.
The Social Democrats' victory in Bishkek helps to solidify their liberal flank. Several nascent liberal parties, led by young political outsiders, failed to meet the seven-percent threshold necessary to win seats. More importantly, some of Atambayev's biggest rivals performed surprisingly poorly in Bishkek and elsewhere (Akipress.org, December 12, 2012).
Just a year after their leaders finished second and third to Atambayev in the presidential poll of 2011, southern-based Kyrgyz ultranationalist parties Ata-Jurt (Fatherland) and Butun Kyrgyzstan (United Kyrgyzstan) placed first in just two small southern districts each (Kloop.kg, map available at https://goo.gl/CR8p0).
Babanov's Republic party placed first in four towns in four separate regions, easily the second best showing on the day, though not indicative of an imminent comeback for the once-rising politician sidelined by a corruption scandal earlier in 2012 (RFE/RL, August 24, 2012).
Falling still further was Ar-Namys (Dignity), led by political mainstay Feliks Kulov and a de-facto kingmaker faction in the national parliament, which managed to win a few seats in only two districts. Kulov claimed fraud and resigned his position as head of the ruling parliamentary coalition in protest (Vecherny Bishkek, November 27, 2012).
Nuriman Tuleev would be envious of Kulov's comparatively modest setback. The elite dealmaker who served as mayor of Bishkek from 2008 to 2010 was arrested on corruption charges ahead of the poll in June of 2012. He faces 20 years in prison if convicted (iarex.ru, November 12, 2012). Tuleev was considered one of the few politicians associated with ousted president Kurmanbek Bakiev who remained popular in Bishkek, which is also Atambayev's political stronghold. Most analysts viewed the move against Tuleev as an insurance policy against the charismatic politician's rumored interest in his old job.
While Kyrgyz elections remain, in a sense, "competitive," the term in this case says little about voter preferences. Local councils are the entry level of the political party patronage networks in Kyrgyzstan's politics. Parties that seat council members can expect greater patronage revenues, which in turn elevate and enrich the party. Richer, more powerful and better organized parties can afford to buy voters, as evidenced by the widespread fraud favoring SDPK in Karakol this spring as well as the annulment of several precinct results by the election commission this time around (Barakelde.org, March 6, 2012; Akipress.org, December 12, 2012).
Kyrgyzstan's political parties remain weak, character-driven facades. The incumbent mayor of Jalalabad, Bakyt Adylov, founded his own party to run the Jalalabad council, which he won handily (Kloop.kg, November 26, 2012). Ata-Jurt, led by native son Kamchybek Tashiev—Atambayev enemy currently imprisoned on sedition charges—placed third there.
Atambayev has emerged from this round of local elections strengthened, and the modest success of his party will help shore up his support network after two years of making new enemies out of old allies. But the local election results show his support network to be far from monolithic. Atambayev's policies—a mix of pro-Russian rhetoric, foreign policy pragmatism and populism—do peel away a constituency from the chaotic array of ultra-nationalists and cynics that make up his opponents. But Atambayev is no natural politician, and Tuleev and Babanov have proven in the past to be superior salesmen of the same set of policies.
Meanwhile, amidst fresh accusations of corruption that brought down his government, former Prime Minister Babanov now faces a new political crisis. A video surfaced immediately after that ostensibly showed Republic party workers organizing multiple voting (For.kg, November 27, 2012). Babanov has cried foul, claiming the video is a forgery designed to discredit him.
In just over two years since helping oust President Bakiev, Atambayev has maneuvered himself into the presidency and vanquished many of his collaborators in that effort. Babanov's recent run as prime minister, as well as his fortune and charisma, make him the most credible alternative to Atambayev's leadership available. The next question is whether Atambayev can fully sideline Babanov by the end of 2014 when Kyrgyzstan may become embroiled in a new political maelstrom. That year could see a fiscal crisis—precipitated by the end of lucrative deals involving the United States base at Manas—followed shortly thereafter by national parliamentary elections.